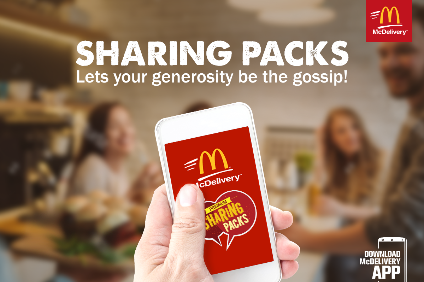 March saw McDonald's set out its desire to make a big push into restaurant delivery, US chain Ruby Tuesday admit a sale of the business could be on the cards and The Restaurant Group, the UK chain behind Chiquito and Frankie & Benny's, announce its latest bid to improve its performance.
McDonald's to join the delivery party
The start of March saw McDonald's hold an investor day in Chicago, at which technology was a central theme of the company's plans for growth.
And a notable facet of the QSR giant's plans was its bid to tap into restaurant delivery. McDonald's said the "rapid increase in delivery" was "one of the most significant disruptions in the restaurant business today" and it set out plans to grab a bite of that growth in more of its markets.
McDonald's already has a delivery business in markets in Asia. The company said it generates nearly US$1bn in sales from delivery in countries including China, South Korea and Singapore.
However, McDonald's is looking to launch into delivery in markets including the US. The business is keeping its cards close to its chest but it is reported to be testing delivery with firms including Uber in Florida.
The fresh push behind delivery is another example of McDonald's looking to tap into some of the hot trends in foodservice. Under CEO Steve Easterbrook, the company has invested heavily in areas like technology and delivery is its latest gambit to win back custom that may have been lost.
"Delivery is another aspect of McDonald's greater strategy to become more relevant to consumers that have strayed in recent years. McDonald's has been cleaning up the supply chain, tinkering with menu items and modernising the in-store experience for the same reasons. Delivery is the fastest growing foodservice channel in the US and the UK and it is more available than ever, which means the expectation that delivery is an option is growing as well," Euromonitor International consumer foodservice analyst Stephen Dutton says.
However, with growth comes competition. McDonald's network of outlets in markets like the US and the UK – not to mention its marketing muscle – could give the company its delivery ambitions a boost but smaller rivals have already made their mark in this field.
"The off-premise side of the business is experiencing growth, and anything that connects directly to consumers is seeing heavy investment. They are late to the game, however, and the challenge is making sure the experience they're offering is at least as good as their competitors," David Henkes, advisory group senior principal at US foodservice consultants Technomic, says. "The demand is clearly there, and by not having something in place already they've been ceding ground to other QSRs and restaurants that are able to bring the experience directly to the consumer."
US casual-dining operator Ruby Tuesday weighing up options
Ruby Tuesday, the US-based restaurant chain, revealed in March it was reviewing its options.
The company has seen sales and margins come under pressure and it is in part a victim of the slowdown of the casual-dining market in the US.
In August last year, when Ruby Tuesday announced a year of falling sales and deteriorating profitability, the company outlined plans to close more than 90 outlets.
Results in Ruby Tuesday's current financial year have not been much better, with the company reporting lower sales and widening losses for the first six months of the period.
Last month, Ruby Tuesday announced to the market it would "explore strategic alternatives in order to maximise shareholder value and position the business for long-term success".
The Ruby Tuesday board "will consider all strategic alternatives", the group said, "including, but not limited to a potential sale or merger of the company".
Alongside the news came some preliminary data for Ruby Tuesday's third quarter – which showed a decline in same-restaurant sales of 4%.
Technomic's Henkes says there has been "a significant slowdown" in the casual-dining sector in the US, particularly among chains. However, Henkes says part of Ruby Tuesday's troubles have been down to strategy and not macro conditions.
"A large chain like Ruby Tuesday has been hit not only with the recent struggles within the sector but, even going back five to ten years, it has struggled to generate consistent consumer interest, and it has struggled with consistency in developing a strategy for improvement," Henkes says.
"The challenge for Ruby Tuesday – as it is for many large casual dining operators – is to create in the minds of the consumer some type of unique proposition, a reason to go there that they can't get anywhere else. Convenience and price are not unique – they'll be replaced by the next operator that is closer or cheaper. What Ruby Tuesday needs to do is create unforgettable menu items, experiences and hospitality that will have guests wanting to come back."
Cheddar's and Checkers latest US chains to change hands
There was more notable M&A in the US foodservice sector in March, with casual-dining chain Cheddar's Scratch Kitchen and QSR business Checkers Drive-In Restaurants sold.
Cheddar's was snapped up from private-equity firms L Catterton and Oak Investment Partners by large US operator Darden Restaurants in a deal worth $780m.
Texas-based Cheddar's, which has 165 outlets, will join a 1,500-restaurant strong Darden business that runs chains including Olive Garden.
"Cheddar's is an undisputed casual dining value leader with broad appeal and strong average restaurant volumes," Darden CEO Gene Lee said.
Shares in Darden rose more than 9%, although some of the bounce may have been due to a solid set of third-quarter numbers from the business.
At Technomic, Henkes says the acquisition "looks a great deal for Darden".
"It gives them another relatively young casual-dining restaurant brand with a lot of upside for growth- our numbers show a 4.4% growth in 2016. Cheddar's currently has 165 locations, as compared with Olive Garden's 843 branches," Henkes tells just-food.
Discussing the acquisition with analysts, Darden's Lee said the deal was "exciting", outlining the "cultural fit" between the businesses and emphasising the "synergy" benefits the company could bring to its new asset.
However, notably, Lee suggested over the last decade too much capacity had come in to the sector in the US and said the industry needed deals like the one the company had struck for Cheddar's
"There has been an over-supply for ten years in our industry," Lee said. "This is a mature industry and we believe that some consolidation makes sense and that's what we're trying to do."
A week earlier, there came a notable deal in the US quick-service restaurant channel, with Checkers Drive-In Restaurants getting a new private-equity owner.
Oak Hill Capital Partners agreed to buy Checkers from Sentinel Capital Partners, which had owned the business for three years.
The $525m deal will see Oak Hill add Checkers to a portfolio that includes US full-service restaurant chain Dave & Buster's.
Checkers did grow under Sentinel's watch, adding around 60 outlets to a network that now numbers 840.
Kevin Mailender, partner at Oak Hill, said, "Checkers is a unique concept that is outpacing the growing QSR industry. The company has been able to win share in this large, stable industry through its differentiated value proposition and attractive franchised business model."
With chain growth hard to come by in the US, Checkers recent performance should be applauded. "Checkers was up 4.7% in US sales in 2016, and Rally's was up 1.9%, so Oak Hill believes it is buying a growth engine. As we've seen, chain growth has been a challenge, so having something in the portfolio that is poised for growth is important for private equity," Henkes says. "It seems the company is interested in continued unit openings, and there's a big upside internationally."
The Restaurant Group announces latest attempt to turn corner
Last August, UK operator The Restaurant Group made two eye-catching announcements – a change in CEO and the closure of more than 30 outlets.
The shutting of those restaurants was the result of the first stage of a review of The Restaurant Group's operations undertaken by its previous chief executive Danny Breithaupt.
In September, current CEO Andy McCue, formerly of bookmakers Paddy Power, came in to implement those initial findings.
Last month, McCue said The Restaurant Group, which runs chains including Chiquito and Frankie & Benny's, had "completed the strategic reviews of our brands" and added: "We are now pursuing a new and focused plan to turnaround and grow the business."
At Chiquito, The Restaurant Group plans to introduce "Texan and Californian influences" to its menu, bring in "greater customisation" for customers and "better value".
At Frankie & Benny's, the company plans to "refocus" its efforts on "the core customer base of families and those out and about", launch a weekday menu that represents the chain's lowest prices for five years and "re-engineer" its core menu.
The Restaurant Group also set out plans to make its smaller, US-style Coast to Coast chain "substantially more affordable" and focus more on steaks and burgers.
The listed company also has pubs and concessions businesses, both of which it is looking to grow.
McCue said: "TRG has significant scale advantages, a diverse portfolio of brands with strong brand awareness and is highly cash-generative. However, there is much to change in our leisure businesses to provide customers with better value and an improved experience while, at the same time, ensuring we continue to grow our pubs and concessions businesses. It will take time to effect the scale of change required and for customers to respond but I'm proud of how our colleagues are rising to the challenge."
The announcement came alongside a set of annual results that included a 3.7% rise in turnover (but lower like-for-like sales), a fall in pre-tax profits and a loss of GBP39.5m in part due to costs from the company's previous restructuring moves.
"We expect 2017 to be a transitional year," The Restaurant Group said in its earnings statement.