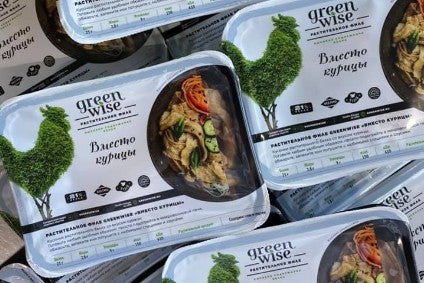 Plant-based meat alternatives are building a presence in Russia and, though still a niche, competition is building.
Traditionally a society of meat lovers, Russians are developing a taste for vegetable and cereal-based products that reflect the taste and texture of meat – and food manufacturers from home and abroad, and of all sizes, are eager to cater to this trend.
Ambitious local start-ups are rapidly expanding production, while international companies have been entering the emerging category. Sales of meat substitutes are growing as Russians, especially younger consumers, seek out healthier food products, as well as, notably, those (such as non-meat lines) deemed fashionable. Products are also becoming easier to find in major retail chains, further fuelling sales.
"In 2019 to 2020, we've seen people develop an interest in plant-based meat and dairy substitutes," Julia Marsel, marketing director of Russian meat substitute start-up Greenwise, says. "We think this is due to the growing popularity and hype surrounding American and European manufacturers, such as Impossible Foods and Beyond Meat. The global marketing campaigns of these companies have allowed us, Russian producers, to stop knocking on the doors of Russian federal retail chains in vain, but to get invited to sit at their table."
While plant-based meat alternatives in Russia remain a niche product, especially outside the main urban centres, Marsel is encouraged by the "success Beyond Meat and Impossible Foods have had in Europe and the US". She adds: "Such trends are global, as we have already seen with plant-based milk, so we are confident that plant-based meat alternatives are not a temporary hype."
Greenwise manufactures meat-imitating fillets, strips and jerky made from plant proteins such as soy and wheat, and will soon launch production of plant-based patties and cold cuts. A 150g package of the company's meat strips sells for under RUB200 (US$2.59).
A global study of 2018 data by the US-based NGO The Good Food Institute, quoting data from French market researcher Ipsos, showed 38% of Russians would eat a plant-based substitute for meat – a larger proportion than consumers in Spain, Germany, Japan, South Korea and France. It also cited research from Canadian advocacy group Animal Voices that 5.1% of Russians are vegetarian and 9% are flexitarians (people who occasionally eat meat and fish). Animal Voices also suggests 14% of Russians avoid meat during Lent because of their Orthodox Christina faith.
Alexey Ivanov, coordinator at Russian advocacy group Eating Better, stresses the closer a substitute's taste and texture mimics real meat the better consumers like them. Shoppers also respond better to marketing and packaging positioning such products good for a healthy diet or to follow Lent, rather than ethical branding such as 'vegetarian' or 'vegan'.
Statzon, a Finland-based market research provider, notes non-meat product consumption is more common in Russia's urban areas, particularly the largest cities, such as Moscow and St Petersburg, among young adults aged 18-35, especially those with higher disposable incomes. While Russia's vegetarians, vegans and flexitarians are unsurprisingly keen, most Russian consumers are willing to at least try these products, Statzon analyst Kimmo Kuokkanen asserts. That said, they will only make sustained purchases and even abandon meat products when "an alternative offers a similar taste, and they can afford them".
Rasa Neapolitanskaya, representative of Jagannath, a Russian chain of vegetarian cafes and shops, adds: "Every month, new companies that produce plant-based meat – mostly in the form of patties and Kielbasa sausages – are appearing on the market. People became more concerned about their health, they make more conscious choices."
High-profile US supplier Beyond Meat entered Russia in April 2019. By November, its burgers were available in major retail chains, including Perekrestok and Azbuka Vkusa and foodservice operator White Rabbit Family, TGI Fridays and Pizza Hut, among others. The White Rabbit Family restaurants sold about 20,000 Beyond Meat patties in the line's first five months in Russia, generating RUB10m in revenue, according to Forbes.
International players present in Russia include Italy-based Granarolo, which released its Gusto Green plant-based meat line-up on the Russian market in 2018. It includes non-meat patties made from soy, wheat and vegetables.
"We understood that in Russia there was a strong and increasing demand for healthy and vegetarian food," Emanuele Rizzoli, international countries director at Granarolo, says. "Russians are not only meat lovers, but they are also heavy consumers of fresh vegetables and natural ingredients … Russians are therefore more and more attracted by innovations on plant-based and meat alternatives."
This interest is encouraging local start-ups like Greenwise. Launched by young entrepreneurs in spring 2019, Greenwise's goal is to become the top producer of plant-based meat in Russia and neighbouring Commonwealth of Independent States (CIS) countries. Marsel has worked with CEO Artem Ponomarev since establishing the company after returning to Russia from university in the Netherlands in 2017. They used a sustainable food production and R&D company owned by Ponomarev's father, based in the Kaluga region, south west of Moscow, as their initial base.
"At the time we did not know that we were working on creating plant-based meat. We were only focused on creating a plant-based product," Marsel says. "Through trial and error, we came up with 'meat' components that tasted as similar as possible to real meat, but were made from plant products – soy beans, wheat and peas."
Within a year of its launch, Greenwise products were available in more than 1,600 stores across more than 80 cities in Russia, including major chains VkusVill, Azbuka Vkusa and Perekrestok. The company reached a production capacity of 20,000 kg per month in April 2019.
Greenwise, along with Moscow-based Vego and St Petersburg-based Veganov were initially the main companies offering meat substitutes in Russia. Now, as well as competing with Beyond Meat and Granarolo, they are facing-off against four new players launching non-meat products in 2020.
The Naro-Fominsk plant, near Moscow, started selling its Ne Myaso (which means 'Not Meat') patties, Kielbasa and sausages in October 2019, expanding the product line to nuggets, meatballs and ground meat in 2020. These products can already be found in Azbuka Vkusa, Globus and Tvoy Dom retail chains, and the company is in talks to start supplying them to Auchan and X5 Retail Group.
The Mikoyan meat processing plant, Moscow-based, started selling vegetable and cereal-based sausages, faux meat spreads and patties for this year's Lent season.
Another plant-based meat start-up in Russia, Welldone, received RUB60m financing from the Aintrigud venture fund for start-ups in early 2020. Welldone plans to attain monthly production of 15 tonnes (150,000 patties) within a few months. Once that goal is reached, it plans to build a new production base that could manufacture 200 tonnes of products per month.
And, in September, Russian agri-food giant Efko Group announced it will be developing meat substitutes. The company plans to invest RUB4bn by 2023 towards this aim and a new dedicated production facility in Belgorod, southern Russia, is expected to be operational next month.
How large could this market become in Russia? Statzon's Kuokkanen cautions because of price sensitivity across Russia, the likelihood of these becoming mass-market items is currently limited.
"Meat alternatives certainly can develop sales alongside other packaged meat products, partly because some consumers want to reduce meat consumption for health reasons and others for religious reasons," he says, allowing manufacturers to position plant-based goods as offering new experiences and flavours rather than being a substitute for meat. However, he adds: "Concerns about price and engrained established consumer habits may limit future sales."
Covid-19 also set back the market and put plans for expansion on hold. Beyond Meat burgers were recently taken off the menu at some restaurant chains, including Teremok due to the rouble falling this year (a US dollar bought RUB61 in January; RUB79 this month), inflating the cost of imported products. Beyond Meat did not want to comment to just-food about this change or the Russian non-meat market in general. The Myasoet Meat Company, meanwhile, has postponed a spring product launch of non-meat lines.
Greenwise has adjusted its expansion plans due to the pandemic. In early 2020, they projected annual earnings to increase from RUB8m in 2019 to RUB60m in 2020 but the virus has knocked that forecast back to RUB20m.
Still, innovation continues in the segment. Granarolo is developing a line of 'Unconventional Burgers', which will target Russia. Greenwise is assessing plant-based fish alternatives, plus non-meat bacon and steaks.
"We are expecting a shipment of new equipment and the launch of an entire minced meat lineup: patties, meatballs and ground meat," Marsel said. "This will significantly increase our production capacity."