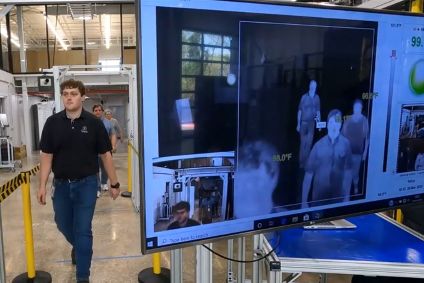 The meat industries in the US and Canada have seen factory suspensions and closures due to Covid-19. How can processors react? And what might be the impact on supply? Dean Best reports.
Covid-19 is pushing the US "perilously close to the edge in terms of our meat supply", the chief executive of one of the country's major pork processors has warned.
On Sunday (12 April), Kenneth Sullivan, the president and CEO of Smithfield Foods, announced the closure "until further notice" of one of the company's – and the country's – major pork-processing plants amid what were reported to be dozens of positive cases of the novel coronavirus among staff.
The shutdown at Smithfield's factory in Sioux Falls, South Dakota, is one of a number of either plant closures, or suspensions of operations, or scalings back of production at a number of meat-processing sites in the US, as well as north of the border in Canada.
Tyson Foods, Cargill, JBS and Maple Leaf Foods are among the major meat companies to have announced such measures after seeing staff test positive for Covid-19 and, in some cases, tragically die from the virus.
Across the food industry, manufacturers have been facing the challenge of ramping up output while keeping their production and warehousing staff safe and well.
In the early weeks of the crisis (and this applies in many markets, not just North America), food manufacturers had to move quickly to meet the spike in demand from stay-at-home consumers hoarding.
Now, they are trying to maintain an elevated level of output to cater for what just-food's US columnist Victor Martino called yesterday "practical pandemic pantry-loading". Consumers have moved on from panic-buying but are still buying more than they normally would, largely because they are staying at home and therefore cooking and eating more at home.
To try to protect staff from Covid-19, food manufacturers have sought to implement health-and-safety measures in production plants, focusing on issues such as sanitation and social distancing.
Meat-processing, however, appears to be proving a particular problem, with factories in North America being hit by dozens of cases of Covid-19.
"In general, meat-processing plants are not as automated as many packaged food plants, and therefore, meat-processing plants tend to have employees standing in closer proximity to each other," Rebecca Scheuneman, equity research analyst for US financial services firm Morningstar, says. "Many of the meat processors have been taking steps to automate production – and Covid-19 may escalate those efforts – but, to date, the process depends on a significant amount of manual labour."
How employees in meat plants travel to work is also called out as a factor contributing to transmission by some industry watchers.
"Plant design and proximity of employees working on lines are significant factors but some plants have also experienced issues when employees are bused to worked from larger urban centres. That has been a problem, in a few cases," Dr. Sylvain Charlebois, a Professor in food distribution and policy in the Faculties of Management and Agriculture at Dalhousie University in Canada, says.
Christine McCracken, executive director for animal protein at The Netherlands-based financial services group Rabobank, is another that points to transport. "Like any essential business, there are risks for all workers going to work during an active Covid outbreak," she says.
"For most plants, their remote location tends to be a positive and normally would act as a buffer against transmission. There are a large number of workers, however, as it is a manually intensive business. The only aspect that oftentimes makes these plants unique is that many of the workers live together or commute together, which naturally increases the odds of transmission."
As the number of cases of Covid-19 among meat-processing workers has grown, so has the criticism of manufacturers from trade-union officials.
The Retail, Wholesale and Department Store Union (RWDSU) has claimed a "delayed response" to coronavirus from the US poultry sector is "leaving most workers unprotected"
The RWDSU said last week "the poultry industry as a whole is getting it wrong" on safety standards, claiming "too many workers have already been infected and are suffering the consequences". The union claimed two of its members who were employees at a Tyson Foods facility in the US state of Georgia had died after contracting Covid-19. The union said "many" other staff are "sick or in quarantine". just-food has approached Tyson for comment.
In response, trade association The National Chicken Council insisted its members take "very seriously our responsibly to keep workers safe while providing protein for families", with a spokesperson arguing the industry "began increasing efforts to protect workers even before the virus started spreading more than a month ago".
Last week, Brazil-based meat giant JBS faced calls from union officials in Colorado to close a plant where two employees who had worked had died from Covid-19. After discussions with Colorado government officials, JBS announced on Monday it would shut the factory until 24 April.
In a statement that made no reference to the illnesses nor fatalities among staff at the plant in Greeley in Weld County, Andre Nogueira, the CEO of JBS' US unit, said: "While the Greeley beef facility is critical to the US food supply and local producers, the continued spread of coronavirus in Weld County requires decisive action. As a leading member of this community, we believe we must do our part to support our local health professionals and first responders leading the fight against coronavirus."
The statement listed the "safety measures, health protocols and worker benefits" JBS's US unit said it has implemented at the more than 60 meat, poultry and prepared foods facilities the group has in the country. These included "increasing sanitation and disinfection efforts, including whole facility deep-cleaning every day", as well as "promoting physical distancing" by staggering starts, shifts and breaks and "temperature testing all team members prior to entering our facilities".
Sunday also saw Tyson publish an online "Q&A" about why the company is installing more than 150 infrared temperature scanners in its production facilities.
"We need to ensure a safe work environment for our people. Exploring ways that are more efficient in keeping our team members safe is never a bad thing," Tyson's statement read. "This is a non-contact temperature scanner, so it's seamless for our team members since all they need to do is walk through the detector zone. It doesn't disrupt their routine, and it's faster than using the handheld thermometers."
Tyson added: "We formed an internal Covid-19 task force in January and began isolating team members who could be at-risk by virtue of their travel. By the end of February, we had limited business travel, educated our team members about Covid-19 through digital signage, videos and other communications. We also encouraged sick team members to stay home by relaxing attendance policies, increased sanitation/disinfection efforts and implemented restrictions on visitors to our facilities."
Rabobank's McCracken says many US meat-processing companies have taken action. "Most plants have already taken steps to slow production and distance workers where possible. They have even installed plastic shields on some lines between workers to further limit the risk. There is naturally, however, only so much they can do," she says.
Could governments be doing more to deal with the situation? "That is a tricky question and possibly one that should have been answered weeks ago. In any case, given the differences between plants and species it is challenging to mandate operational changes," McCracken says. "The one thing that most certainly be done is to make sure these workers have access to the same PPE and testing that afforded others on the front line. Food security is critical and necessary, but we should not ask anyone we are requiring to work to do so without protection."
Elsewhere along the supply chain, farming groups have expressed concern about the factory closures and suspensions.
Yesterday, The National Cattlemen's Beef Association (NCBA) published the results of a study it had commissioned that it said estimates cattle industry losses as a result of the Covid-19 pandemic will reach US$13.6bn. "This study confirms that cattle producers have suffered massive economic damage as a result of the Covid-19 outbreak and those losses will continue to mount for years to come, driving many producers to the brink of collapse and beyond if relief funds aren't made available soon," Colin Woodall, the CEO of the NCBA, said.
Rabobank's McCracken says the impact of the novel coronavirus is greater than when the US meat sector faces other types of disruption.
"The most serious issue right now is that the animals that were to be processed at those plants are stranded," she explains. "Normally, when there is a plant disruption due to a fire or weather-related disruptions, the impact is regional and there are other alternatives for those animals. Today, the worker issues and plant closures are nationwide and that creates a backlog of live animal supplies, which pressures prices. None of the plants operating today have excess capacity and are able to take these stranded animals and every day that these plants are closed creates a larger issue."
Looking downstream to retail, the industry watchers just-food spoke to for this article do not expect a significant impact on store shelves in the US or Canada.
"We have had several closures in Canada so far – four that I know of – but impacts on inventories at retail have been minimal. Beef, pork and chicken have been impacted by closures, but two of them have since reopen. Overall, the industry is coping well," Dr. Charlebois reports from Canada.
In the US, Morningstar's Scheuneman and Rabobank's McCracken predict shoppers could see a reduction in the types of products they can buy but agree the prospect of bare shelves is remote – at least for now.
"We do not expect the current level of plant closures to result in empty shelves at grocery stores, although consumers may not have the variety of products they are accustomed to seeing," Scheuneman says. "However, if plant closures continue to expand, and plants are shut down for a prolonged period of time, we could start to see shortages, or at least inflation.
McCracken adds: "Assuming no additional plants are closed and worker issues improve in the near-term the industry will gradually work through those supplies. If the plants affected increase and/or they are down for longer, the impact could be devastating.
"Given a relatively large supply of market-ready animals and ample inventories of meat in cold storage we see no immediate impact on the availability of meat, however limited labour availability could restrict further processing of the products. This could result in more whole chickens and less de-boned product on the shelf, but it shouldn't limit meat availability. We may just all need to learn how to properly prepare our meat."
And looking beyond Covid-19 when the world and the food industry returns to something approaching normality, what impacts could the outbreak have on the meat sector?
Dr. Charlebois suggests the impact the Covid-19 outbreak has had on meat processing in North America could have ramifications after the pandemic.
"Beyond getting the proper protective equipment for everyone and make quick, easy changes to plant design, Covid-19 will be a game-changer when it comes to management-employee relations. Companies will need to manage risks, inside and outside the plant. They will need to work with union leaders and assess how employees can be better protected," he says.
"In a high-volume, low margin environment, capital investments will need to be enhanced. Food processing has been overlooked for decades. Post-Covid will be a key moment for the sector and perhaps an opportunity for it to get the attention it deserved."