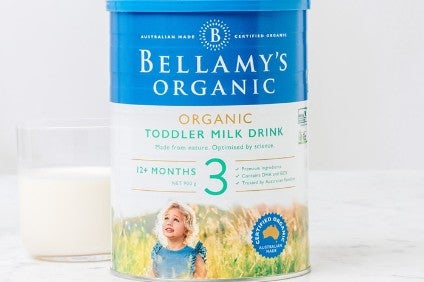 Mengniu, one of China's largest dairy companies, has moved for Australia's Bellamy's to bolster its ambitions in its infant formula. Both companies could do with a boost. Dean Best reports.
Bellamy's Australia, the organic infant-formula and baby-food supplier, has long had China as a central plank of its business and growth strategy.
And China looks set to become synonymous with Bellamy's after the publicly-listed business on Monday (16 September) announced a deal to sell up to China Mengniu Dairy, one of the country's largest dairy companies.
Mengniu, listed tenth in the latest rundown by Dutch agri-food bankers Rabobank of the world's top 20 dairy companies by sales, vies for supremacy in China's dairy market with Yili Group, its neighbour in the city of Hohhot in the northern province of Inner Mongolia.
In 2018, Mengniu generated revenue of CNY68.98bn (US$9.73bn), more than 85% of which came through liquid milk. Some 8.7% of Mengniu's sales came from infant formula, up slightly from 6.7% in 2017.
Mengniu has a majority stake in Hong Kong-listed infant-formula supplier Yashili International Holdings and markets Yashili-branded products in China. Data and analytics company GlobalData estimates the Mengniu-Yashili business had a 3% share of China's baby milks market by value in 2018, ranking it 12th in the category.
Bellamy's, based in the Australian island state of Tasmania, was set up in 2004. At the time of the Bellamy's IPO in 2014, the company had already built a presence in China, opening an office in Shanghai two years earlier to serve its business in the country, centred around the Bellamy's Organic brand.
In 2014, Australia accounted for 85% of the annual revenue of Bellamy's but, in the IPO prospectus, there was no mistaking how the company viewed China, alongside its domestic market, as being important for the growth of the business.
That's not to say Bellamy's has always found the going smooth in China. Like a number of other international infant-formula companies, Bellamy's benefited from the fall-out of the melamine scandal in China in 2008, which saw tainted formula kill at least four babies and thousands of others become ill (Mengniu was named as one of the dairies at the centre of the melamine outbreak). Chinese parents looked overseas for formula they deemed to be safer and of higher quality.
However, like other international players, Bellamy's has had to adapt to changes in regulations governing China's infant-formula sector, as well as Beijing's desire, in the wake of the melamine affair, to build a strong, consolidated, domestic network of manufacturers – including Mengniu.
Just before Christmas 2016, Bellamy's admitted changes to import regulations Beijing introduced earlier in the year had hit sales, leading to a tumble in the company's share price. In the second week of January 2017, Bellamy's CEO Laura McBain had left, replaced by chief operations and strategic officer Andrew Cohen, who this week was part of the management team that announced the deal with Mengniu.
"Mengniu … is an ideal partner to realise the full potential of the Bellamy's brand," Cohen told analysts and investors on Monday. "Mengniu offer a strong platform for distribution and success in the Greater China market."
China has also proved problematic for Bellamy's under Cohen's stewardship. In the 12 months to the end of June, Bellamy's most recent financial year, the company booked revenue of AUD266.2m (US$182.4m), down 19% from a year earlier. Sales were in part hit by a delay in securing registration from Beijing for the sale directly in stores of Chinese-label infant formula – a licence Bellamy's has yet to procure.
GlobalData analysts also suggest Bellamy's suffered from overall trading conditions.
"Bellamy's has had a difficult time in China over the last two years," GlobalData analysts write in a report published in July into China's baby-food market. "After the launch of Bellamy's Organic via online outlets such as Taobao and JD.com, the slowdown in the market resulted in Bellamy's slashing its prices to reduce stocks.
"This forced daigou, who buy infant formula in Australian supermarkets and pharmacies and then sell the products on to their networks of customers in China via online stores and social media applications, to cut their prices in order to compete, resulting in a sharp reduction in their profit margin. Unsurprisingly, the daigou turned to other more profitable brands. As sales via the daigou system had accounted for around half of the Bellamy's Organic sales in Australia, this shift in loyalty had a devastating effect on the brand's sales."
EBITDA fell 46% to AUD34.9m and net profit after tax slid 49.3% to AUD21.7, although "normalised" versions of the two metrics declined a little less markedly. Attempts to improve the position of the Bellamy's business in China was central to the pressure on earnings. Bellamy's pointed to a doubling in its investment in "both marketing and China capability to better activate the brand and engage consumers".
Speaking to analysts and investors on Monday, Cohen and John Murphy, the Bellamy's deputy chairman, spoke up for the efforts the company had made to improve its performance but also highlighted what they saw as the value the Chinese company's offer could give shareholders and the business.
"The transformation plan we've got, the business is very excited about and we certainly see a clear pathway to growth. When we did our internal valuation, we obviously needed to think about what we felt the realistic potential of all those initiatives are and, on balance, we believe this is a fair and full offer to shareholders," Cohen said.
Murphy added: "As a board, we considered all options. We weren't up for a sale process. We were approached. We thought long and hard around potential opportunities and risks against our current plan, which we were very confident in. We weighed this up very carefully against all options, considered the market dynamic, competitors' position and growth opportunity and risk. On balance, we believe this offer is compelling."
The Bellamy's board has recommended the offer, which is worth AUD12.65 in cash per share, plus, should the deal go through, a special dividend worth AUD0.60. The total bid values Bellamy's at AUD1.5bn, which equates to 30 times what the company said was its "reported normalised fiscal year 2019 EBITDA". Bellamy's also said the offer "compares favourably to precedent transaction multiples" and represents a 54% "premium to the three-month volume-weighted average price" of its stock listed on the Australian Securities Exchange to 13 September 2019.
Mengniu's bid remains subject to a number of conditions, most notably the approval of Bellamy's shareholders and of Australia's Foreign Investment Review Board (FIRB), which rules on overseas investment in the country.
A major shareholder in Bellamy's is Jan Cameron, the founder of outdoor-apparel retailer Kathmandu, who, through various entities, controls about 17% of the infant-formula supplier. She has yet to comment on Mengniu's offer.
The FIRB, meanwhile, would, in previous years have been expected to wave through the transaction but, in recent quarters, the board has at times taken a stiffer line on foreign investment. Mengniu's largest shareholder is state-owned agri-food giant COFCO Corp.
"While FIRB approval remains a key risk to the transaction and would be a key milestone given the current geopolitical climate, in our view Bellamy's arguably holds no strategic, primary-producing assets that could potentially act as a roadblock," Citi analyst Sam Teeger said, noting Mengniu already owns 79% of Australian dairy processor Burra Foods.
Asked on Monday about the prospect of FIRB giving Mengniu the green light, Murphy said: "At this stage, we're in the process with FIRB. We're having full engagement and co-operating. That process has a way to run. We're feeling very positive."
Mengniu, which also counts Danone and European dairy cooperative Arla Foods among its shareholders, has not commented on the FIRB approval process. But, announcing Mengniu's move for Bellamy's, Jeffrey Minfang Lu, the Chinese group's CEO, said: "This leading organic brand position and Bellamy's local operation and supply-chain are critical to Mengniu."
In the wake of the announcement on Monday, shares in Hong Kong-listed Mengniu fell by 4% in early trading.
Lei Yang, who covers Mengniu as executive director for China research at investment bank China Galaxy International Financial Holdings, said the planned transaction "doesn't look cheap to us" but added: "We view the proposed deal as strategically positive for Mengniu, as Bellamy's will help Mengniu enlarge its infant-formula products and enhance its brand mix. By leveraging Mengniu's resources and distribution network, we believe Bellamy's can generate long-term synergy with Mengniu."
Barney Wu, an analyst covering Mengniu at brokers Guotai Junan International Holdings, said the Bellamy's brand was "highly complementary" with the Yashili brand. "Bellamy's has success in tier-one cities and e-commerce channels, focusing on the ultra-premium market. Yashili has advantages in tier-three and tier-four cities, as well as MBS [mother-and baby stores] channel, focusing on the premium market."
In July, Mengniu announced a deal to sell its 51% stake in Chinese dairy business Shijiazhuang Junlebao Dairy Co., a company also present in infant formula. Mengniu said the disposal would strengthen its financial position "through optimising [the] brand portfolio to focus on core businesses and expansion of premium dairy products with high-growth and margin prospects".
Guotai's Wu added one of Mengniu's "key growth strategies is to achieve breakthrough growth in the premium infant-formula segment". Wu explained: "Organic infant-formula is the fastest-growing category of infant formula, and Bellamy has outstanding presence in the organic infant-formula market, which is expected to achieve rapid growth in China. And Bellamy has strong presence in baby foods."
That said, Wu did reflect on the challenges Bellamy's has faced in China and how he sees it could be helped under Mengniu ownership. "Bellamy's sales in China over recent years has been affected by new e-commerce regulation and the registration system of infant milk formula. Its offline sales has basically stagnated. Mengniu's communication with authorities is good, which can support registration of more infant milk formula goods of Bellamy's," he said.
That's not to say the Bellamy's management necessarily believes Mengniu ownership would make it easier to get that licence to sell Chinese-labelled formula. "I don't think this owner would change the likelihood of achieving that licence or when it would be achieved," Cohen said. "I would note that there are many people waiting for their licences. I'm not sure that this would either fast-forward the process or guarantee any kind of licences and so I'm not sure that is the rationale for the deal."
Bellamy's, instead, sees Mengniu ownership as giving the 15-year-old Tasmanian business more muscle as it does battle in China's ultra-competitive infant-formula and baby-food market, which GlobalData says was worth CNY105bn in 2018.
Organic formula, though a small part of the overall infant-formula, is growing. According to GlobalData, organic milks accounted for less than 5% of the category in China in 2018, with sales centred on high-income households in tier-one and tier-two cities.
However, GlobalData says recent innovation in China's baby-milk market has "focused on organic and top-of-the range products" amid demand from parents for more premium formula. That demand, they say, is set to continue. "Organic milks … are likely to see greater growth, and a variety of new products and brands are likely to be presented for regulatory approval," GlobalData says.
The backing of Mengniu could give Bellamy's the boost it needs in China as it competes with the likes of Abbott Nutritionals, Nestle's Wyeth arm and local players Feihe and Health & Happiness.
For Mengniu, infant formula is one of the more buoyant parts of the overall dairy industry in China but one where it lacks scale. Buying the organic-focused Bellamy's can give Mengniu a notable presence in a thriving – and higher-margin – part of China's infant-formula market.
Analysts at GlobalData suggest the performance of Mengniu's infant-formula business has been patchy. "Overall, the Mengniu/Yashili brands have been struggling, although some have performed better than others. In the online channel, the group achieved only 1.1% of category sales in the first ten months of 2017, and ranked 18th, well behind its key competitor Yili."
Overall, the Mengniu's-Bellamy's deal – should it get shareholder and regulatory approval – has the potential to give two businesses that have had issues in China's infant-formula a new lease of life.