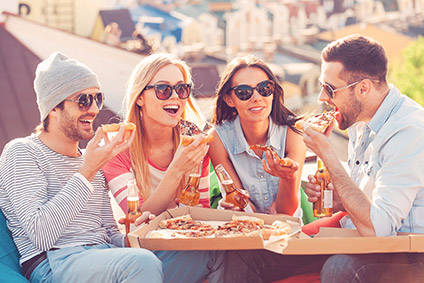 Millennial consumers are a cohort attracting the attention of a growing number of consumer goods companies. Richard Woodard considers the relationship between brands and those seen as having been born from the early 1980s to the early 2000s.
From food to fashion, automotive to advertising, executives want to get the inside track on the millennial consumer, an emerging – and increasingly influential – generation. A sign of the growing importance of millennials can be seen in the fact in the US last year the cohort overtook baby boomers – those born from approximately 1946 to 1964 – in population number, according to analysts at The NPD Group.
In a recent report, Millennials and the Changing Consumer Landscape, management consultants at The Boston Consulting Group, sought to understand how millennial consumers in the US view brands – what they like, what they don't, which brands are aspirational for them. To do so, it is necessary to assess the influences and sources of information that inform those choices. And here, millennials show distinct differences with other demographic groups.
In common with older generations, millennials are most greatly influenced by spouses and partners: 35% said these were the most significant influences on them, some way below generation X-ers (40%), boomers (47%) and silents, those born from the mid 1920s to the early 1940s (48%). The margins can perhaps best be explained by age and time of life factors (millennials are also more likely to be influenced by parents than their older counterparts).
But, in common with under-20s, millennials are much more likely to look outside the family base for influence and opinions. Compared to generation X-ers, boomers and silents, millennials are much more likely to listen to the views of friends and colleagues, as well as strangers, reflecting a willingness to take account of online reviews and social media interaction.
Counter-balancing this is an apparent suspicion of conventional marketing and 'those in the know': millennials are almost half as likely as generation X-ers or boomers to take account of expert advisors or brand marketing – but much more likely to be influenced by celebrities. This is a continuation of trends also observed in 2013.
Another intriguing aspect of the millennial make-up is the generation's apparent confidence in its own opinions and value judgements. Some 42% of millennials surveyed in 2015 agreed or strongly agreed that people would seek out their opinions on brands, well ahead of under-20s and generation X-ers (35%), as well as boomers (23%) and silents (12%).
But, despite this confidence in their own influencing status, millennials (in fact, younger consumers in general) are disproportionately prone to influence from their peers. Just under 20% of millennials would not buy a brand if their friends disapproved of it, below under-20s at 24%, but above generation X-ers (14%), boomers (7%) and silents (6%).
Split these findings up by gender and it's apparent that men are both more confident of their own influencer status, and more prone to peer pressure. While 47% of male millennials say people seek their opinion on brands, the figure for females drops to 39%; some 26% of male millennials will not buy a brand disapproved of by their friends – versus only 15% of females. (An intriguing sideline; this trend is reversed in the under-20 age bracket, where females are both more confident in their influencer status, and more prone to peer influence).
But, wherever the influences come from, there's no doubt that millennials are the most brand-sensitive current generation. On every measure used in the Boston Consulting Group report – 'Brands say something about who I am, my values, and where I fit in', 'People seek me out for my knowledge and opinion about brands', 'I take positive actions on behalf of brands that I like' and 'I am willing to share my brand preferences over social media or online' – millennials clearly outscore both older age groups and the emerging 16- to 19-year-old demographic. If anything, these attitudes have strengthened over the past two years.
Where the gap between the generations has narrowed somewhat is the importance of 'brand purpose', covering everything from improved information about products bought, to CSR initiatives and concern for the environment and sustainability. These issues now poll at high levels across the generations, but millennials still lead the pack, particularly when it comes to the influence of good CSR and companies' environmental track records.
So, which brands are doing a good job when it comes to attracting these millennial consumers? The top 20 favourite brands among millennials include ten shared favourites with boomers – among them, Apple, Samsung, NIKE, Amazon and Disney – and 12 shared with generation X-ers. That leaves eight brands – Victoria's Secret, Old Navy, Forever 21, American Airlines, Converse, PepsiCo's Pepsi, Sephora and Netflix – that uniquely feature in the millennials' top 20. This is broadly – 60%-plus – in line with findings in 2013.
There's more overlap in the favourite brands of male millennials with older generations – only Netflix, Gucci and Xbox are unique to their top 20 – than there is for female millennials, who register five unique brands in their rankings: Carter's, Forever 21, L'Oreal, Maybelline and Sephora.
Turn to aspirational brands, and the generations begin to merge. When asked which brands they most aspire to own or own more of, millennials have 12 in their top 20 in common with boomers, and 17 with generation X-ers. Only Victoria's Secret, Under Armour and Kate Spade are unique to the millennial rankings.
Delve into the gender differences and male millennials show a greater predilection to aspire to auto-related brands (BMW, Ferrari, Mercedes-Benz, Audi), while accessible luxury products (Michael Kors, Coach, Louis Vuitton, Chanel, Gucci, PRADA, Sephora) feature strongly in the female millennial rankings.
The Boston Consulting Group estimated millennials will represent 20% of the US population by 2030. Consumer goods companies need to tap into what makes millennials tick now.
How do brands attract millennials? – an appendix
There are a few fundamental questions the Boston Consulting Group report seeks to address including: 'What levers can brands and retailers use to attract millennial consumers?' and 'What are the main barriers and risks involved?' Here is a concise resumé of the questions and answers involved.
What are the main top-line levers most available to millennial categories retailers/brands to create value over the next three to five years? Top answers include:
Innovation (mentioned by 70% of respondents)
Channel shift (eg to online) (60%)
Pricing (57%)
Innovative marketing (57%)
Relevant styling (53%)
Customer journey/omni-channel (50%)
What are the top cost levers available to millennial categories retailers/brands to create value over the next three to five years?
Pricing strategy (60%)
Sourcing strategy (57%)
What are the top barriers or risks to millennial categories retailers/brands creating value over the next three to five years?
Decreasing retail traffic (60%)
Downward price pressure (57%)
What are the top capabilities levers available to Millennial categories retailers/brands to create value over the next three to five years?
Consumer insights (63%)
Online (53%)
A version of this article initially appeared on our sister site just-drinks.com.