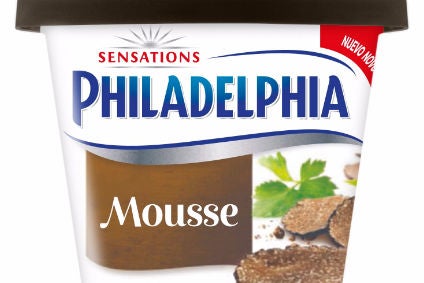 With continued speculation over the future of Mondelez International's European cheese and grocery business, just-food's M&A columnist Stefan Kirk weighs up what kind of interest there could be in the asset, which features the Philadelphia brand.
A disposal of Mondelez International's European cheese and grocery business has been rumoured since the formation of the company in 2012. Such a move would make sense given the strategic trajectory of the Cadbury and Oreo maker. We look at potential acquirers of the business – and make the point its valuation might be significantly below the US$3bn that has been touted in reports.
Why European cheese and grocery is clear divestment candidate for Mondelez
According to a several reports, Mondelez have appointed JP Morgan and Goldman Sachs to sound out interest in the potential acquisition of the group's cheese and grocery portfolio, which includes rights to the Philadelphia cheese spread brand.
The company has not commented on whether it is looking to sell the unit, saying only the division is "a good business, with solid margins and cash flow, which helps to provide scale in some markets" and adding: "The team is executing well, having posted solid growth for 2015."
That the business is a disposal candidate for Mondelez makes sense when looking through the prism of shareholder value. The group's strategy focuses on growing its more profitable "power brands" and snacks in biscuits, chocolates, candies and gum, generating higher sales from those in order to boost profitability.
In 2015 Mondelez booked adjusted operating income of US$3.8bn, equivalent to 13% of its net sales of $29.6bn. That's below the mid- to high- teens operating margin achieved by other US-listed food majors. The obvious disposal candidate is the cheese and grocery division, the smallest of the group's divisions contributing only 8.9% of net sales in 2015 – and only 3.9% in the case of the arm's European unit. Even if margins from cheese and grocery are higher than the company average, Mondelez can use the proceeds from any sale to focus on its power brands with stronger global prospects and the potential for higher margins in the long term.
There are question marks over potential buyers and valuation
It has been said Kraft Heinz has the right of first refusal to acquire Mondelez's European cheese and grocery brands, as a legacy of the de-merger of the old Kraft Foods Inc empire four years ago. However, the precise terms of that right are unknown and often 'first refusal' effectively means preferential treatment is only triggered if there is no third-party bidder in the wings, offering a higher price.
The question of where a higher price might come from is linked to the quality of the portfolio itself. If, say, at least 80% of the unit's sales were generated by the Philadelphia brand, then we could see a valuation in the range of 3-4 times sales, as we did in 2006-7, when such sales multiples were reportedly paid, respectively, by Groupe Bel to Unilever for Boursin and by Dairy Crest to Uniq for French business St. Hubert.
Detailed information about the sales of Mondelez's cheese and grocery unit is unavailable. However one quote from an analyst at J.P. Morgan suggests Philadelphia' accounts for only around one-third of total revenues, with some of the other brands being only regional. If so, that will have a significant downward impact on the division's valuation – and on the universe of potential buyers. Another question mark hangs over the quality of the IP rights to Philadelphia and the other brands in the portfolio, if they are held by Mondelez under a licence from Kraft Heinz and not outright ownership.
Either Kraft Heinz or private equity are likely buyers
Given the above factors, we assume that, if Kraft Heinz does not acquire the business, then only a large private-equity player will have the deal-structuring focus in order to acquire and later extricate value from Mondelez's European cheese and grocery division. The objective being, from their perspective, to leverage the cash-flow of the business, and to add value through the re-sale of Philadelphia, and possibly other brands, on a stand-alone basis in future.
Looking at possible private-equity candidates, one has to focus on large-ticket players active in European food and beverages, such as Lion Capital, Blackstone, PAI Partners or Nomad Foods.
However, a stand-out candidate within the pack is arguably Montagu Private Equity. In 2012, Montagu acquired the St Hubert spreads business, a leader in France and Italy, from Dairy Crest. For that reason, Montagu may have the focus and synergies to take on the Mondelez unit.
Turning to valuation, Montagu is paid EUR430m in cash for St Hubert, equivalent to nine times EBITDA for the trailing year. Pofitability data for Mondelez's European cheese and grocery unit unavailable and, on record, we only have the group's comments above on the division's growth, solid margins and cash flow.
Assuming net sales revenue of $1.15bn in 2015 (3,9% of the Mondelez International total of $29.6bn and an EBITDA margin of 20-25% (incremental or otherwise), that would yield a valuation estimate in the ballpark of EUR2bn (see valuation).
However, at that level, some EUR1bn above even Montagu's potential sweet spot for single investments, it could be that a consortium bid will need to be constructed with other private-equity players.