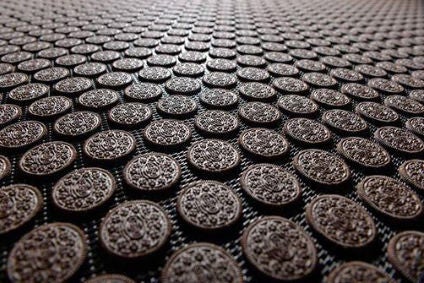 Mondelez International reported first-quarter sales that beat market expectations but the snacks giant joined the club of companies withdrawing guidance for 2020 due to Covid-19 – which, combined with weaker-than-expected margins and likely concern over Q2 sales, pressured the Cadbury maker's shares. Dean Best reports the top takeaways on Mondelez's numbers, outlook and its thoughts further ahead.
The highlights from Mondelez's Q1 figures
Global snacks major Mondelez International saw its sales rise faster than the market expected in the first quarter of the year, driving its earnings per share (EPS) to beat analyst forecasts – though the Oreo owner's margins came in lighter than Wall Street had hoped.
On an organic basis, Mondelez's sales rose 6.4%, boosted by pantry-loading, particularly in North America. The consensus forecast among analysts covering the business was for growth on that metric of 4.6%.
"We had a strong first quarter, with record market share gains," chairman and CEO Dirk Van de Put said.
However, "disruption" due to Covid-19, as well as higher raw-material costs amid unfavourable currency movements, meant Mondelez's adjusted gross margin was 39.6%, a little under Wall Street estimates.
Like many listed packaged-food companies, Mondelez withdrew its financial guidance for the rest of 2020 due to the uncertainty the novel coronavirus is bringing to forecasting its sales and profits.
Speaking to analysts after the Q1 numbers were published, Mondelez did indicate its top line might decline year-on-year in the second-quarter, as the full impact of Covid-19 lockdowns in some key emerging markets enacted late in the first quarter are felt more fully in April.
Mondelez's shares dipped in extended trading on Tuesday. However, in a note to clients issued today, Wells Fargo analyst John Baumgartner said he was keeping Mondelez as his "top pick", adding: "We exit pleased with management's intention to maintain brand reinvestment and seek share gains from smaller/compromised competitors.
"The market may fret about a possible Q2 year-on-year EPS decline on Covid but we see headwinds as temporary and easily outweighed by bullish, multi-year, growth potential and EPS upside versus Street through fiscal year 2022."
Mondelez rides snacking wave – with some variations
The US-based giant, the world's largest snacks business, benefited from the rising appetite for snacks among consumers locked down.
In North America, Mondelez's sales jumped more than 13% on an organic basis, with volume/mix more than 12% higher. Van de Put noted how Mondelez's biscuits sales rose at one point by almost 30%, adding: "Then, in the weeks after, we saw that come down to, first, low-double-digit [growth], now high-single-digit."
Van de Put told analysts Mondelez had, through speaking to consumers worldwide, identified three "basic reasons" for snacking more. One was out-of-home consumption moving indoors. A second, related, factor was consumers "experimenting" more by buying different brands.
And a third hinted at perhaps a more emotional reason (which your correspondent as perhaps been guilty of). "Sharing a snack with your kids, as everybody's sort of couped up in the house, brings back a feeling of normalcy, of togetherness calming everybody down, and we see [consumers] quote that as a big reason," Van de Put said.
While North American consumers boosted Mondelez's biscuit sales, European shoppers also chomped on more cookies and the company's chocolate sales "has seen quite an increase there", Van de Put said.
Nonetheless, growth in Europe was slower during the first quarter, with Mondelez's sales rising by 4.3%. Van de Put pointed to "headwinds" linked to the convenience channel, with lockdowns hitting impulse sales of products like gum and the slump in the travel market weighing on the company's travel-retail business.
Quizzed on Q2
On the conference call with analysts, Mondelez's management was pressed on how it saw the company's sales trajectory taking shape in the second quarter.
Part of that was due to the questions facing most packaged-food companies: how much of the sales boost seen in the first quarter was due to stockpiling and how much will that unwind between April and June?
Van de Put sought to answer those concerns with Mondelez's insights into snacking habits and the reasons consumers are giving for snacking more. "It's clear that the consumption is going up, the penetration is going up, and that's what we currently are seeing. I believe, as long as we are in this uncertain situation, and as long as we are not having the same out-of-home consumption, our categories, particularly biscuits, but also chocolate, will benefit from that," he said.
However, another reason for analysts' questions on Mondelez's likely second-quarter performance is due to the company's operations in emerging markets (which, of course, is part of the longer-term investment thesis for the business), notably in countries such as India and south-east Asia markets like Malaysia and the Philippines.
"At this point, quite frankly, we see a deceleration of our Q2 top line versus Q1, given that … the impact of emerging markets was partial in Q1, and it is going to its full extent certainly in April and most likely into part of May," CFO Luca Zaramella said.
"What I can tell you is that if you ask me an educated guess at this point in time, we see continuation of the US quite strongly into April and into the second part of the quarter but we see material declines in emerging markets that have come to a standstill.
"All-in-all, I would tell you, [Q2 sales] might be negative but there might be a situation where that impact is minimised if we can keep up with the demand and supply, particularly in Europe and in the US. So, at this point in time, you're not going to see a high number in Q2 as you saw in Q1. It could be potentially negative. I don't know exactly how much. I don't expect it to be materially negative."
Adapting to the upcoming recession
The IMF, in its April World Economic Outlook, published earlier this month, forecast global growth will fall 3% in 2020 – a projection it says makes what is being called the Great Lockdown worse than the economic crises of the late 1920s and the late 2000s.
"This is a downgrade of 6.3 percentage points from January 2020, a major revision over a very short period. This makes the Great Lockdown the worst recession since the Great Depression, and far worse than the Global Financial Crisis," the IMF wrote.
For all the relative resilience of the packaged-food sector to economic downturns, industry boardrooms should be preparing for a more challenged consumer – and investors are asking those boards questions about how they plan to react.
"This is a very particular type of recession," Van de Put told analysts on Tuesday "We don't quite know how fast we're going to get out of it, so we base a little bit our learnings on past recessions. Our categories are durable, and they are not that much affected by these recessions we've seen in the past. I'm talking largely about biscuits and chocolate. In past recessions, they were affected, but they didn't go down in a major way.
"Our estimates at the moment was that, before all this started, that our categories would grow 3% globally. We think that it's reasonable to assume that they may slow down to 2%, 2.5% – but we feel that we should try to make that up by gaining share and, as the recent periods showed, that has been possible for us."
Van de Put said Mondelez would work on its "price-pack architecture" (the science of getting product in the right format for different channels), would reduce the number of SKUs in its portfolio and study its costs through looking at overheads and implementing zero-based budgeting.
However, since Van de Put took the helm at Mondelez in the autumn of 2017, he has sought to realign the focus of the company towards top-line growth after years of the business working hard to improve margins (and seeing success).
And he told analysts this week Mondelez would continue to invest in its brands. "The reason why we think we can do so good in [market] share is that we are entering this in a position of strength. I believe we've done well in investing in the last two years in our brands. They are stronger than in the previous years. Hence, the market share increased, the portfolio's modernised, our communications are much more effective," he said.
"We have seen in the past, where in recessions we went in trying to protect in the first place the bottom line in cutting investments, in brands and capability, that is not the right approach because that results in share loss and volume decline. We will try to play a much finer balance here between top line and bottom line going forward."