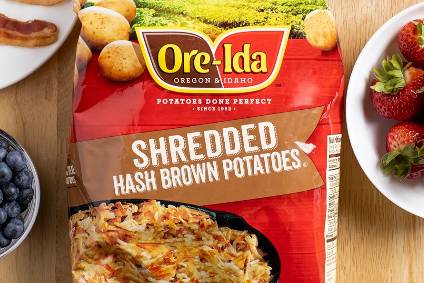 Kraft Heinz's latest batch of impairment charges spooked the market when the US giant reported its Q2 numbers but, beyond the work on the balance sheet, the cheese, meats and ketchup giant's turnaround programme is showing signs of progress.
Kraft Heinz reported second-quarter sales and earnings that beat Wall Street's forecasts – and still the US giant's shares fell when the numbers came out on Thursday (30 July).
A little of the ground was recovered on Friday but the ketchup maker's share price ended the week down on Monday's levels.
Perhaps some of the wider market's concern was over yet another set of impairment charges on certain business units, as Kraft Heinz reassessed its "future investments to align with opportunities for which the company sees greater potential for return".
The company's annual "impairment test" actually led to some of its divisions seeing increases in their "fair value estimates" but the fresh US$2.9bn of charges follow another $1.2bn in 2019 and a $15.4bn write-down in goodwill in 2018.
It could also be the case there is some apprehension ahead of Kraft Heinz's long-awaited investor day, scheduled for next month, at which the company's management plans to set out in detail its strategy to grow the business over the longer term.
The Ore-Ida potatoes and Planters nuts owner's shares are up more than 8% in 2020, a long way from the highs of 2017 in and around the company's failed move for Unilever, but, although it's way too early to call success in CEO Miguel Patricio's quest to turn around the business, the second quarter was another sign of progress.
Solid Q2 in the can
Back in April, when Kraft Heinz reported its Q1 results, the company forecast a "low-to-mid single-digit" increase in sales on an organic basis for the second quarter, along with a "mid single-digit" rise in adjusted EBITDA.
On Thursday, the Heinz Beanz owner ran up a 7.4% increase in Q2 sales and adjusted EBITDA that was up 12.4% and still 8.9% higher once exchange rates and M&A were stripped from the number.
Speaking to analysts on a conference call to discuss the results, Patricio said Kraft Heinz's sales into the retail channel were "much better than anticipated", with sales up more than 8% in the US, more than 5% from the group's international operations and even rose from the standalone business unit of Canada, where the company, in April, thought sales would decline again in Q2.
The better sales, along with what CFO Paulo Basilio called "improved supply chain performance", combined to help drive growth in Kraft Heinz's adjusted EBITDA. "Each business segment reported organic sales and EBITDA growth in Q2, and we hope this indicates more stable performance across our businesses going forward," Basilio added.
But some supply issues in US
Given the industry dynamics we've all seen since the onset of Covid-19, it almost goes without saying that Kraft Heinz did see its foodservice sales (less than 15% of total sales) take a hit in the second quarter, down 46% in the US, 53% in Canada and 45% from its International division.
"The decline we saw in foodservice sales on a global basis was largely consistent with what we had forecasted, somewhat better in the US and at a softer end of the range in our international business," Patricio said.
But, even within the strong performance of Kraft Heinz's business selling into retailers, there were challenges. Brands like Heinz, Jell-O and Ore-Ida gained market share but that wasn't true across the portfolio.
"In areas like our Oscar Mayer meat and Kraft Singles [cheese] businesses, our share has been negatively impacted by sustained elevated consumption versus supply chain constraints, while more vertically-integrated players have been able to shift capacity from their foodservice businesses to retail," Carlos Abrams-Rivera, president of the company's US business, said. "While we're growing strongly in those businesses, we are seeing some share loss.
"Growth has been good, but in certain categories, we know we can do better. If demand remains extraordinarily strong, growth should be fine, but share is likely to be challenging in certain categories."
Kraft Heinz's management was pushed on the extent to which the issues in its supply chain had damped its sales growth and on what the company is doing to address the problems.
"We're securing more capacity with external manufacturers and we're also fast-tracking capex projects to improve even more our throughput," Basilio said. "On the demand side, we've also rebalanced all of our merchandising, promotion, our marketing through the lens of that available capacity. It's really difficult to quantify the impact of that, but I feel good as we stand here as we go into the second half."
Q3 headwinds for margins
Consistent with a number of its peers, Kraft Heinz saw its sales growth still remain solidly positive but start to ease in May and June.
Already almost five weeks into the new quarter, Basilio said the company expects its sales growth to "moderate", with the "deceleration" it saw in Q2 to continue in Q3, particularly, he added, in the UK. "While the pace of normalisation is unpredictable, we currently anticipate back-half results, both organic sales growth and margins, to soften compared to the first half," Basilio underlined.
In the third quarter, margins will come under pressure from a number of factors, including: the changing relative mix of sales made through retail and foodservice, as the latter channel starts to – it is expected – open more widely; a spike in cheese commodity costs; and higher incentive compensation (not a bad problem to have in a sense, given it's come from Kraft Heinz's improved operating performance).
Nevertheless, Kraft Heinz expects the organic gains on the horizon in Q3 to offset the "headwinds" to come on its margins. And, on 2020 as a whole, Basilio added: "We do expect the upside in results we have posted during the first half of the year, for both sales and EBITDA, to stick for the full year."
New roles for brands
Kraft Heinz's investor day, long promised, had been set for May until Covid-19 made that impossible. The current day in the diary – notwithstanding the need for any further rescheduling due to the virus – is 15 September.
At the event, Kraft Heinz plans to set out how the company plans to grow over the longer term. Speaking to analysts on Thursday, Patricio gave some hints of what Kraft Heinz has prepared; the company, he says, has introduced a "new, platform-based strategy" and is implementing a "new operating model to ensure we operate with a growth mindset".
During the second quarter, Kraft Heinz said three-quarters of its brands in the US had seen their "household penetration" grow, with the majority "up double-digit percentages" by that metric versus the same period last year.
New consumers, Patricio said, "are repeating the purchase of our products", adding: "We cannot miss this opportunity. It's an unbelievable opportunity. You are going to see us reorient around how consumers think to a few specific platforms that are globally relevant."
In other words (and crucially for the company's rivals), Kraft Heinz has been thinking about the different roles the brands in its portfolio can play for the business. "We're going to share with you in September more choices and where we believe we have a chance to accelerate big time our growth and give in the portfolio a role for different products, for sure. Some will have a role of bringing more profitability. Some will have a role of growing net sales. At this moment, or until now, we never had this very clear."
In the second half of this year, Kraft Heinz will, Patricio said, up its spend on media investment and "put more steam behind brands that we saw big household penetration growth". He added: "We are changing and evolving. We want to be much more consumer-centric. We want to be much better in marketing and in consumer insight, in innovation, in communication and this transformation and this change is happening as we speak."
Kraft Heinz's focus on new customers
Uncertainty, however, reigns as to the precise impact Covid-19 could have on consumer behaviour during the rest of 2020 and into 2021.
The US reported a record 1.87 million cases in July, more than twice the figure for the previous record month of April. On Friday, more than 4m people in England saw restrictions on movement tightened again amid concerns over local infection rates. In Australia, a new suite of lockdown measures has been introduced after an outbreak of infections.
It will be proving tough for boardrooms to predict demand for the next month or two, let alone into 2021, but the market will be keen to hear what listed majors like Kraft Heinz believe could lie ahead for the industry.
"It's very hard to anticipate the demand for 2021. I can tell you that we've been working on a lot of scenarios and building scenarios. The truth is that we … do not see a solution for the coronavirus in the short-term … and so we have to work with scenarios," Patricio said.
There is one short-term focus, he suggested. "I think that the best thing that we can do is to concentrate our energy and resources on really holding onto these new households that we gained. It is critical. If the pandemic continues in 2021, we'll continue with that and that will play in our favour. If not, we have a base of consumers that is higher than we had before and they tried [our products] – and they continue trying, they continue consuming – and we want them with us."
What looks pretty much certain is many consumers will, broadly, be either starting to feel, or will feel, some pressure on spending amid the downturns we've seen in economic growth worldwide in recent months.
"How they're going to be purchasing will be a function of basically how the economy is going to drop and how much time it will take to recover. Now, both of those things, at this point, it's really hard to know how that's going to sort out," Abrams-Rivera said.
"I think we're well positioned. I think we have good momentum in household penetration. We are better positioned on the promotional front end as we go into the second half of the year where we can invest back into our brands. The investment is not just on the promotional event. We are also investing back in media. I think that from what we have learned and where we are today, I feel good about where we are."