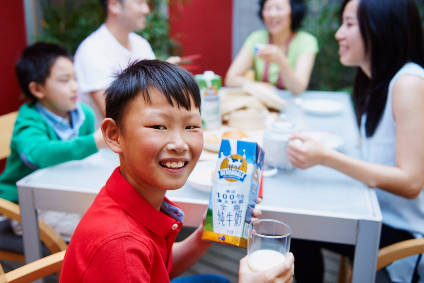 Embattled Australian milk processor Murray Goulburn reported its full-year results this week. The company, which part-listed on the Australian stock exchange to raise capital during the period, was rounding off a difficult 12 months, during which it cut payments to its farmer-owners, issued a series of profit warnings and announced the departures of its CEO and CFO. The group's much-anticipated financial update revealed lower sales but the firm managed to hit its revised profit target, which had been lowered earlier in the year. Here are just-food's key takeaways.
Sales decline driven by ingredients
Murray Goulburn sales dropped 3.3% in the year to 30 June, declining to AUD2.8bn (US$2.13bn). The decrease was attributed to a drop in revenue from Murray Goulburn's ingredients businesses, which was hit particularly hard by "sustained low commodity prices", interim CEO David Mallinson said. He emphasised how the expansion of Murray Goulburn's more value-added dairy foods arm could not make up for the decline in ingredients.
"Dairy foods growth was unable to offset lower dairy commodity prices impacting ingredients revenue," Mallinson told analysts during a conference call to discuss the group's performance. "The ingredients downturn reflects that downturn in commodities but also a migration of product from ingredients through to the value-added businesses of nutritionals and consumer goods."
In dairy foods, Murray Goulburn said sales increased 17.2% to AUD1.33bn. Growth was weighted to Murray Goulburn's international operations, where sales jumped 67.6%. In Australia, the company noted a "challenging" pricing environment across all its categories but nevertheless booked a 10.6% sales increase to AUD1.1bn.
In Murray Goulburn's combined ingredients and nutritionals division, sales fell by 18.5% to AUD1.09bn, with ingredients sales plunging 26%. Mallinson was quick to stress the nutritionals arm, which suppliers products including infant formula, posted growth in the period – with sales up 50% on last year's levels. The "nutritionals business continues to grow, which is very pleasing", he said, because it "gives you a much better return than commodities".
Net profit hits target (lowered) target
Murray Goulburn revealed a 61.2% increase in net profit, which rose to AUD40.6m in the year to 30 June. This was in-line with Murray Goulburn's most recent forecast range of AUD39-42m, issued when it issued a profit warning this spring, but below the profit of AUD63m the company predicted when it listed on the Australian stock exchange last July.
Growth in profit was the result of a higher contribution from the value-added dairy foods business, which helped to offset the lower commodity prices that are denting earnings from ingredients.
An improved product mix helped the company deliver the profits it did generate. "Consistently achieve premiums to commodity, that is fundamental to our business to get the milk price up. That is done through consumer, nutritionals and also the value added ingredients we sell," Mallinson said.
Cost-cutting a future focus
Moving into the the current financial year, Murray Goulburn is increasing its focus on improved operational efficiency. The company believes it can deliver annualised cost-savings of AUD50–60m by fiscal 2018, with AUD10-15m in savings to feed through over the next 12 months.
During the investor presentation, management said a review of its head office organisation is now complete, with "significant, permanent, head count reduction" opportunities identified.
Further savings will flow from the group's SAP computer systems implementation, Mallinson suggested. SAP became operational on 1 August with "no glitches at all", he noted. It will allow the company to monitor and optimise its milk flow in real time, and act as "an enabler for us to reduce our cost base", Mallinson predicted.
Lower milk supply as confidence falls
During fiscal 2015/16 Murray Goulburn's milk supply fell by 2.5%, or 3.5bn litres. In part, this reflected lower production due to "abnormally dry conditions". However, it also showed a drop in supplier confidence after Murray Goulburn lowered its forecast farmgate milk price.
While the company managed to deliver this significantly reduced milk price, its farmer-owners have nevertheless seen their on-farm margin eroded with many struggling to turn a profit. Some farmers have retired and others have diverted their milk supply to other processors, Mallinson conceded.
Murray Goulburn is working to mitigate the impact that a lower milk supply will have on its sales. "In regards to milk loss, any milk not coming in will be taken out of the bottom end commodities business… therefore the impact [on profit] will not be that great," Mallinson argued.
However, he added: "We have to get the confidence back of our suppliers."
Murray Goulburn hopes it will be able to achieve this through a "clear plan" to manage costs in order to safeguard the milk price and a commitment to pass through commodity price increases as they are achieved. The company is also offering more practical help in the form of interest-free loans, as well as feed and fodder support.
Hope for growth pinned on investment pipeline
Murray Goulburn believes recent investments – as well as its planned capital expenditure – should support growth in the coming years.
In nutritionals, the company has struck a number of supply deals that have resulted in it increasing investment in production capacity. In March, the group announced a "framework agreement to establish a strategic supply alliance" with global paediatric nutrition company Mead Johnson and a supply agreement with Kalbe Nutritionals, the Indonesian nutritionals company. Murray Goulburn is investing AUD260-300m in upgrading its nutritional powders capacity at the Koroit site. This remains on track to be delivered in "early 2019", the company said.
Murray Goulburn has also invested AUD91m in upgrading capacity at its consumer cheese facility. The move will deliver a "significant uplift in capability" while also generating run rate savings of approximately AUD10m per annum. These savings will primarily come from lower wage costs as staffing levels are reduced with automation, Mallinson said.
Elsewhere, Mallinson revealed Murray Goulburn is shifting its investment focus behind dairy beverages. Low prices and an oversupply of UHT products have prompted the group to lower expectations for returns on greenfield investments in this area. Consequently, Murray Goulburn has concluded the "best use of capital" could be "incremental, lower risk, spend" to upgrade its existing footprint.
The company is reviewing its investment/return outcome behind dairy beverages and indicated "initial estimates of a brownfield investment of up to AUD60m spend may optimise [the] outcome".
Mallinson explained: "We have put UHT [planned investment] on hold and we will be coming back to the market on that."
Innovation to focus on Devondale
Murray Goulburn also wants to grow its Devondale consumer brand, which hit sales of AUD580m in the year, up 45% on 2015.
"We talked about the Devondale brand jumping up to AUD600m in sales. This is really our platform for growth both in Australia and internationally," Mallinson insisted. "It really is starting to get recognised" he suggested, rather optimistically claiming Devondale isn't "too far off" being a billion-dollar global brand.
Among its efforts around Devondale this year, Murray Goulburn extended the brand into infant formula in Australia and China, with the launch of Devondale Natra Start in March.
China 'issues addressed'
Changes to Chinese regulations this year raised concerns over Murray Goulburn's strategy in the country when Beijing changed the tax it charges on imported products sold through cross-border, business-to-consumer internet platforms.
Import tariffs were imposed on shipments worth over CNY2,000 (US$300), with 70% of import VAT and consumption tax levied for orders below that amount. Previously, goods bought on the cross-border B2C websites had been subject to a lower "parcel" tax rate.
When the changes came into force in April, Murray Goulburn confirmed milk powder and UHT milk sold under its Devondale brand had been "temporarily removed from some sites for immediate sale".
Speaking this Wednesday, Mallinson was nevertheless upbeat on the group's record in China. Without providing specific numbers, he said Murray Goulburn had seen growth in the market this year. "That is through UHT milk powders and some of our infant formulas. Cheese has also started to play an important role in China through our foodservice segment as well."
Murray Goulburn has taken action to address the issues it had in China, including an over-reliance on online sales, he insisted. "A fundamental failing in China was we were too reliant on online and cross-border [sales channels]. Since April, we have signed up 12 distributors. We have a solid offline distribution there as well now. If we have one market we have the right to win in, in consumer, it's China. We have done very well to date UHT, sachet powders and nutritionals. We have to continue to grow that."