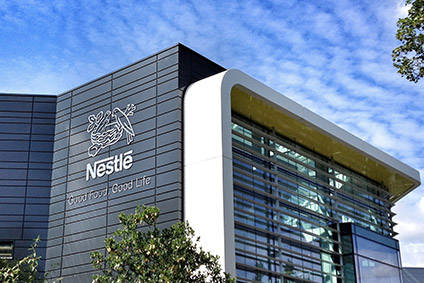 Nestle's shares rose today (14 April) after the world's largest food company reported underlying first-quarter sales that beat analyst expectations.
The KitKat and Maggi maker disappointed some in the market in 2015, a year when the group's sales and trading operating profit missed analyst forecasts. Last year was another in which the growth in Nestle's sales on an organic basis fell below the company's so-called "Nestle Model" and the Switzerland-based giant had predicted 2016 would be another year when its top-line growth would come in under that target.
Publishing its first-quarter results this morning, Nestle maintained its prediction its 2016 organic sales would be "in line" with last year, indicating the company still believes its underlying sales would not meet the Nestle Model.
However, the numbers for the opening three months of the year were broadly welcomed by analysts, with the suggestion Nestle's forecast for annual underlying sales could be conservative.
There are pockets of concern, including confectionery and Nestle's nutrition business in the US. Nevertheless, Nestle's shares, down so far this year, ticked up in early trading.
just-food presents a round-up of how those covering Nestle's stock viewed its performance in the opening three months of 2016 and its prospects for the rest of the year.
"Nestle's Q1 organic sales growth of 3.9% was solid…fully in-line with our expectations and ahead of consensus of 3.6%. There was solid growth in all regions and global businesses – none was particularly strong and none was particularly weak, including Zone AOA which was solidly back in positive territory for the 2nd consecutive quarter. And the beat to expectations was even more pleasing as it was driven more by volume/real internal growth [an internal Nestle metric], which saw the highest growth since Q2 2014. Additionally, FX impacts were less negative than expected, so reported growth was positive for the first time since Q1 2015.
"Primarily impacted by the withdrawal of Maggi noodles in India, AOA growth was negative in Q3 2015 but saw a strong bounce-back in Q4, [with growth of 3.4%. While we saw a slight slowdown in Q1 (+2.1%), it does look as though Nestle could be turning a corner in this region, helped by India recovering well following the withdrawal of Maggi noodles last year, with this business gaining share in the quarter" – Sanford Bernstein analyst Andrew Wood.
—
"Nestle surprised positively with an organic sales growth beat driven by a quicker-than-expected rebound in its Maggi noodles business in India, as well an ongoing recovery in North American frozen foods, while its coffee business was also better than expected. Volume growth was the driver, given the deflationary environment, with RIG accelerating in both the developing and emerging world over Q4. The beat should restore confidence after two quarters in which the company missed expectations and its mantle as the most defensive consumer goods stock in the world was dented.
"Nestle reiterated guidance for organic sales growth in line with 2015's +4.2%, along with margin and earnings progression in local currencies. Given Q1 was expected to be the weakest quarter, we believe guidance looks cautious and suspect that consensus organic sales growth for 2016 (now +4.2% vs. our +4.5%) may nudge higher" – Kepler Cheuvreux analyst Jon Cox.
—
"Nestle gave a more optimistic view than in the past quarters. We believe that the red flags are gradually fading as organic growth gains momentum due to US frozen doing better, Maggi India has recuperated gain and will show stronger growth in H2 and strong growth in powder beverages with all brands, Nespresso, Dolce Gusto, Nescafé and VertueLine.
"US frozen had good growth rates in particular with its third biggest brand Lean Cuisine. The heavy investments behind the brand are bearing some fruits. The pizza business was stable despite the product recall for some of the products. Stouffer's continues to do well. Maggi India business shows positive trends: Maggi India has gain back some of the last market share. In particular H2 could see some improvement as the lower base will help. The weakness remains with Yinlu, Nestle's ambient milk drink in China. However, Nestle continues to renew the product line. There will be further renovation with new products in the next weeks. This could have a positive impact on Yinlu, as the model for renovation of the product is similar to the successful model of LeanCuisine in the USA.
The company gave a positive outlook on the organic growth for the next quarters. Organic growth momentum will increase as pricing should accelerate due to higher inflation in Russia and in particular in Brazil. In Russia pricing were taken already last year and will now be increased further. In contrast to Nestlé Brazil, which will take pricing now, as inflation was low last year and started to increase since the beginning of this year. For H2 there could be higher volume growth rate due to a base effect as Maggi noodles in India had no sales in H2 2015. We estimate an organic growth rate of +4% for Q2 and a FY16 organic growth rate of +4.3%" – Alain Oberhuber, consumer goods analyst, MainFirst.
—
"A good start of the year at Nestle. The stronger than expected RIG is a relief and confirms that Nestle is gaining market share. The faster-than-expected recovery in India is positive as well, as is the growth in frozen food.
"We note however the under-performing nutrition business – how much is the impact from US business? Nutrition is clearly below expectations on the back of the exit from some US Women, Infants and Children contracts. Wyeth infant milk formula continued to deliver solid growth
"A disappointing Confectionery division with only 0.3% RIG in spite of earlier Easter" – Jean-Philippe Bertschy, Bank Vontobel.
—
"Despite total sales being 0.5% lower than consensus forecasts, the important organic sales growth was better than expected. Real internal growth of 3% is a good result compared with the sector (Danone consensus +1.3%, Unilever with a low prior-year baseline +2.6%) and accelerated in comparison with full year 2015 (+2.2%).
"As anticipated, price growth of 0.9% slowed considerably compared to 2015 (+2.0%), which is attributable to deflationary tendencies in industrialised countries as well as lower raw material prices.
"The organic sales growth [including pricing] of 3.9% beat expectations and is a strong result compared with the sector given Nestlé's relatively higher prior-year comparable baseline (by way of comparison, Unilever with low prior-year baseline +4.7%, Danone consensus 3.2%). The emerging markets came in at +5.6% somewhat weaker than we anticipated. On the other hand, the industrial countries, at +2.5%, performed much better than expected" – Patrik Schwendimann, Zürcher Kantonalbank.