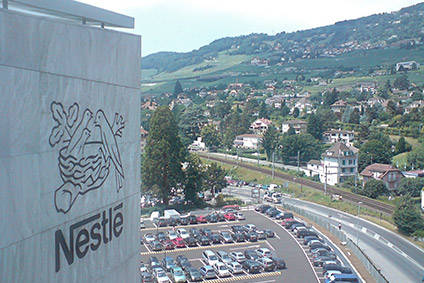 Consumer de-stocking in the retail channel and a slump in foodservice revenues prompted Nestlé to trim its guidance for annual sales. The near-term course largely rests on the trajectory of the pandemic and whether a second wave emerges but the Swiss giant remains confident it can navigate the uncertainty. Simon Harvey takes a look.
After an encouraging start to the year, Nestlé's sales, on an organic basis, slowed in the second quarter as the Stouffer's ready meals and KitKat chocolate owner felt the impact of the coronavirus-related shutdown of the out-of-home sector across its markets.
Growth eased to 1.3% in the quarter through June – better than the consensus forecast among analysts of growth of 0.3% – from 4.3% in the first three months of the year, reflecting what Nestlé called "the severe impact of movement restrictions on out-of-home businesses and some consumer de-stocking". First-half organic sales rose 2.8% to CHF41.2bn (US$45.3m), but on a reported basis were down 9.5% due to the impact of exchange rates and recent asset disposals.
While the out-of-home sector is slowly reopening in many countries, the risk of a second wave will be a concern for chief executive Mark Schneider, especially after Nestlé yesterday cut its 2020 sales outlook, which is based on the assumption there will be "no material deterioration versus present conditions".
Early signs of a second wave are emerging in some parts of Europe, while the US is still grappling with a continued surge in cases. And while the retail channel helped take up the slack in the lost foodservice business as people switched to eating at home, the pantry-loading that boosted Nestlé's first-quarter sales subsided in the following three months.
Nestlé CFO François-Xavier Roger acknowledged on a call with analysts yesterday that, even if there is a resurgence in Covid-19 infections, any return to stockpiling is likely to be less pronounced than in the initial stages of the outbreak because consumers, given their trials and tribulations over the past few months, have more confidence they won't encounter empty shelves again.
More worryingly for packaged food companies present in the out-of-home channel, Nestlé became the second consumables business to warn this week that the foodservice market may not fully recover until next year at best, or even until 2022 in the worst-case scenario.
"It will certainly not happen in 2020, probably not even in 2021," Roger said. "It will take some time by geography given that Covid-19 hit Asia first. We saw an earlier recovery there, and it's the opposite in the Americas, obviously."
Before the crisis, the CFO said foodservice accounted for about 10% of Nestlé's group sales, and was around 15% when on-the-go consumption and "products typically bought on impulse", were included.
But, from the onset of the crisis, which generally materialised in the western world in March, sales through the channel declined by as much as 60% in April, considered as the bottom of the slope by Roger, as Nestlé witnessed a gradual improvement through May and June, and into July.
"But we have not recovered the level where we were before, and it will take some time," Roger said.
"I see an opportunity there"
The biggest impact from the drop-off in foodservice was felt in ice cream and confectionery, and, outside food, water.
Despite the difficulties and challenges, Schneider is taking a long-term view on the sector, to which Nestlé remains committed. It's about "adapting to change that I think is inevitable now in the out-of-home business", he said.
Emphasising the importance of out-of-home for Nestlé, the CEO noted how, for "several decades", the category growth had been "superior to in-home consumption".
"There's almost like a blurring of the lines between what is in-home consumption and what is out-of-home consumption," Schneider explained, referring to the way foodservice operators have adapted to the challenges by offering more takeaway meals to be eaten at home.
"So I see an opportunity there. It's going to be some choppy quarters, no question, and we may have to do some adjustments here and there. But, overall, we want to maintain a growth focus," Schneider said.
It was a volatile session for Nestlé's shares on the Swiss Stock Exchange yesterday as they swung between gains and losses before ending the day lower, and they were down again on Friday afternoon.
The Sweet Earth owner had previously guided to a "continued increase in organic sales growth" for 2020, having posted a 3.5% gain last year, but the new outlook envisages a slowdown to around the 2% to 3% area.
Alain Oberhuber at MainFirst said in a research note the new organic sales guidance "is around one to two years later than expected" for Nestlé to achieve a mid-single-digit growth rate", and has consequently lowered its forecast for 2020 to 2.8% from 3%.
But Schneider was quick to point out the previous guidance was proffered before the full impact of Covid19 became apparent, when it was "practically impossible at that time to estimate the size and shape of this pandemic and the economic fallout".
And he was voiceful of the fact Nestlé is even providing guidance at all when many of his compatriots in the food space have refrained from doing so, although he acknowledges that offering an outlook has its risks.
"We nonetheless feel that guidance is helpful and important to you to calibrate your expectations and reduce financial uncertainty," Schneider sought to clarify. "So clearly, we're trying to do as well as we can here, but we need a little bit of downside protection. So I hope the fact that we're giving guidance is seen as calm, determined confidence.
"I think on the balance, we're quite pleased with the performance."
Jefferies analyst Martin Deboo said: "This reads as a strong result and confident outlook in the circumstances that looks set to preserve Nestlé's premium rating and reputation."
E-commerce, market share
The first-half performance was marked by commendable gains in market share and e-commerce through the retail channel, where many food companies have benefited from a switch in consumer patterns during lockdown, a trend that many, including Nestlé, expect to continue.
Nestlé's e-commerce sales surged by almost 50% in the first half, "with a strong acceleration in the second quarter across all geographies and categories" as the virus took hold, and the channel now accounts for 12.4% of total sales compared to 8.5% in 2019, CFO Roger confirmed.
The company grew or maintained market share across 60% of its categories, which Roger said is close to the highest levels since 2013, with noticeable achievements in ambient and chilled food products, coffee and pet care.
Roger continued: "The interesting thing as well is that we have had an even stronger performance online than offline in terms of market share, which is evidenced by the fact that about two-thirds of our business sales show online share above offline."
Meanwhile, first-half retail sales climbed 6.3% in organic terms, "reflecting the significant shift from out-of-home to at-home consumption".
The Americas division led the sales gains with organic growth of 5.3%, with North America posting a mid-single digit increase, while EMENA was up 2.4%. But sales in the AOA region fell 2.2%, although broader emerging markets saw growth of 1.1%, compared to 4.1% for developed countries.
Real internal growth – a company metric that strips out M&A and pricing – was 2.6%, with a 0.2 percentage point price contribution. The underlying trading operating profit margin (UTOP) rose 30 basis points to 17.4%, while the less closely-watched trading operating profit margin climbed 140 points to 16.9%.
In its outlook for the year, Nestlé said the UTOP margin "is expected to improve", while underlying earnings per share in constant currency are "expected to increase".
Oberhuber at MainFirst has also adjusted the outlook for UTOP to 17.9%, based on the assumption the margin will now increase 30 basis points for the year, instead of the 40 point-gain previously predicted.
"However, the biggest negative impacts on our earnings adjustments for fiscal 2020 come from a higher negative foreign-exchange impact and a higher tax rate," he said.
Nestlé noted in the earnings release that foreign exchange reduced sales by 7% in the first half, mainly as a result of strength in the Swiss franc, which is considered a safe-haven currency in times of stress. Its tax rate was 21.4%.
Net profit for the half increased 18.3% to CHF5.9bn.
"Reposition our portfolio"
Divestitures shaved 5.3 percentage points off Nestlé's group sales mainly related to the disposal of the ice-cream business in the US and the Skin Health division.
And further disposals, along with acquisitions, will remain a key part of the Maggi noodles maker's strategy, as, according to Schneider, Nestlé "continues to reposition our portfolio towards businesses that offer more profitable growth".
Nestlé is in the process of finding a buyer for its peanut butter and yogurt business in China and also plans to offload its Buitoni pasta brand in North America. And it's "exploring strategic options, including a potential sale, for parts of the Waters business in North America".
In 2019, the company sold its 60% stake in the Herta meats business but will focus the remainder on plant-based foods, an area in which Nestlé recently acquired US-based Sweet Earth and Terrafertil in Ecuador.
Schneider said: "Most of the long-term trends we have been working on still very much apply. Some of them have even been accelerated, in particular e-commerce and digital engagements, as well as health and nutrition, with a particular focus on plant-based nutrition and the immune system."
CFO Roger continued: "I think in the last few calls, we have mentioned our interest here in building the business through acquisitions, and that continues. And at the same time, if for a certain business a review or divestiture makes sense, we will continue to do that. The portfolio transformation process will continue towards higher growth and more differentiated products."
It's a strategy that comes with challenges even beyond the future course of Covid-19, as the global economy enters a recession, from which some countries may take years to recover, particularly when the virus is still prevalent.
But it's also an opportune time to acquire new businesses because valuations are likely to be cheap in the current environment, although that may not pose well for any further divestitures Nestlé may choose to make.
It remains to be seen whether Schneider's quiet optimism prevails.
"We're witnessing extraordinary times with extraordinary challenges," Schneider said in his opening remarks to analysts. "In this context, I'm glad to report that Nestlé has truly risen to the challenge."