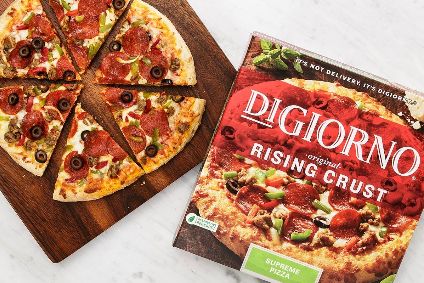 After muted market reaction to the first-quarter updates of Danone and Unilever, Nestlé's shares climbed on Friday (24 April) as investors reacted to the Swiss giant's solid Q1 numbers. But what is Nestlé's take on how Covid-19 is affecting the packaged food industry? And how does the company see the rest of 2020 taking shape? Dean Best reports.
Expectation-beating sales – but some reasons to be cautious
Nestlé had a solid start to the year, helped, unsurprisingly, by pantry-loading, particularly in developed markets. While the industry won't continue to see the level of stockpiling it did in March, Nestlé did still see growth across a mix of its categories and geographies. On a organic basis, sales rose 4.3%; the consensus forecast among analysts was for growth on this metric to have hit 3%.
Digging into the numbers can, however, prompt some caution. Nestlé said its pricing fell 0.4%, with the DiGiorno pizzas maker pointing to promotions already booked in North America. Meanwhile, much of Nestlé's sales growth came from one part of the portfolio. "Should one want to be picky, we note that petcare accounted for nearly half the growth – circa 190 basis points," Jefferies analyst Martin Deboo says.
One definite fly in the ointment was China, where sales fell at a double-digit rate, pressured by the closure of the out-of-home channel for much of the quarter as the country was first into a Covid-19 lockdown. "What I can tell you is that we start seeing China coming back, clearly, but we are not at the level where we were before the crisis," Nestlé CEO Mark Schneider told analysts on a call to discuss the numbers on Friday afternoon.
What impact did Covid-19 have on the numbers?
Expect equity analysts covering packaged food companies to try to get to the nub of this issue. With the consumer stockpiling seen in many markets in much of March set to have boosted many food manufacturers (albeit in varied ways and at different weightings), CEOs and their CFOs will be quizzed in order to try to get a feel on their underlying performance.
"Is it possible to have a bit of an understanding on the moving parts, on the pluses and minuses on the quarter, to understand whether, on a net-net basis, you had a better quarter [due to] … a positive impact from Covid?" asked J.P. Morgan Chase's Céline Pannuti on Friday.
Nestlé CFO François-Xavier Roger said it was "very difficult to measure, which is the reason why we don't really want to go there", adding: "We see significant moving parts. The net impact, we don't really know. The only thing I can tell you is that the quarter was slightly better than what we expected."
With the novel coronavirus set to have helped the sales of a number of packaged-food manufacturers, there is also likely to be questions among those monitoring company performance about how businesses have fared against their peers. During the first quarter, Nestlé "gained or maintained our market share in 59% of our [geography-category] cells. It was 51% gain and 8% stabilised", Roger said on Friday after fielding a question about the company's market shares. 
Roger said the data "seems to indicate that, overall, we gained market share". He added: "The market share gains were really clear across categories in EMENA. And, globally, we gained market share in petcare, in coffee, in ambient and chilled culinary and infant cereal."
Why did Nestlé stick to its pre-Covid guidance?
As well as Nestlé's sales numbers, another factor likely to have been behind the rise in the company's share price on Friday was the company holding its financial guidance on 2020.
The move set the world's largest food maker apart from some of its peers – notably Unilever and Danone – which have pulled their own forecasts for sales and profitability as they adjust to the Covid-19 pandemic.
However, given Nestlé's (still general) guidance of "continued improvement in organic sales growth and underlying trading operating profit margin" was issued in February and did not include taking into account any impact from the coronavirus outbreak, the company's management was understandably asked why it had stuck to it as an official outlook.
In his prepared remarks on the analyst call on Friday, Schneider said: "There is no reason to remove or change our earlier guidance, even with all the significant changes we have witnessed. But I'm asking for your understanding that beyond Q1, we're not in a position to forecast future Covid-19 effects and the impact on our financial results. We cannot, and should not, speculate on which turn the pandemic will take next and what exactly are the global economic consequences and the impact on our business will be."
Later pressed by RBC Capital Markets analyst James Edwardes Jones on why Nestlé had maintained the guidance "given that it doesn't make any allowance for the impact of Covid-19", Schneider added: "Nothing is added if we increase the amount of uncertainty for you. We've given you a guidance before Covid-19 in February and we continued with that practice now. What we want to signal here is that many of the underlying things that we talked to you about still do apply, and we want to take uncertainty out."
The post-Covid consumer – a boost for e-commerce?
Nestlé investors – as well as the market at large – would have been closely watching for any commentary the company gave on how the pandemic might shape consumer habits in the weeks, months and years ahead.
Schneider was understandably cautious talking about any possible impacts on Nestlé's results but he did offer a few reflections to sketch out possible post-Covid consumer habits.
The Nestlé chief said the e-commerce channel – where the company saw gains particularly for its coffee and petcare businesses in the first quarter – could grow in importance for food and beverage, two categories that have lagged other consumer-goods areas in the channel.
"This is a key area where we saw true significant increases," Schneider said of Nestlé's Q1. "I think some of that will be here to stay. One of the side-effects of this crisis will be it will be a breakthrough event when it comes to e-commerce for food and beverage.
"Food and beverage categories [have] tended to be somewhat slower when it comes to e-commerce, compared to, for example, books or consumer electronics. I think some of that is changing now because people see the convenience of e-commerce in food and beverage as well."
The post-Covid consumer – any indications to draw from China?
Packaged food manufacturers supplying China will be closely watching how consumers there are reacting to the easing of lockdown measures.
And any lessons in China could – to a degree – give a flavour of how consumers in other markets might react as restrictions are lifted, with, of course, the usual caveat in packaged food of how important local habits remain when considering shopper behaviour.
Schneider did, however, land on one change in China that he says could be echoed elsewhere. "I think some of the initial reactions we saw in China also apply here for the rest of the world now," he reflected. "There's an increased interest in value-for-money, and that's not surprising because this health care crisis also goes hand-in-hand with an economic crisis. And I think it's safe to say that we're middle of a global recession right now, and hence, people are very value-conscious and there's a strong interest in that."
However, Schneider was quick to insist that doesn't mean alarm bells should ring for owners of 'premium' brands.
"Looking back at the first quarter, we nonetheless saw our premium products hold up well. And that is something that in hindsight also is very much in sync what the experience we had from previous crises, including the world financial crisis, where usually it's the two extremes, the value side and the premium side, that do hold up quite well in a downturn," he said. "At least now, for the early innings of this new situation, that seems to apply as well."