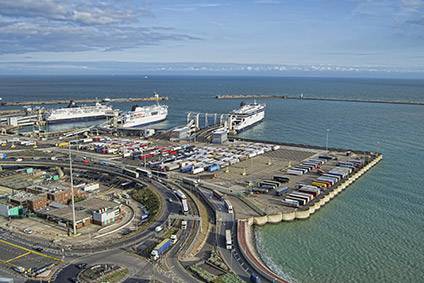 Andy Coyne looks at the possibility of a no-deal Brexit and at what food exporters and importers could expect from operating under World Trade Organization rules.
If the UK leaves the EU on 29 March without a trade agreement, after an agreed transition period it would then start trading with its former partners on the basis of World Trade Organization (WTO) rules.
This is a fairly common way to operate. Countries that don't operate imports and exports via free-trade agreements, either within a bloc such as the EU or on a one to one basis, invariably do so under WTO rules as long as they are members of the organisation (currently 159 countries).
Countries or trading blocs have, of course, sought to improve those WTO terms of trade by striking trade deals – which the EU (with the UK as a member) has done with various markets.
If there is no deal in place on 29 March, the UK's trade with the EU will default to WTO rules. All EU countries are WTO members but the deal would be done with the bloc as a whole.
Leaving the EU without a deal means the UK will be free to negotiate a future trade deal with the EU and all other countries for that matter, a prospect some proponents of Brexit relish.
But what does trading on WTO terms mean for the food industry? What are the WTO tariffs and are there other WTO rules to abide by?
Every WTO member has a list of tariffs and quotas (limits on the number of goods) they apply to other countries. These are known as their WTO schedules.
The EU bloc tariffs vary according to product type but, as an indication of what UK food companies exporting to the EU can expect, the tariff on dairy produce is 35.4% and on confectionery 23.6%. Lower tariff rates are set on cereals (12.8%), fish (12%) and fruit & veg (10.5%).
Meat tariffs vary with beef at 56% and poultry at 14%.
A House of Lords report into Brexit and food prices suggested there would be an average tariff on UK food exports into the EU of 22% post-Brexit.
In the event of a no-deal Brexit, UK food companies will have to accept these tariffs when exporting to the EU and, from an import perspective (and from the prospective of EU companies shipping to the UK) await London establishing its own WTO schedule.
The UK could choose to introduce low tariffs or waive them altogether, in an attempt to stimulate trade, but this is unlikely given it would make the relationship with the EU very one-sided.
And under the WTO's most favoured nation (MFN) rules, the UK would not be allowed to lower tariffs for the EU, or any specific country, alone. It would have to treat every other WTO member around the world in the same way.
The European Livestock and Meat Trades Union (UECBV) said in a recent report – The EU Meat Industry in a Hard Brexit Scenario – that it believes it is likely the UK's tariffs would be the same as those applied by the EU, based on a UK government quote stating that it plans "to replicate our existing trade regime as far as possible in our new schedules."
But the UECBV is of the opinion that in the hard Brexit scenario, the meat sector will be disproportionately affected by the tariffs imposed.
"Due to the sensitivity of the EU food market, meat products face the single-highest average tariff rate of all sectors," it said.
"This leaves the sector particularly vulnerable to a WTO-style tariff environment. A wide range of meat types or cuts would attract a tariff up to or in excess of 100% of the product value, which would render them uncompetitive and result in major displacement in trade flows."
Aline Doussin, a partner and international trade law expert at London-based law firm Hogan Lovells, speaking at the Food Matters Live event in November, left the audience in no doubt what the future would be like for them if a no-deal Brexit is the outcome.
"The whole point will be trade with the EU will be made under [World Trade Organization] MFN tariffs, so what is currently applicable to non-EU trade in the absence of trading agreements will apply for EU-UK trade in the absence of the deal," she said.
"So you'll have to pay taxes, basically. You'll have to pay duties on finished and ingredients products. You'll have to do customs declarations and customs checks [and] there's safety and security declarations."
Food companies will obviously be hoping that it doesn't come to that and given that, according to UK government statistics, in 2017 some 44% of the UK's exports were to the EU, and 53% of its imports (including 30% of its food) came from there, an UK-EU deal of some kind will be crucial.
That is not to downplay the importance of any deals agreed with the US, India, China, Australia, Canada and elsewhere – deals the UK can't forge individually at the moment as it is part of the EU 'club', which acts as one entity when it comes to trade deals.
And Australia, for example, has special access to the EU market through tariff quotas. There have been indications it fears that deal would come under threat if it forges a separate trade agreement with the UK.
The WTO says its aim is to see free trade increase gradually through negotiation, to promote fair competition and encourage development in countries where it is needed.
It wants national and foreign companies to be treated equally and wants to promote trading certainty through what it calls bindings.
These are binding agreements not to raise tariffs, which countries make unilaterally.
All very laudable but it is the likelihood of increased tariff rates for UK companies trading into the EU and vice versa that will be on the minds of food businesses.
A warning to Danish food companies exporting their products to the UK issued this week (15 January) by the Organization for Economic Co-operation and Development (OECD), suggested if the UK were to leave the EU without agreeing on a trade deal and WTO terms were to be implemented, Denmark's food exports to Britain – such as bacon and butter – would likely drop by around 24%.
The Danish Ministry of Environment and Food, perhaps inevitably given such a scenario, responded by saying it would "continue the efforts the government has made to open new markets and open the eyes of the outside world to the good Danish food".
Meanwhile, the UK's National Farmers' Union (NFU) has stressed a no-deal Brexit should be avoided at all costs.
Following a meeting of the UK Farming Roundtable, which consists of organisations representing farmers and growers from all agricultural sectors, NFU president Minette Batters said: "The members of the Roundtable were clear in their view that a 'no-deal Brexit' would be disastrous, not only for our farmers but for the public too."
Among the possible impacts of a no-deal Brexit outlined by the Roundtable was the UK government avoiding charging tariffs on imports to prevent a rise in food prices (although, as we have seen, it would have to offer the same deal to all WTO members, not just the EU27).
This, the Roundtable suggested, could have a negative impact on domestic food production and consumer choice, as well as an increase in imports of products produced to lower standards.
But, as with all predictions linked to Brexit, we simply don't know what will happen before 29 March or what action the UK will take after that date. A Customs Union between the UK and EU, effectively creating a free-trade agreement, could still be a possibility.
What is clear, though, is that if trading between the UK and EU is carried out under WTO tariff terms, food import and export costs are set to rise dramatically while the UK would lose preferential access to key trade partners.
That is a scenario Ian Wright, chief executive of UK industry body the Food and Drink Federation (FDF), describes as the "very worst outcome for UK food and drink".
He said: "GBP13.3bn (US$17.1bn) of UK food and drink production would be subject to the EU's prohibitively high WTO tariffs and exports of many products would stop overnight. These tariffs are significantly higher for agri-food and drink than for any other products, peaking at more than 100% on fruit, vegetables, meat, oil seeds, sugars and confectionery and beverages.
"The EU27 buys more than 70% of UK food and soft drink exports each year. Loss of these exports would see many businesses, and SMEs in particular, face serious profit and cash flow implications. The result would ultimately be higher prices and less choice for UK consumers as producers adapt to the UK's diminished access to near markets."