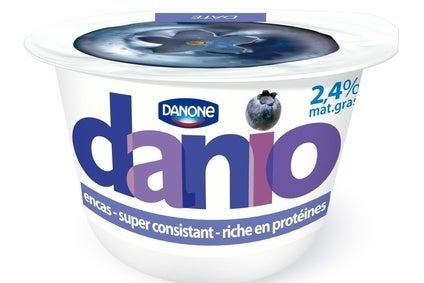 Danone's fresh dairy sales struggled throughout 2014. Nevertheless, as the world's largest dairy manufacturer, the company believes it can lead the category back to growth in stagnant markets like Europe and the US. Katy Askew reports.
Danone booked mixed full-year results this morning (20 February), with strong organic growth in areas such as early life nutrition offsetting the continued slowdown of the French group's fresh dairy unit.
As MainFirst analyst Alain-Sebastian Oberhuber noted: "Danone published a good set of numbers, with organic growth rate of 4.7% slightly above consensus and in-line operating profit…. Baby nutrition was stronger, fresh dairy weaker ,with waters and medical nutrition in-line."
Danone witnessed a sequential slowdown in dairy throughout 2014, with volumes coming under pressure as the group moved to offset higher milk input costs by raising prices. In the fourth quarter, price/mix increased 6.8% in the period but higher selling prices were more than offset by a 7.8% decline in volume.
The performance of dairies was challenged across Danone's largest markets. In the US, the company has been adversely impacted by the slowdown in the growth of the Greek yoghurt sector. In Russia – one of Danone's largest dairy markets – the company said its brands delivered a "resilient" performance in the face of extreme price-volume dynamics. Danone has shed volumes in low-value segments and concentrated on portfolio enhancing activities in the market. In western Europe, streamlining SKUs, higher prices and a "selective" approach to promotions meant volumes decreased 4% in the final quarter of the year.
Speaking to analysts after the results were released, CEO Emmanuel Faber said: "In dairy, with -4% growth in Q4 in Europe, we are not satisfied with where we are. We need to get dairy in Europe back to positive growth. This will be on the agenda for this year."
Danone wants to drive "sustainable, profitable growth" across its business – laying the groundwork for further expansion in 2016 and beyond. The Activia owner said it needs to deliver top line expansion in a disciplined way – one that does not dent the trading operating margin.
Danone has taken steps to maintain profitability in its dairy business and the company said it completed initiatives that will generate EUR200m in annualised savings from its European operaions. These efforts have included closing factories and removing underutilised capacity from its systems. Savings, Danone suggested, can be fed back into supporting and growing its dairy brands as well as expanding its business elsewhere.
"Overall, we believe Danone's transformation continues with restructuring in Europe to run the business for cash to fuel growth in faster-growing regions," Kepler Cheuvreux analyst Jon Cox wrote in a note to investors.
Looking to 2015 and beyond, Danone is aims to expand its fresh dairy revenue in key under performing markets, such as western Europe and the US.
In Europe, Danone is concentrating its efforts on faster-moving, higher volume lines. It has reduced less popular SKUs and is striving to revitalise its key Activia and Actimel brands. "We do have some positive signs that this is happening," Faber suggested noting "the long-awaited stabilisation of our Acti brands".
He continued: "Activia was still negative in the fourth quarter but much better than it was a year ago. We have an agenda to bring Activia back to positive territories in 2015."
In the US, Danone has ridden the wave of growing demand for Greek yoghurt and gained market share so that it is now a leader in that segment. However, as the expansion of the Greek segment has slowed so have Danone's prospects in the market.
"The market share differential that we have created with our number two competitor in the US is there to stay or grow… The challenge for us now is – after the incredible wave of Greek growth – with Greek accounting for 50% of the category and plateauing – what is going to be next?"
Faber maintained the expansion of Greek yoghurt in the US bodes well for continued category expansion and future penetration gains. "One of the big challenges we have had in the past [in the US] is to grow the shelf. The shelf space in US is three to four times smaller for yoghurt than in various European countries. Growing the shelf is absolutely next if we are going to grow the per capita [consumption]… The shelf has grown 15% in total over the last three years. Danone's share of shelf has grown 20%."
Looking specifically at 2015, Faber said "this year is going to be about cleaning the shelf" in the US. Pointing to the likelihood of SKU reductions, Faber said the company would place its efforts behind products that have "good rotations".
It has, meanwhile, made a bet on male interest in yoghurt in the US with the launch of Oikos Triple Zero, a protein-heavy yoghurt aimed at men.
Elsewhere, Faber said Danone was working with the Russian authorities to support its business in the country. "We are a very Russian company. We have, as such, a particular status in terms of governmental support [in Russia] that is absolutely essential… We have 100% sourcing capabilities there, 100% local business, huge heritage brands, which despite this inflation in selling prices… have been growing."
Further east, Danone is in the process of redefining its operations in China, where the company maintains there is considerable space to grow despite heating competition. "China is under construction. We are reshaping the future of Danone in China," Faber said. The foundation of that work will be Danone's partnership with state-owned agri-food group COFCO, which saw it take a stake in leading Chinese dairy firm Mengniu last year.
Turning around Danone's fortunes in fresh dairy is a work in progress and Faber was cool on the prospect of volumes turning positive this year. However, the chief executive indicated the group expects to see a return to growth within three years.
"If we say three years, we really see no reason why dairy shouldn't grow close to mid-single-digits. That will be a mix of volume and mix/value growth… If you look at the very long-term growth of dairy… dairy is one of the fastest-growing food categories in the world volume-wise – 2-3%. When we explore new geographies we continue to see that growth.
"Danone is the leading company in the world in fresh dairy. Our responsibility us to grow the category… There is no reason why, three years from now, dairy shouldn't grow close to the mid-single-digits with volume growth being a good contribution to this. That is not going to be in 2015. But when I talk about 2016 and growing sustainably that is one of the things we are looking at."