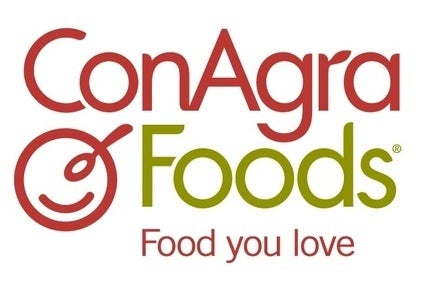 After a challenging previous financial year, ConAgra Foods yesterday (18 September) reported on the first three months of its new fiscal period. Shares in the US food group rose as it reported underlying earnings that beat Wall Street forecasts and stuck to its expectations for annual earnings – notable after 12 months that included three profit warnings.
However, drilling down into the numbers, it is clear ConAgra's private-label business remains under pressure. The 2012 acquisition of own-label supplier Ralcorp Holdings made ConAgra the largest private-label business in the US but the company has faced problems with the business.
The division made a loss last year. Sales were flat but impairment charges hit profits from the business and ConAgra warned earnings projections from the unit would be "below original plans" for the next several years.
In the first quarter of the new financial year, ConAgra saw sales from its private brands division fall 2% to US$980m, with, notably, sales volumes down 3%.
Operating profit from the division fell 36% to US$42m, dragging down group operating profit, which dropped 4% to $353m.
ConAgra pointed to "pricing concessions" it made to retailers in its last financial year due to "customer service execution issues". It also cited "temporarily higher supply chain costs" linked to "business transition". The company insisted the moves on price would be lapped later in the current financial year.
The company appears to have suffered amid fierce competition among private-label players in the US. However, analysts have remarked on how the weak performance of ConAgra's private-label business in not indicative of the overall sector, with some forecasting another difficult 12 months for the division.
On a conference call to discuss its first-quarter results yesterday (18 September), the company did not sugar coat the challenges it had faced.
Though defending ConAgra's "reactive" move when it came to pricing concessions, Paul Maas, president of ConAgra's private brands and commercial foods business units conceded the division's "current margin performance is not acceptable". However, reflecting on ConAgra's recent moves on price, he said: "That was just a situation we were in…we're fundamentally changing it and know we have to get a better outcome".
Zoning in on the division's segments, it appears ConAgra witnessed growth in bars and snacks, but found sales were "more than offset by declines in cereal and pasta". It now hopes to capitalise on the demand for snacks and bars to lead the division's growth.
"We're taking advantage of snacking demand through new emulations in some of the fastest growing snacking areas like pretzel flats and pieces, a new bolder flavors of crackers and we're also doing some of our own unique innovations for several retailers," CEO Gary Rodkin said.
Rodkin said ConAgra's performance in private-label cereal had been "very soft" but insisted the company would "better leverage our very strong emulation capabilities and a margin structure that's attractive to retailers".
However, Rodkin said the company has managed to secure new contracts. "We have picked up a good bit of new business over the past six months that we're working to bring to market in the second half of fiscal 2015."
And, amid the seemingly fierce battle on price, ConAgra looks to be betting on two areas: its belief it can have a cost advantage and also its faith in product development.
"Most of our competitors are pretty small in private brands and when you think about total delivered cost – and ultimately and this is going to take a bit longer – but ultimately the total delivered cost just from a logistics standpoint of being able to combine loads and deliver is certainly going to be an advantage for us," Rodkin said.
Robert Moskow, analyst at Credit Suisse, said a major competitor had spoken "a lot" about using R&D and marketing to "come up with ways to segment the market for private-label customers".
Moskow asked ConAgra if the new business it had won had seen retailers ask the company to "leverage your R&D capability to come up with new product ideas or premium versions – or is it just like you are bidding for business and you're displacing someone else?"
ConAgra's management said developing own-label versions of national brands was key but insisted the company's innovation work would give it an edge.
"Getting the emulation right, that's kind of the bread and butter of the business but clearly our customers are really excited about our capabilities on the innovation side, that's to come as we go forward, we dabbled in that in a small way thus far and have some wins there but that's going to become a bigger piece of the business as we go forward particularly as the customers go up market," Rodkin said.
ConAgra seems confident it is overcoming the issues it has faced in private label. Though price concessions are still in the firm's "base", Rodkin said ConAgra is starting to "selectively manage our mix" and "take some pricing on some of the new business that starts to eat into those price concessions".
There are plans to reduce less profitable SKUs, realise "substantial" productivity savings, and a focus on winning new business through distribution expansion and ConAgra assured these moves will result in improved segment profitability for the year.