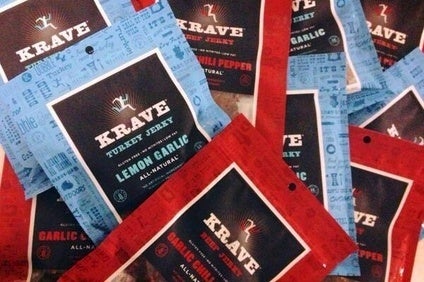 "Snacking… and portable snacking is not just short term, this is really a trend and it's becoming a habit," Hershey CEO John Bilbrey said yesterday as the US company announced its full-year results and its move to buy meat jerky brand Krave.
Speculation of a deal being in its final stages emerged earlier this month, with the group confirming it yesterday.
In some sense the acquisition prompts questions like "what does a confectionery firm know about trading in the meat protein sector?" But, at the same time, it has not come as a huge surprise. Earlier this week, Hershey refused to be drawn on speculation it was close to buying Krave but did tell just-food its "key strategies" for the past few years include "growing beyond confection into the broader spectrum of snacking and adjacencies."
It has already made some moves. The September acquisition of Shanghai Golden Monkey brought with it the Chinese confectioner's bean curd. In the US, Hershey last year move took its namesake and Reese's brand into spreads.
Bilbrey told analysts yesterday Hershey had been "expanding across a broader snacking continuum".
He said: "Even if you think about China…our bean curd…that's a product, it brings protein, it's on-trend in terms of being a snacking on-the-go brand."
The move to acquire Krave, can only be a good one, argues Athlos Research analyst Jonathan Feeney as it goes some way to addressing issues that have dampened Hershey's recent performance.
For the fourth quarter, Hershey reported sales of US$2.01bn, missing analyst expectations of $2.07bn. The underperformance was linked to an unfavourable volume/mix in its core US CMG business. It also saw Hershey cut its outlook in sales and EPS growth for 2015 from 7%-9% and 9%-11% to 5.5%-7.5% and 8%-10%, respectively.
"While outside of its competitive strengths, the acquisition of Krave premium jerky to address these pressures is sensible in that it's a small, low risk deal…that addresses a secular change in nutritional preference," said Feeney.
Erin Lash, analyst at Morningstar agreed: "We believe the firm's investment to bring new products to market is favourable and stands to solidify its competitive positioning long term. We think this deal signals the firm's openness to expanding its portfolio beyond confectionery, and we wouldn't be surprised to see more tie-ups in the same vein."
The $2.5bn meat snacks category is one of the fastest growing sectors in the US, posting double digit growth over the last year. According to Hershey, household penetration is only up 31% but continues to grow through two points this past year. "So clearly, its meeting a lot of consumer needs," Michele Buck, the president of Hershey's North American operations, said.
Krave caters to the better-for-you premium segment of the meat snacks category, which Buck said was the "fastest growing" part of the sector.
However, there has been some concern raised as to Hershey's knowledge of the category. Until now, its presence has predominantly been in confectionery and related categories, like syrups.
On Hershey's conference call with analysts, Ken Zazlow, analyst at the Bank of Montreal, asked management about the company's ability to, for example, weigh up commodity costs in meat. "The skill set for Hershey in terms of being very focused on chocolate is that your ability to hedge and just understand the input costs associated with Hershey is far superior – because of your knowledge base. Now you're getting into a meat category, which has a whole another host of issues…Does that raise concerns for you?" Zaslow said.
Bilbrey expressed confidence in his team's ability to execute and deliver on this new venture.
"Well, we have people in our organisation – specifically in both R&D as well as our supply chain – that have a lot of experience in their background specifically within protein and in meats. So while it maybe a new endeavour for some of our folks it's certainly not for all of our people. We're acquiring what we think are people with great skill sets. Obviously we'll do everything we can to learn as much about the business as fast as we can."
It's undoubtedly an interesting – albeit a brave move – for Hershey and does raise many questions. Is it too ambitious? Does this mark the start of Hershey being known for much more than just chocolate, candy and gum? On the call, Sanford Bernstein analyst Alexia Howard pointed out the "alarming" realisation growth in the candy mint and gum category growth had slowed to about 1.7% in 2014. Is this the nudge Hershey needed to explore other growth areas?
Away from the Krave takeover, under its Brookside brand, Hershey plans to launch another on-the-go offering: dark, chocolate, fruit and nut snack bars.
NPD within the confectionery category will include the launch of Kit Kat White Minis, Hershey's Caramels, Ice Breakers Cool Blasts Chews, Reese's Spreads Snacksters and Graham Dippers.
And while M&A is very much on the cards, it appears confectionery is still where its heart lies.
"While snacks and adjacencies is a lever in our long-term sales algorithm, we are very focused on confectionery," said Bilbrey. "It's who we are and it's our namesake."