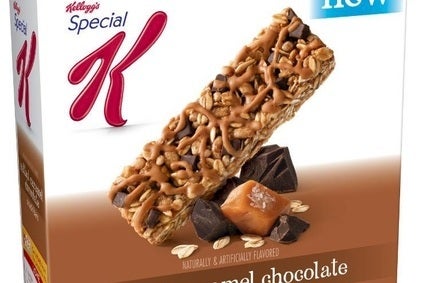 Kellogg appeared to be getting real yesterday (12 February) and slashed long-term sales targets, following yet another set of disappointing numbers that suggested the road to recovery for its core cereal category could be a long one.
Taking an axe to its previously forecast target for annual revenue growth of 3-4%, Kellogg said it now expected annual growth of 1-3% over the long term (although in 2015, it does not expect to see any growth, forecasting comparable net sales will be "approximately unchanged year-on-year").
The announcement sent shares sliding, closing down more than 4%.
2014 was a challenging year for Kellogg and its results reflected its problems.
Net income reached $633m for the year to 3 January, down from $1.81bn a year earlier. The company's operating profit more than halved from $2.84bn to $1.02bn. In the fourth quarter, Kellogg booked a non-cash mark-to-market adjustment of $822m, primarily driven by the impact changes in interest rates had on its pension plans. Costs from the group's Project K restructuring programme also weighed on results.
Kellogg's comparable operating profit, which excludes factors including M&A, foreign exchange and Project K, still fell, sliding 3.9%.
On a reported basis, net sales were down 1.4% to $1.6bn. Comparable net sales dropped 2%.
Kellogg saw sales from both its morning foods and snacks divisions fall in North America. Internationally, the group saw annual and fourth-quarter comparable net sales rise in Latin America. In Europe and Asia Pacific, Kellogg's comparable net sales rose over 2014 as a whole but dropped in the fourth quarter.
CEO John Bryant admitted it was "clearly a disappointing year for us in morning foods" after sales fell 5.7%. In the fourth quarter, the rate of decline was worse, with sales down 7.7% and, yet again, Special K and Kashi were the culprits.
Kellogg says it has recognised where the problems with the two brands lie, and has taken steps recently to resolve these.
Bryant conceded there were "two issues," when it came to Special K. "One is how we've been talking about the brand and the second is the delivery of some of the foods. So in terms of how we've been talking about the brand, we got ourselves into a two-week challenge … basically asking people to deprive themselves, where they have less calories. And really, people want to have weight wellness. They want to be eating great food because it's good for them," he said.
Earlier this year, Kellogg announced it was renovating the Special K Bar line – introducing new packaging and "improved food" – and it was seeing "some good initial results," said Bryant. He pointed to the launch of Special K Nourish in Australia during 2014. "That actually now has the Special K business back to growth in Australia," he added.
Kashi, meanwhile, has had a dedicated management team appointed, new cereals are being rolled out and the Golean brand is being re-engineered to be GMO-free.
But analysts questioned how effective the moves are proving. On a conference call with Kellogg yesterday, David Palmer, an analyst at RBC Capital Markets, wondered whether the renovations were "perhaps working in ways that we can't see yet?"
On Special K specifically, Robert Moskow, an analyst at Credit Suisse added: "I think consumers still think of it as a diet, kind of a weight management brand. And I look at the packaging that's still on the shelves and I see the big K. And all I can think about is [1980s advertising slogan] 'can't pinch an inch' and the two-week challenges. It doesn't seem on-shelf to be very different from how it's been in the past…what kind of feedback do you have from consumers that they can look at the brand differently? To me, Special K means weight management."
But Bryant was insistent Kellogg was going about its approach to boost sales of the brand in the right way.
"I don't think we're trying to move Special K away from helping people look great and feel good about themselves … In the spectrum of weight management [we are] moving from more dieting to weight wellness … I would say it's more of a sort of repositioning is the right word.
"We have changed a lot of the packaging, particularly on the snacks side here in early 2015. But this is not a radical shift of the brand. This is just improving the positioning of the brand so it's more on trend with what consumers are currently looking for."
Understandably, analysts are concerned. Talking of the repositioning of the Special K business, Erin Lash, analyst at Morningstar, said: "We don't expect the efforts to yield improvements for several quarters.
"While we've been encouraged by the lip service management has paid toward brand investments over the past several years, these have yet to drive more balanced sales growth, which calls to question the strength of its brand intangible asset. We recognise that it takes time for these investments to yield measurable improvements, but the continued deterioration, particularly in its core cereal business is a concern".
Alexia Howard, an analyst at Sanford Bernstein, agreed, adding Kellogg's core cereal business was "structurally challenged". How much impact the renovation of Kashi and Special K will have on sales, is at present, anyone's guess.
Moving away from products, the other area of focus was Kellogg's Project K initiative announced at the end of 2013, designed to drive efficiencies and global growth. The programme has seen a number of streamlining activities take place. So, have the moves paid off?
Well – sort of, says Bryant. The savings after reshaping certain areas of the business have been reinvested, he says. For example, investment into rebuilding the Kashi team, investment into the sales force in the snacks and morning foods in the US. This year, the expectation of incremental savings from Project K will be between US$90m-$100m.
"Those investments do not provide an immediate return," asserted Bryant. "Those investments provide returns over time because you have to invest in the people, then they start to generate the ideas. They start to bring these ideas to market. So these are not short-term payback re-investments."
Once again Kellogg seemed to be driving the message that it's not quite there with its plan to stabilise the business, but the wheels have been set in motion. The company moved to assure it is heading in the right direction. However it has been careful to manage expectations. Keeping in line with the revised sales outlook, Bryant noted 2015 would be a "rebuilding year" for Kellogg.
"2015 will be a step in the right direction. Results will improve from those we saw in previous periods and we will build a platform from which we can grow in the years to come."