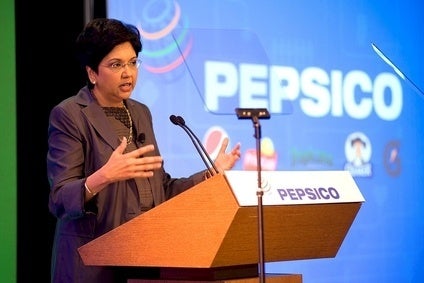 With its exposure to volatile currencies and growing instability in developing countries, PepsiCo saw macro-economic issues weigh on its performance in 2014. Conditions are expected to remain challenging in 2015 but the group remains confident it can continue to manage its way through such headwinds in the year to come.
A focus on innovation and a shift in marketing spend to high-impact consumer-facing communication enabled PepsiCo, the US snacks-to-beverages giant, to book a 4% increase in organic revenue during fiscal 2014.
Organic growth was broad-based at the maker of Lay's potato chips. Its Frito-Lay North America division saw sales up 3.5% and was the single largest contributor to growth in the US grocery channel, CEO Indra Nooyi stressed in a conference call today (11 February). Organic sales were up 11% in Latin America, 6% in Europe and 7% in Asia, the Middle East and Africa.
During a time when global consumers are feeling the pinch, this top-line growth was no mean feat. As Bank of America analyst Bryan Spillane notes: "Being able to generate a 4% organic sales growth rate [in current market conditions] is a significant achievement."
However, on a reported basis revenue remained flat at US$66.68bn, with currency headwinds proving a sticky issue for the company. Moreover, PepsiCo flagged other macroeconomic issues are likely to prove further challenge in the coming 12 months, including falling oil prices that will hit oil-based economies and other "geopolitical issues".
Nevertheless, Nooyi insisted PepsiCo is well prepared to tackle these challenges as they arise and the company reaffirmed its outlook for mid-single digit organic sales growth in 2015. "2014 was a tough year," she told analysts during a conference call to discuss the group's full-year numbers. "The market was quite volatile… [with] geopolitical issues, oil prices, we had our share of volatility. We now have a play book."
Nooyi said the key for PepsiCo is to manage the need to drive top-line growth and defend its market share against profit, to "balance productivity, investment and returns".
"Global volatility has been concentrated in emerging markets… which [nevertheless] continue to be major contributors to our growth," Nooyi observed.
PepsiCo's continued growth in emerging markets can in part be attributed to the company's geographic spread, the company suggested. While the company has faced difficulties in markets like Venezuela and Russia, other emerging markets – such as India and Turkey – are performing "very well indeed", CFO Hugh Johnston added.
Another problem spot in terms of the macro-environment is Europe. However, Nooyi remained upbeat on the group's prospects in the region. "The Europe team is executing well," she said. "Europe is a good performer for us given the particularly difficult environment we are up against."
PepsiCo's "playbook" to deal with these difficult conditions includes an ongoing focus on innovation and brand building activity. "R&D spending you cannot cut. In terms of [advertising and marketing]… we want to make sure we are getting the return on investment but our goal is to hold these [two] sacred," Nooyi said.
At present, PepsiCo is spending 5.9% of sales on marketing and the company intends to "hold" this level. However, the group is continuing to increase its focus on consumer-facing communications – a drive that helped drive the top line in 2014. "We are shifting a lot to consumer-facing programmes in every part of the world."
The group is also managing pricing on a market-by-market basis as it works to offset rising input costs, with commodity expenses expected to increase in the "low single digits". Nooyi said: "The local teams look to take as much pricing as they can to cover inflation… balancing pricing and consumer demand… Each team has to balance pricing elasticity and cost controls so that they balance… the performance."
The final weapon in PepsiCo's arsenal is its bid to continue improving operating efficiency. PepsiCo anticipates reducing costs by $5bn over the next five years, with plans to reduce operating expenses by $1bn this fiscal.
Johnston said PepsiCo expected organic growth, pricing and cost cutting to offset the headwinds such as increased input costs and the "significant" drag represented by foreign exchange. Specifically, he revealed pricing is likely to offset about two-thirds of input cost inflation with efficiency improvements expected to mitigate the remainder.
Looking to the full-year, PepsiCo forecast 7% core constant currency EPS growth. Based on current currency exchange market consensus, the company anticipates foreign exchange to represent a 7% drag on core EPS in the year.