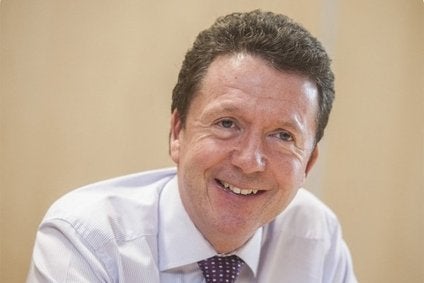 Premier Foods plc CEO Gavin Darby has predicted the UK food group's brands will be the co-beneficiaries of a rebound at the country's largest supermarkets.
UK grocery retail has witnessed the rapid expansion of limited assortment discounters Aldi and Lidl and, with their focus on low prices and private label products, their growth has represented a challenge to branded food manufacturers operating in the market.
There has been an erosion in consumer loyalty to brands and Premier's modest access to the discount channel has made it harder for the company to make progress towards its goal of returning its so-called "power brands" to growth, Darby conceded today (23 January). "Quite a lot of shoppers and volume has moved away [from the mainstream supermarkets]. The large retailers are certainly our biggest customers," he told just-food.
In an update on trading in the fourth quarter of 2014, Premier revealed power brand sales were down 3.5% in the period. The company said it represented an improvement in the direction of travel and stressed it recorded its highest market share for three years in the quarter.
According to analysts at Shore Capital, Premier's sales momentum would be significantly lifted if the mainstream supermarkets were able to regain market share. "In our view the strongest support to Premier's sales growth would be a recovery in performance from the mainstream Big Four grocers who sell the significant majority of the group's branded products," the analysts wrote in an investor note.
Darby concurred with this assessment. "There is nothing better for Premier than the recovery of the big retailers," he said.
And he suggested a recovery at the UK's biggest supermarkets could be gaining steam. "What I tend to see is the resurgence of the supermarkets. It is very early days, but there were certainly some signs of it in our run into Christmas. There was some growth in market share."
According to Darby, the strategy adopted by the likes of Tesco – which recently announced plans to cut SKUs and focus on high volume business – is converging with the strategy implemented by Premier over the past 18 months. "It is the same thinking as our thinking. It is really focused on the bigger brands, higher selling SKUs… It probably means that supermarkets will carry a bit less inventory, we will carry a bit less inventory. You will have a more efficient supply chain."
He continued: "I think the retailers are in a very different place than they were a year ago in terms of their determination to fight back. Yes it is a challenging environment but they are very keen to work with companies that are marketing. They like the fact that Premier has got bigger brands and we are investing money. If we create growth they are the beneficiaries of growth – we share the benefit.
"The difficult environment that we have all faced, I think is turning now into a series of opportunities. It is up to the [bigger] supplier companies to partner with the retailers to take advantage of those opportunities."
In order to lift its sales trajectory, Premier is working its way through its branded portfolio, investing in marketing, innovation and brand building. "We are working our way through our brands. We started with [Mr] Kipling in September and in the past four months we invested in Homepride as well…. Then we got onto Oxo and Bisto. In the quarter we are in now, we are advertising Kipling, Oxo, Bisto and for the first time Sharwoods… Then we will have to get to Baxters, Ambrosia during the next [period]."
Darby said Premier has raised its costs in marketing, selling and R&D by around 15%. The company is investing in "people" with the expertise to develop new products and create excitement around its brands.
The group also announced plans to increase spending on its fledgling international operations. While Darby stressed that this business is in the early phase of development, he was upbeat on the group's ability to grow overseas sales in markets including China, the US and Australia.
Premier has been able to increase the investment behind its brands because it has improved its cash flow profile: paying down debt through an equity raising and renegotiating its pension deficit earlier this year. During fiscal 2014, Premier reduced its debt by GBP263m and cut its pension deficit by GBP280m. "We certainly feel encouraged by that," Darby noted.
Analysts expect lower interest payments should enable Premier to continue to deleverage its balance sheet by GBP50-60m over the next 12 months. Darby ruled out the possibility of further moves to raise cash: "We don't need to sell anything like we did in 2012. At that point we had a net debt to ebitda ratio of close to 7x… By the end of the year [2015] we will be closer to 3x. We are getting into what you would say is more normilised net debt territory. Our mid term target is 2.5x, we'd like to get to that, we haven't said when we will get there."