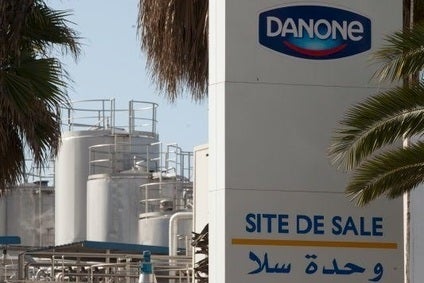 French dairy giant Danone has insisted it is not mulling a radical overhaul of strategy as it battles issues at its European dairy and Asian early life nutrition businesses.
The company booked an 11.5% fall in first-half underlying net income this morning (25 July). Issues dogging its dairy and early life nutrition units continued to weigh on the results and have prompted some speculation the group could be looking at a strategic overhaul.
A report in The Wall Street Journal earlier this week claimed management is evaluating "all theoretical options" in a strategic review, to be completed in September. These were said to include the possibility of larger transformational M&A deals and tie-ups.
Speaking to analysts today, CFO Pierre-Andre Terisse said the group was examining ways to ensure the company remained "relevant" as part of its "Danone 2020" strategy but insisted that "there is no strategic review" at the company.
"On the strategic review, I don't know how to qualify that… Danone 2020 is an internal discussion which we have shared with you some bits of… Danone 2020 is about how do we in the future continue driving strong, sustainable, profitable growth and… how do we do it in the [existing] portfolio?"
Terisse said the company is focusing on how to make its global business locally relevant. Danone is working on tapping into opportunities to serve urban and rural communities. Reaching rural communities represents an ongoing challenge to FMCG groups in emerging markets.
Danone 2020 also has a supply chain dimension, Terisse continued. Under the review the company hopes to tackle issues such as "scarcity of resource" and access to suppliers at "an acceptable level of price for all stakeholders".
"How do we adapt the Danone model to the current level of the world?" Terisse asked. "We are not inventing anything but to try to neutralise and find some economies of scale. It has absolutely no taste of strategic review in the one that is commonly accepted by the financial community. It doesn't have any consequences in big cost savings."
Kepler Cheuvreux analyst Jon Cox believes leveraging "economies of scale" by adopting a more centralised organisational structure offers Danone a significant opportunity to improve its operational result. "Overall, our case on Danone is based on what we see as a profound business culture change with greater control from the centre business units and consolidation of various units and its supply chain into larger businesses to leverage scale," he wrote in an investor note.
This drive aide Danone's attempt to bolster margins, which fell 159 basis points in the half.
The company said margins were hit in particular by rising milk input costs – driven by the Russian market – and the ongoing impact of the infant formula "crisis" in Asia. Danone was forced to initiate a consumer-facing recall in markets including China last year over concerns that a WPC ingredient supplied by Fonterra was contaminated with a bacteria that can cause botulism. This issue had a negative 132 bps impact on margin in the half, Danone revealed today.
Danone is working to mitigate these issues. In China, Terisse said Danone is working to "turn the early life nutrition engine back to full speed" by building category recognition and through "innovation in different fields".
"We have more launches to come and we will continue building the portfolio. We are going to launch or to use a lot of different brands… this is what makes me comfortable with the fact that we will succeed in China," he said. "We are prioritising building a strong foundation."
On dairy input costs, Terisse said milk prices have now stabilised. "Assuming it remains on the same train we think its going to be mid single digit [inflation] in the second half… We will still have cost inflation in milk in the second half but it will be far below the first."
In dairy, Bernstein analyst Andrew Wood stressed Danone's volume performance was "startlingly" weak, pointing to the results in the second quarter. "The volume performance was very weak and well below consensus, -3.9% vs. -2.1%, and fresh dairy volumes were startlingly low [at] -7.4%," he wrote.
According to Terisse's assessment, this softness was a result of Danone's decision to shed volume at the low-value end of the spectrum and focus on building higher-value sales through product innovation. This enabled Danone to keep dairy margins within an acceptable range, he added.
"Let's recreate value for the consumer [through value-added innovation]," he said. "We did the job to bring the margin back [in dairy] and not let them go to territories that really become a problem. We brought them back to levels to be equipped to deliver the second half."
Despite the weak first-half performance, Terisse said he was "not worried" about delivering on Danone's full year objectives. The company reiterated its outlook for the fiscal year of 4.5-5.5% like-for-like sales growth and stable margins.