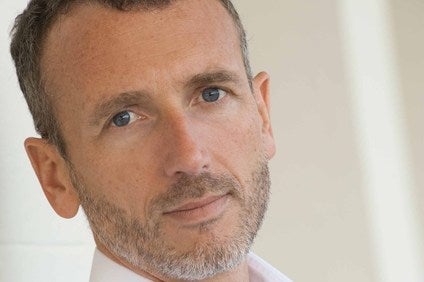 Shares in Danone rose today (3 September) as the market reacted to yesterday's announcement in Paris of a change at the top of the French food group. After 18 years at the helm, Franck Riboud is to step down as CEO. Analysts believe his replacement, deputy CEO Emmanuel Faber, need to give Danone a renewed sense of focus to take the business to the next stage. Dean Best reports.
After 18 years, there is to be a change at the top at Danone, the yoghurt and baby food giant.
Franck Riboud, Danone's chairman and CEO, is to step down from the latter role next month after deciding the company should split the jobs in two. Emmanuel Faber, Danone's deputy CEO, is to become the French group's chief executive.
Riboud will stay on as chairman, focusing on what the company called "the key strategic issues facing Danone in the medium and long term". With Riboud staying on, and with Faber, a man who joined Danone in 1997 taking the top job, one could be forgiven for thinking it could be a case of business as usual at the company. Or that Riboud could be perceived as a back-seat driver.
However, shares in Danone rose today in the wake of last night's announcement, an indication the market believes the company, which at an investor meeting in June set out plans to improve its performance, is serious about the challenges facing the group.
Jon Cox, an analyst covering Danone for Kepler Cheuvreux, says at the investor meeting in New York in June, one was left with the impression there was "a real sea-change in where the company should be going".
Cox says: "Franck Riboud stepping down as CEO is an indication that what they said early in the summer is very credible. There is real change going on at the company."
After a challenging few years, there has been speculation over Danone's plans to try to drive its future growth. Even after the investor seminar in New York, the rumours continued. In July, The Wall Street Journal reported Danone's senior management were mulling radical change to the business, including major M&A, with rumours of a strategic review, the results of which would be announced this autumn.
However, in July, after Danone announced an 11.5% drop in underlying half-year profits, CFO Pierre-Andre Terisse said the group it was looking at ways to remain "relevant" and drive "strong, sustainable, profitable growth".
He insisted Danone was not considering an overhaul but instead was looking at areas including economies of scale, its supply base and making its operations "locally relevant".
Faber, as Danone's deputy CEO, presented at the New York seminar, where he gave a flavour of how he believed the company could improve. He focused on areas including greater centralisation in areas like finance and procurement, the company's return on capital invested and driving profitable growth.
"That gives you the mindset of Emmanuel Faber. This guy is a financial guy with a strategic view," Pierre Tegner, an analyst at Natixis, tells just-food.
Tegner believes Danone has "no big strategic issues". However, he says the company must "focus much more on organisational management".
"Before the financial crisis, Danone was only focused on growth and everything came from growth. All the people they recruited was to develop the business. A big part of this group of people were marketing people. Now there is a need to have guys that have a more balanced view between financial management and marketing. The big quality of Mr Faber is he is really able to make the strategic and financial vision co-exist. Danone needs someone who structures more the strategic vision with the financial vision because Danone has under-delivered over the last few years."
Europe, particularly Danone's fresh dairy business in the region, is a key priority for the business and for the new chief executive. That side of Danone's business has been a challenge in recent years. At the start of 2013, Danone announced it would cut 900 jobs from its operations in Europe. It set out plans to axe half its management units in Europe and combine teams from several countries into multi-country units. This June, Danone said pressure on fresh dairy sales meant it had decided to close three plants in Europe, hitting a further 325 jobs.
Tegner argues Danone needs to go further. "On Europe, Danone needs to continue to simplify in terms of the management decision-making process, in terms of manufacturing and in terms of marketing and innovation," he says.
In all, Tegner argues, Faber must present a clearer "vision" to the market of the company's plans.
"My impression of the New York seminar was there was a lot of messages about changes within the business but it was not explicit enough. Investors need to have a clear vision of what Danone can do, what Danone cannot do, what Danone will do in terms of return on capital and shareholder value. His job to give to the market a clear vision of where Danone is going," Tegner says.
Other analysts believe Faber may also have to make decisions that further reshape the Danone portfolio. There has been speculation Danone is looking to sell its medical nutrition division, although today Reuters reported talks to offload the business to US drug maker Hospira had stalled.
Nonetheless, Alain Oberhuber, an analyst at equity brokers MainFirst, agrees Faber needs to look at Danone's organisation, including building a more centralised structure and "optimising" production.
However, he also says the new Danone CEO could review the company's portfolio to free up resources to grow in emerging markets.
"I assume they could make some changes to the portfolio to focus more on areas where they have a competitive edge, which is Africa, in particular the western part of Africa, given that [the region] not so competitive in fresh dairy. In order to finance that, probably he should divest one or two of the other businesses – the medical nutrition part or even the water part," Oberhuber says. "First it would be medical nutrition. Water, we will see. If they sell medical nutrition, they have a nice, solid balance sheet to do investments in Africa in fresh dairy. That's what I would like to see."
Analysts agree Danone improved under Riboud's stewardship but, particularly in recent years, there has been some frustration over the company's performance. The hope is Faber, even though he has been a member of senior management in that time, will make the business more focused and able to implement wide-ranging internal change and, perhaps, over time, look to make strategic moves to improve its growth.