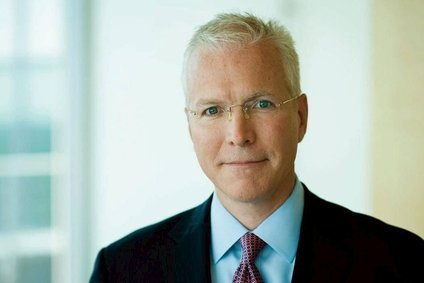 ConAgra Foods' third-quarter numbers were of the 'not as bad as feared' variety. That said, they were still not very good. A host of challenges lie ahead for CEO-elect Sean Connolly and he will need to find answers to big picture questions – particularly surrounding the US group's private-label unit – in the weeks and months to come. Katy Askew reports.
ConAgra Foods beat third-quarter earnings expectations yesterday (27 March). That may come as little solace to investors when expectations were pretty grim to start with.
The US food group posted a net loss of US$954.1m for the 13 weeks to 22 February, compared to a net income of $234.3m a year earlier. Group-wide adjusted earnings totaled $0.59 – lower than the $0.62 it booked in last year's third quarter but above expectations.
Net earnings were hit by a pre-tax non-cash impairment charge of approximately $1.3bn as the company wrote down goodwill and other intangible assets at its private label division. ConAgra booked a segment operating loss for the quarter of $852.2m, against an operating income of $44.7m a year earlier.
But, even adjusting for the impairment charge, underlying profits from ConAgra's own-label business fell "due to a continued competitive bidding environment and execution shortfalls", the company said. Sales volumes at the unit were down 7% in the three months. Operating profit was down 44%.
"Obviously we're very disappointed with our private brands' results thus far," outgoing CEO Gary Rodkin said during his last conference call before retirement.
"We continue to have a challenged private brands performance. While our learning curve has been steep and taken longer than plan, we're in the midst of implementing very granular initiatives to significantly improve execution. These initiatives should help our customer service, customer relationships and in due time our ultimate performance," he suggested.
ConAgra insisted it expects to see better results from the segment moving into fiscal 2015/2016. But, will improving customer relationships and cutting costs be enough to lift private brands out of the doldrums? Or will incoming Sean Connolly need to think more radically about the unit?
Athlos Research analyst Jonathan Feeney suggests the division is facing some deep-rooted issues. "Even in the face of a friendly commodity environment, volume decline and poor profits show how the segment is unpredictable and leveraged. For example, the current apparent run rate of segment adjusted profit margin of 3.7% represents well under half what was achieved by these businesses historically, before synergies. If even half of the $300m in declared synergies associated with these businesses acquisition are in the private brands segment, that would represent a roughly break-even performance for what was once a high-single-digit operating margin business."
Speaking on the same call yesterday, Connolly was quick to stress that he has yet to form the answers – yet. "I imagine many of you have big picture questions about our strategy and goals. We'll get to those over time, but not today. I'll need a lot of study to get where I need to be to provide insight on this. For now, I'll just say that I am committed to long-term value creation."
Connolly served as chief executive at Hillshire Brands prior to its takeover by Tyson Foods. Rodkin credits him as a "sharp", "seasoned" and "enthusiastic" executive who "refuses to lose". The latter point may prove pertinent given ConAgra's current situation.
Connolly has a strong track-record at Hillshire. Following its spin-off from Sara Lee in 2012, he was the chief architect behind Hillshire's three-year strategic plan to return the group to profitable growth.
At a time when many US food majors were falling behind consumer trends, under Connolly Hillshire expanded in on-trend areas through M&A. For example, the firm snapped up natural and free-from breakfast maker Vans Natural Foods and expanded in the protein snack sector through the acquisition of the Golden Island jerky brand. The group also ramped up its investment in innovation and branding – making its brands some of the most consumer relevant in the US today.
Connolly's commitment to "value creation" was perhaps most clearly demonstrated through the bidding war to acquire Hillshire. Tyson paid a lofty US$8.55bn for the company, representing a multiple of 16.7x EBITDA, to outbid rival interest from PILGRIM's Pride.
ConAgra shareholders will undoubtedly be hoping he can get ConAgra in fighting form. Unfortunately, there are unlikely to be many quick fixes for ConAgra's private-label unit. Improved execution and cost-cutting can only achieve so much in a tough and highly competitive market.
Private label sales in the US are not expanding in the way that they did in markets such as Europe. According to data from IRI, private label sales have accounted for a stubborn 16-17% of the CPG dollar spend and 19-20% of unit sales since 2011. To grow private-label sales will require investment in innovation and packaging. But, with a lower margin on private-label lines, is this investment worthwhile for ConAgra?
Looking at ConAgra's brand portfolio, the likely answer is yes. The company booked a 2% decline in consumer foods sales in the third quarter, which fell to US$1.8bn on flat volume. The branded consumer business may not be in as much trouble as private label but nor is not coming from a position of strength. Its portfolio is weighed down with second-tier brands in stagnant categories. Think Chef Boyardee and Healthy Choice. There are no easy wins here either.
As Bernstein's Alexia Howard notes: "It is unclear how Sean Connolly will approach ConAgra's portfolio, though we believe that this portfolio is one where you have to pick your battles given the mix of brands."
Given ConAgra's stable of largely mediocre brands – many of which are positioned in categories that have fallen out of favour with consumers – the company needs to make its private label business work. A leader that "refuses to lose" could be just what ConAgra needs.
Connolly takes the helm at ConAgra next week (3 March).