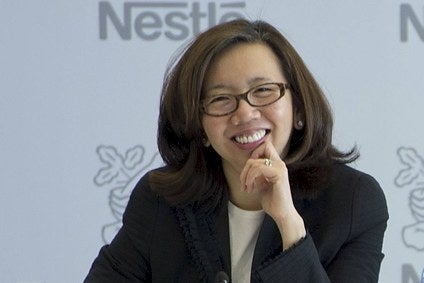 Nestle's operations in Asia, Oceania and Africa have had a challenging few quarters. CFO Wan Ling Martello has been asked to take charge of the division to try to revitalise its performance – and must focus on China.
Nestle has moved CFO Wan Ling Martello to lead its businesses across Asia, Oceania and Africa and, while the division spans businesses from Karachi to Christchurch and Seoul to Sydney, it is China gripping the attention of the world's largest food maker.
The company is not alone in seeing its business in China falter in recent quarters. The slowing of the Chinese economy (and subsequent hit to consumer confidence) plus Beijing's crackdown on gifting have limited the growth of a number of FMCG companies in the country.
The performance of what Nestle calls its AOA division first started showing signs of faltering in the third quarter of 2012. Sales were up 5% but Sanford Bernstein Andrew Wood remarked at the time the result was "well below our expectations".
Investor concern was heightened in early 2013 when Nestle said the division's sales for the fourth quarter of rose 5.8%, below analysts forecasts of growth of 8.8%. "Management had promised that the relative weakness in AOA in Q3 a one-off due to numerous external factors," Wood noted, "but [it] now has turned into a two-off." Nestle, however, sought to play down concerns over the unit's performance and, three months later, discussing its sales for the first quarter of 2013, insisted it was enjoying double-digit growth in China.
A year on, reflecting on its results for 2013, Nestle said it had seen growth in China ease, although at that point, it insisted it was holding or growing market share in most of its categories.
However, Nestle found the going in China even tougher in 2014. Reporting the Swiss giant's annual results, CEO Paul Bulcke said the company had delivered a "particularly weak" performance in China, pointing to problems affecting ambient dairy arm Yinlu, confectionery unit Hsu Fu Chi and its soluble coffee business.
Bulcke described Nestle's showing in Oceania in an identical fashion but, with China the company's second-largest market worldwide, it was clear what had been a significant factor in the group reporting a 2.6% rise in organic sales from its AOA division – and that growth came from pricing.
Martello's appointment is not the first executive or organisational change affecting Nestle's operations in China and the wider AOA region in the last 12 months. In March last year, Roland Decorvet, the CEO of Nestle's business in Greater China, decided to leave the company for a new role, although he insisted his departure was not related to the slowing of the company's growth in the market in 2013.
In September, Nestle reconfigured the markets that formed its AOA and European divisions. Countries in the Maghreb, the Middle East and north Africa were moved from the AOA unit to the European business (which was renamed Europe, Middle East and north Africa, or EMENA). Nestle said the switch would give "the redefined zone AOA, under the continued leadership of Nandu Nandkishore, even more attention and focus to further develop Nestle to its full potential in this complex but fast-growing part of the world".
Fast-forward seven months and there has, however, been further change with Nandkishore departing and Martello taking charge of the unit.
News of Nandkishore's exit – Nestle said the executive had decided to take early retirement – came at the end of a day on which the company had reported its sales for the first quarter of 2015. Nestle sought to emphasise the 6.7% increase it got in emerging markets, but drilling down further into the numbers, growth from the new-look AOA division was still weak. Nestle said the unit had had a "slow start to the year", with sales down 0.2% on an organic basis, "mainly", it added, "due to China, as expected".
Analysing the results and on Nandkishore's exit, Wood said: "It would be wrong to say his departure was inevitable, given Nestle's reputation for taking the long view and working though problems. However, with growth dipping into negative territory in Q4 2014 and Q1 2015, either Nestle or Nandkishore (or both) decided that a move was necessary."
There is agreement among analysts covering Nestle Martello's priority will be to try to revitalise the company's performance in China.
"The consumer there is becoming much more discerning. Chinese consumers are just as sophisticated as any developed world consumer and some of the mega-trends you are seeing elsewhere – health and wellness, naturalness, a cynicism about packaged foods generally – are just as prevalent in China as it is in parts of the developed world. There were already in a process of accelerating innovation to focus on themes that are relevant to the Chinese consumer. They probably just missed the boat about some of the trends having an impact on the overall business," Kepler Cheuvreux analyst Jon Cox says.
MainFirst analyst Alain Oberhuber pinpoints an area in which he believes Nestle needs to improve. "Nestle seems to have misjudged the development of the online business. We currently see it in the baby nutrition part. In China, it is probably the second-biggest category in the online business, which is growing nicely and will probably become the first category in a couple of quarters because there's tremendous growth."
Elsewhere in Nestle's AOA region, Australia is an obvious important market, simply due to the challenge of operating in a market dominated by two retailers – Woolworths and Coles.
There are, of course, emerging markets of significant potential. Cox cites India and Indonesia, while Oberhuber touted countries in south-east Asia. "I remember when I had a discussion with her, she talked about the Philippines. There's a lot of potential in fresh dairy, which would really accelerate. She talks about Thailand and Malaysia a lot, so I think probably there's a big push in these peripheral markets," Oberhuber said.
However, he adds: "But China remains the key issue here."