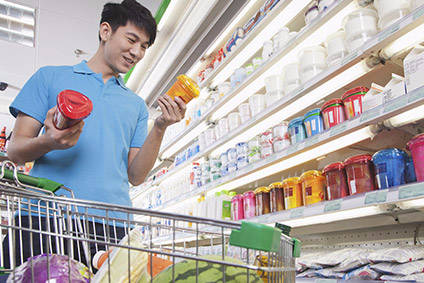 The growing urban lifestyle of Thai consumers has been driving demand for packaged convenient food. Convenience stores are gaining in importance for Thais amid the urbanisation of the country and look set to remain a key channel for manufacturers to target. Jens Kastner looks at the growing demand for convenience in the south-east Asian country.
Demand for convenience is growing continuously in Thailand on the back of changing lifestyles in the kingdom.
As an ever greater share of the population lives in the condominiums of Bangkok's sprawling suburbs, as rural areas turn into industrial clusters, as traffic jams worsen and more family members work outside, demand for more convenient packaged food options is rising.
For example, the retail value of ready-to-eat meals is forecast by UK-based market researcher Euromonitor International to grow this year by 10% year-on-year to THB7.4bn (US$210.5m). Euromonitor sees Charoen Pokphand Foods (CPF) and S&P Syndicate, both Thai companies, as having taken the top two spots in the sector in 2015. Thai Beverage (ThaiBev) and Singha Corporation Co., both of which were initially breweries, have also become major players in the ready-to-eat segment.
"There's no time for cooking, so pre-cooked products, frozen meals and sterilised product are in the convenience stores all over the areas in Thailand," says Pichaya Poonlarp, an assistant professor at Chiang Mai University's faculty of agro-industry. "As each menu is either in frozen or in sterilised form, consumers can buy and ask the store staff to warm them using the microwave."
Poonlarp lists stir-fried chicken with mint leaves over rice, fried rice, wonton soup, stir-fried garlic and pepper pork over rice, stir-fried rice noodle and curry over rice as the most popular ready-to-eat meals sold in Thailand's convenience stores. And she observes US-style fast foods such as hamburgers and pizzas are popular among children and teenagers, whereas the 15-50 age bracket displays more fondness of Japanese-style ready-to-eat meals, such as sushi and noodle soups.
According to Emil Fazira, a Singapore-based senior research analyst at Euromonitor International, also points to developments in the foodservice sector that are shaping trends in the convenience foods space. "With many new foodservice outlets opening in Thailand in 2015, more Thais are also exposed to eating food from foreign cuisines, and so opt for ready meals as a break from traditional cooking," she says.
The success of ready-to-eat in Thailand is closely linked to the success of convenience stores, of which there are by now close to 30,000, or a ratio of about one store for every 5,500 people, according to a Mintel report on the Thai food sector published last October. The number of petrol stations selling food is also increasing, according to research by Silpakorn University, in Bangkok. Meanwhile, CPF distributes its ready-to-eat meals through its 8,500 7-Eleven stores and 700 CP Fresh Marts, giving the company the undisputed prime spot in the front line of prepared meals in Thailand.
The growth of the convenience channel in Thailand does not just present opportunities for ready-to-eat meals. New Zealand dairy giant Fonterra also sees convenience stores as core to its growth plans in the country.
Paul Richards, the managing director of Fonterra's branded business in Thailand, says "there is no question that the convenience store channel is the foundation of Thailand's retail industry". Citing data from Nielsen, Richards says convenience stores account for a quarter of FMCG sales in Thailand. "By having a strong brand presence in this channel we have been able to expand our geographic footprint into large towns and tourist areas quickly where demand for dairy nutrition and convenience is growing. However, despite this move towards convenience, consumers are still demanding quality, variety and premium branded products," Richards says.
Richards explains Fonterra is "partnering with key convenience stores to develop new menus and innovative dairy solutions", pointing to the New Zealand dairy group's foodservice brand Anchor Food Professionals, adult milk line Anlene and mother-and-baby brand Anmum. "Our Anchor Food Professionals team worked with 7-Eleven to create carbonara and chocolate toasties to meet the changing tastes of modern Thai consumers and feed their need for food on-the-go. We also recently launched Anlene Gold UHT and Anmum UHT in 7-Eleven for the first time, greatly increasing the access consumers have to Anlene and Anmum liquid products. As a result, Anmum UHT sales grew by 48% this year compared to last year.
Richards says Thailand's convenience store channel will be part of its plans to try to continue to grow its business in the country. Referring to a forecast from Ireland-based Research and Markets, he adds the numbers of convenience stores are forecast to grow at 12% each year until 2020. "This is a channel where we are focused for future growth," Richards says.
More broadly, Tunyarut JinKarn, head of the department of packaging and materials technology at Bangkok's Kasetsart University's faculty of agro-industry, argues the strength of Thailand's convenience store channel is a grave threat to the fast food sector, from hamburger outlets to traditional street foods. "Ready-to-eat prices are acceptable, so that ready-to-eat competes with fast food head-on on price," JinKarn explains. "But unlike the fast food sector, ready-to-eat companies like CPF are constantly launching new ready-to-eat meals on the back of robust R&D efforts, and promote them through TV, Internet and leaflets."
JinKarn says marketing campaigns focusing on price, convenience, the healthiness of ingredients as well as safe production techniques, the consumers increasingly see street foods as backwards and contaminated. "Ready-to-eat is typically manufactured in GMP (good manufacturing practice)-certified plants, leaving little to no room for contamination scares," she says.
The street food sector is also challenged by ready-to-eat on its home turf – i.e. traditional Thai flavours such as basil chicken, red curry and fish sauce, the latter being distinctively Thai, having one of the highest per capita consumption in Asia. And, according to Euromonitor's Fazira, localised marketing is increasingly becoming yet another advantage for ready-to-eat, for example via the hugely popular Line internet application, which has 30m users in Thailand, which has a population of around 68m. "Line is heavily used by players to connect with consumers, which is quite unique to Thailand compared to other south-east Asian countries, and players also have local and foreign celebrities as brand ambassadors, such as Japanese chef Yasujiro Kazumi for the Singha Corporation's Star Chefs ready-to-eat brand," Fazira says.
Kasetsart University's JinKarn believes the Thai food industry's ready-to-eat position will be strengthened significantly in the mid- term on the back of a boost in R&D.
In May, Thailand launched its Food Innopolis, an innovation centre in Bangkok under a "public-private partnership" scheme aimed at positioning the country as a global food innovation hub. Food Innopolis can support the private sector in many ways, such as providing research solution, new technology and packaging technology. Companies working at the centre benefit from incentives such as being exempt from corporate income tax for eight years, a 10% tax reduction for small-to-medium-sized enterprises, and permission for foreign investors to own land at the site, which is part of the Bangkok Science Park.
"We also facilitate them to coordinate with government and university," explains Sutheera Arjcharoen, business development manager with Food Innopolis.
According to the Thai ministry of science and technology, the resources for the Food Innopolis will include a whopping 9,000 food factories, 3,000 researchers, 10,000 students in food science and technology, 150 food research laboratories, 20 pilot plants and 70 universities. Currently, about 45% of Thai food exports are unprocessed raw materials, but that percentage should start declining, as Food Innopolis could accelerate Thailand's adoption of more value-added innovation, the ministry projected.
"There is intensive cross-ministerial cooperation related to food R&D going on, creating projects like Food Innopolis and the World Food Valley [a planned food R&D center in Ang Thong province," JinKarn says. "The relevant people in the universities and the food industry are very active, there are lots of seminars and financial matchmaking events, and I think Thai ready-to-eat meals' competitiveness both domestically and abroad will benefit from this."
The increasing purchasing power of Thai consumers looks set to continue to drive demand for convenient food options, presenting a potential significant opportunity to packaged food manufacturers.
Additional reporting from Dean Best.