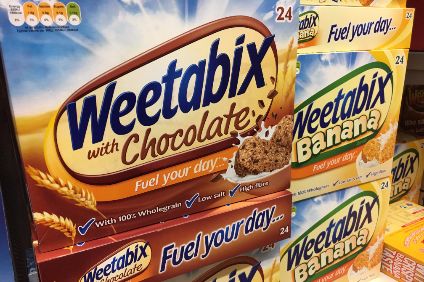 Post Holdings, the US food group, was this week announced as the new owner of Weetabix , the UK-based breakfast cereal business. The GBP1.4bn deal sees Post, one of the major cereal companies in the US, take on one of the leading players in the sector in the UK but one seeing muted growth in a challenging market – and a business seen to have hardly prospered under the ownership of China's state-backed giant Bright Food. Post discussed its move with Wall Street analysts on Tuesday (18 April) and Dean Best presents the key takeaways.
Weetabix marks Post's first major international move
Post Holdings is a business spanning sectors from breakfast cereal and sports nutrition to eggs and cheese but is one centred on the North American market.
Since Post was spun out of former US private-label business Ralcorp Holdings in 2012, the company has made a series of acquisitions but predominantly in its domestic market, including the US$1.15bn takeover of fellow US cereal business MOM Brands in 2015. However, in 2014, Post did snap up a more international set of assets with its acquisition of Nestle 's PowerBar and Musashi sports nutrition brands.
And Post does have limited distribution for some of its breakfast cereal brands outside the US, with, for example, Grape-Nuts seen on supermarket shelves in the UK.
However, discussing the move for Weetabix with analysts on Tuesday, Rob Vitale , Post's president and CEO, said the company's new asset "fits the bill" for the US group's international expansion.
"Over the years, we've frequently been asked about our plans for international expansion and our answer has been that we always wanted to make that leap through a transaction in which we would category knowledge and some North American connectivity. We consider this the best way to manage the natural risk of international expansion and Weetabix perfectly fits the bill for Post to grow internationally."
Weetabix: a business searching for growth
Post is taking on a company that has been owned for just short of five years by Chinese state-backed business Bright Food. Weetabix's sale to Bright Food in 2012 has been one of the most high-profile examples of an emerging-market business snapping up a western asset but, despite some lofty ambitions (including making inroads in Asia), results have been mixed.
As we reported in January when speculation Weetabix was going to be sold started to intensify, under Bright Food's majority ownership, the company's turnover has shrunk, profitability has come under pressure and the UK remains the significant chunk of the business.
In short, Weetabix remains a company that has seen its home market – and a challenging one at that – continue to make up the bulk of the business. Nevertheless, Weetabix said in recent weeks it had managed to grow its volume and value share of the UK cereal market during that period.
Vitale said on Tuesday Weetabix had seen a "recent rate of growth [of] 0 to -0.5%, with EBITDA growth of 0 to 0.5%. It's been essentially similar to the US cereal category", adding: "It's been essentially similar to the US cereal category."
Post sees opportunities for top-line growth, including China
The US group has touted the "revenue synergies" it expects to see from its takeover of Weetabix, pointing to the opportunities it sees for selling the companies' products in each other's markets and for tapping into the UK "active nutrition" market.
"We expect to approach the market from a more geographic rather than product focus, meaning we intend to add Post products to Weetabix over time," Vitale said.
Post's portfolio includes "active nutrition" brands including PowerBar and Premier Protein food and beverages, a business it has built through M&A in recent years. The market for active, or sports, nutrition products in the UK is growing (as witnessed by some of the recent M&A activity in the sector there) and Vitale indicated Post now has its eye on the category.
"Weetabix gives us access to the growing UK active nutrition market. We think Premier Protein has potential in the UK because it's already making inroads into the UK separate from Weetabix."
Much of the market chatter around the change of ownership at Post focused on Bright Food's apparent failure to build the Weetabix business in China. There is little doubt Bright Food and Weetabix were full of optimism about the prospects for the business in Asia, particularly China, five years ago and the sale of the company to Post has been taken as a sign the results did not match expectations.
Vitale took a different view. "With respect to China, I've read some of the reports that it hadn't gone so well. I tend to disagree. It's a matter of what the expectations sets were. The business in China has grown very rapidly. They've done a nice job in establishing a foundation that has grown rapidly off a small base."
Under the terms of the takeover, Post has "agreed in principle" to set up a venture with Bright Food and an investment fund advised by Baring Private Equity Asia , which had been Weetabix's minority investor, to run the UK group's operations in China. It appears to be an astute move, given both Post's lack of experience in markets outside North America and it still being very early days for Weetabix in China.
"We expect to … work with great partners in Bright Food and Baring to surround their existing with additional products from the balance of the Post portfolio to try to grow on a measured, risk-managed basis," Vitale said.
Post sees reducing costs as key to returns from deal
Weetabix's muted sales growth, as well as the fact the challenging UK breakfast category remains the source of the majority of the company's sales, suggests top-line expansion, even if Post sees some opportunities for growth, will not be the main factor in the US group's returns from the transaction.
On Tuesday, Post underlined the cost synergies it expects to see from its ownership of Weetabix, as well as emphasising the success it said it had in accruing savings from its last acquisition in breakfast cereal, that of US business MOM Brands in 2015.
Post estimates it can generate synergies of around GBP20m a year by the third full fiscal year after the deal closes. It pointed to "benefits of scale, shared administrative services and infrastructure optimisation and rationalisation".
Asked about the prospects for Weetabix's top-line and earnings growth, Vitale said: "We think there's better opportunities for EBITDA growth with cost management. We underwrote this investment in the same way we'd underwrite a cereal investment in the US, which is an ongoing flat top line with cost reduction as the primary driver of EBITDA growth and then the opportunities, the sales force, to grow around it."
Vitale was clear Post's cross-selling strategy would be on specific products. "We're looking at this SKU by SKU. We are mostly looking at trying to take products we are already marketing in the UK and give them added distribution muscle, rather than rely on incremental consumer spending to all of a sudden drive demand. Given the way we use leverage and the predictability of cashflow, we don't need dramatic incremental revenue growth to make our returns work. What we need is modest growth in order to deliver returns to the leveraged equity."
The Post chief executive said the company sees "meaningful cost reduction opportunities through leveraging each other's manufacturing and supply chains where we overlap, as well as combining our global procurement purchases". He added: "The process of combining Post Foods and MOM Brands continues to yield cost savings as we review each business process. We expect a similar approach will yield similar results with Weetabix."
Weetabix gives us more strategic options, claims Post
The early part of Vitale's presentation to analysts featured the rather jargonistic phrase "strategic optionality" – in short, buying Weetabix, he said, gives Post the ability to make further acquisitions in Europe.
Asked to give more details on how Weetabix could provide Post with a platform to make further acquisitions and what type of businesses could interest the company, Vitale said: "We tend to be opportunistic but also if you look at our behaviour since we added the Michael [Foods] platform in 2014 we've been focused on strengthening our silos. If you look at product defining our silos, we've been very focused on strengthening that. If you look at international as a new silo I guess you could argue that's a separate leg. The way to think about it is if we see something that is growing fast and makes sense to add as a silo, we would look at it – but given the challenge to find growth, we're far more likely to justify returns and the multiple required to acquire an asset by investing in something nearer into our portfolio where we have synergistic opportunity to deliver."
Vitale added: "I don't want to suggest we are focusing on the UK or other opportunities at the expense of US opportunities. What we ultimately are are opportunistic animals. This allows us to look at a broader array of opportunities and compare them to a different set."