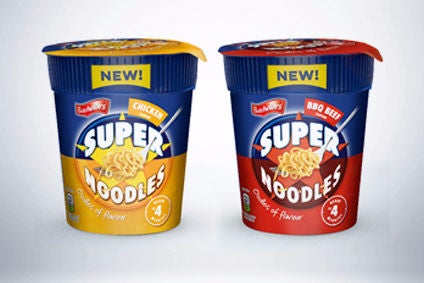 Shares in Premier Foods rose on Wednesday (15 November) after the UK group posted second-quarter numbers that cheered the market. However, while group sales picked up, profits through the half year were flat, as were revenues from the mainstay branded division. Analysts, disappointed with Premier's previous false harvests, are not rushing for the jam pots just yet, Simon Harvey reports.
Since becoming Premier Foods chief executive in 2013, Gavin Darby has made some notable changes at the UK manufacturer.
UK bread business Hovis was spun off into a venture. Premier slashed the number of suppliers it used as part of moves to reduce costs. The company used some of its smaller brands to target the UK's high-street discounters. Darby also moved to put more attention on growing Premier's business outside the UK.
For all that, some of the challenges that pre-date Darby remain. With Mr Kipling cakes, Bisto gravy and Ambrosia custard, Premier's range is still home to what some might call dated British brands. Questions can be asked about the nature of such a portfolio in a time of changing consumer habits, a wider range of food choices and an accelerating trend towards healthy options.
Darby has sought to improve the performance of Premier's portfolio through targeted marketing investment and innovation. Premier's success in securing broader rights to the Cadbury cake licence from Mondelez International has been a positive.
However, questions have continued to hang over Premier, not least since the company rejected a takeover bid from US sauces and spices maker McCormick & Co. in the spring of last year. And questions have continued this calendar year.
In January, the UK's fourth-biggest food company issued a profit warning after a "weak" third quarter and problems passing on Brexit-linked cost increases.
Premier's financial results for the year to 1 April were announced in May. It booked rising revenue and operating profit rose but said its underlying sales and net earnings fell. Moreover, the period ended with a fourth quarter in which the company's branded revenues fell by 2.4%.
In July, a frustrated investor piled pressure on Premier with a letter to its chairman bemoaning the way the company was run – which was followed days later by a first-quarter trading update that included a 3% fall in sales.
Last Wednesday (15 November), Premier issued its first-half results, which revealed improving sales trends in its second quarter, leading to a 1.5% rise in six-month sales to GBP353m.
Martin Deboo, an equity analyst at Jefferies International, said: "Q2 sales trends are encouraging and make for one of the more positive trading updates we have read from Premier Foods in a long while. While Q2 sales presented an easy comp, growth was ahead of our forecast and indicative of improving momentum."
However, he added: "Seasoned Premier-watchers like ourselves will know that there have been plenty of glad, confident mornings like this one that have subsequently morphed into grim false dawns. So we are not inclined to ditch our instinctive caution just yet."
Premier's first-half trading profits were unchanged at GBP48m, with the profitability of the company's largest division – grocery – being affected by higher sales of lower-margin products, as well as input costs.
Moreover, while Premier's non-branded product sales climbed 10% to GBP58m and the company pointed to the growth of its Batchelors brand in the UK and of Cadbury cakes overseas, its overall branded revenues were stagnant at GBP295m.
While Premier's branded grocery segment is by far its largest with sales of GBP215m in the first half, growth was only 0.9% in contrast to a 7.4% increase in non-branded products to GBP40m.
It was an even wider margin in Premier's Sweet Treats division, where branded revenue dropped 2.3% to GBP81m, while non-branded sales surged 17%.
Darby said private label will expand in the UK in the next year or two as "retailers are looking to differentiate growth". From Premier's perspective, he expects to see "some" private-label growth and "continuing" brand growth. He added: "We are entirely comfortable with that dimension."
Innovation appears a central plank of Premier's plans to grow its brands in the UK, although Darby described the company's efforts as "not innovation for the sake of innovation, but on-trend innovation". He pointed out the company is seeing an "enormous trend" in informal eating, particularly in on-the-go snacking, and is taking advantage of it.
Darby said Batchelors had "been in serious decline" and was a brand that needed a "major refresh and presentation".
Premier has worked with Japan's Nissin Foods Holdings on a new Batchelors product, Super Noodle Pots, as well as a pasta version.
The companies' partnership – announced in March last year alongside Premier's rebuttal of McCormick's takeover interest – has helped Batchelors become "the fastest-growing, major brand in our portfolio", Darby said on Wednesday.
Premier describes its tie-ups with Mondelez on Cadbury and with Nissin as "global strategic partnerships". The link with Nissin goes deeper, with the Japanese group owning a stake in Premier, a position that, during McCormick's interest, prompted criticism from some of the UK group's shareholders.
"Nissin, rather than being an ownership cuckoo in the nest, is beginning to look like a soaring eagle of growth," Jefferies' Deboo said on Wednesday.
Premier has also made efforts to revamp the old children's favourite of years gone by, Angel Delight, which Darby cited as an example of rejuvenating a recognised brand. The strategy seems to be paying off as sales volumes climbed 9% in the first half, while revenues were up 30%.
Moreover, for all the tradition and nostalgia within Premier's portfolio, keep watch on the health and wellness front, too, as the company is poised to ride the trend with plans in the pipeline for gluten-free and vegan products, as well as those low in sugar and salt.
And after a quiet second quarter, Darby said he saw "big things are happening for [cake brand Mr] Kipling in the UK in the fourth quarter", without elaborating.
"A strong Q2 hints at a better H2 and management seem poised and confident," Jefferies' Deboo reflected. "But the Q2 comp was easy and we have witnessed false dawns at Premier too many times before to want to shed our carapace of instinctive caution just yet. Our numbers don't change [share target 43 pence], but our level of optimism lifts."
With Christmas five weeks away, Premier is now in an important quarter and the market will be looking for evidence the company can have another three-month period of rising sales and, ideally, growth from its branded division.
Darby aired a sense of optimism mingled with a touch of caution on Wednesday by saying he is "quietly confident about the rest of year".
Clive Back, an analyst at Shore Capital, kept the stockbrokers' 'hold' recommendation on Premier's shares.
"It is genuinely pleasing not to be recording disappointment and more stress from Premier," Black wrote in a note to clients. The company, Black reflected, has had a "colourful and somewhat chequered history as a listed entity, delivering much disappointment over the last decade or so for its shareholders".
However, Black noted though Premier's net debt fell by nearly GBP21m year-on-year, the company is "a business that remains highly indebted" and, looking to the current quarter, added: "The peak trading period is ahead, hopefully, Q3 can be seen through to beneficial effect and we can sustain a warmer feel to much unloved Premier Foods in the New Year."
Premier did enjoy notable growth overseas, which accounts for 23% of sales. During the second quarter, which saw Premier seal a new – and expanded – licence with Mondelez for Cadbury cakes, the company's international sales jumped 30% on a constant-currency basis, contributing to growth of 23% for the half.
The new deal with Mondelez expanded Premier's reach into 46 countries from what was ten, including South Africa, China, Canada, Japan and India. In October, the company announced it will sell Mr Kipling and Cadbury products directly into New Zealand.
Darby said last week the "first priority is branded led by international" and described the Mondelez deal as a "massive support to [the] international business".
The Premier chief executive said he is "very confident" about the Australian and New Zealand business. Cadbury and Mr Kipling are already the top two leading cake brands in Australia, he added.
In March last year, at the same time as its rejection of McCormick's interest, Premier also announced a new strategic initiative to build the Mr Kipling and Cadbury cake brands. The plan, alongside extending its UK grocery brands into the "premium areas" of the chilled category and a bid to "step-change" the size of Premier's international business, led Premier to raise its medium-term for annual sales growth from 1-2% to 2-4%.
The company's subsequent sales numbers have cast doubt on that forecast but the group's second-quarter performance prompted some industry watchers to suggest it could be back on.
"The 2-4% growth guidance that helped rebuff McCormick in April 2016 famously evaporated almost as soon as it was given," Jefferies' Deboo added. "Now, 18 months on, it might be back on the cards, if Premier can sustain Q2 performance."
And therein, despite signs of progress in Premier's second quarter, lies the key word when considering the company's prospects – if.