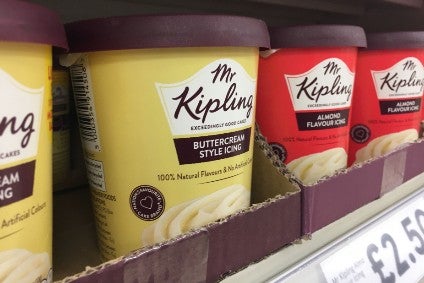 In what proved another eventful year, UK manufacturer Premier Foods managed to grow its revenue and underlying earnings. What lies ahead for what now seems to be a more robust business? Dean Best reports.
Whisper it quietly but Premier Foods – once derided in the UK investment community as something of a "zombie" company weighed down by debt and a pension deficit and therefore unable to invest enough in its brands – is looking a far more solid proposition.
The Mr Kipling cakes and Bisto Gravy maker today (24 June) issued its annual financial results, numbers that contained improved sales and profitability over a year that saw the appointment of both a new chairman and CEO and saw debt decline, as well as the conclusion of a strategic review and an agreement on the company's pension deficit that looks like it will free up more cash to invest.
Premier's results, however, only took in around three weeks of the impacts of Covid-19 lockdowns and so company watchers were keen to hear more detail on how the group had performed throughout the last three months – and for commentary on management's plans for further growth, including for an (albeit small, in relative terms) international business that has suffered in recent quarters.
Premier's progress
"This has been a period of considerable progress for the company," CEO Alex Whitehouse said today as Premier published its financial results for the year to 28 March (delayed, as has been the case with other listed companies, by guidance from the UK financial watchdog on corporate reporting due to Covid-19).
Revenue rose 2.8% to GBP847.1m (US$1.05bn), Premier said its "trading profit – stripping out items including restructuring costs and impairment of goodwill – increased 3.2% to GBP132.6m, while its adjusted earnings per share climbed by more than 5%.
For almost as long as your correspondent has reported on Premier, the company's performance has – more often that not – been lacklustre and under scrutiny. However, the company was showing signs of improvement under its previous CEO Gavin Darby, although some investors were dissatisfied and tried to unseat him (and, ultimately, saw their wish come true).
That progress has continued under Whitehouse, a Premier executive who was appointed CEO last August and has taken the company to what now amounts to – by the end of March – 11 consecutive quarters of growth.
Perhaps more importantly, in April, Premier announced the long-awaited results of a strategic review that, even if it didn't result in asset disposals, saw the amalgamation of the company's pension funds, removing a financial impediment that has dogged the Batchelors soup maker for some time. The year also saw Premier further reduce its net debt/EBITDA ratio to 2.7 times, beating a target of three times.
"Fiscal year 2020 was a big year from Premier Foods," Shore Capital research analysts Clive Black and Darren Shirley wrote in a note to clients today. "The group has been wandering around in a zombie status for some years, burdened by overall indebtedness. Underneath the balance-sheet millstone, however, there has been quite a good company seeking to show its true value for some time, somewhat starved of resource to support a portfolio of largely market-leading, proprietary brands in the UK."
The boost from Covid-19
As Whitehouse underlined, only three weeks of Premier's year under review "saw any impact from Covid-19".
Like his peers throughout the industry, Whitehouse said the business had seen "elevated volume" as the UK entered lockdown and, although the first quarter of the company's new 2020/21 financial year has not quite come to an end, the Premier chief noted revenues for that three-month period "are expected to be approximately 20% ahead" year-on-year.
Premier said the jump would be due to "continued strong demand", particularly for brands in its grocery division.
"What we saw initially is people stocking up their store cupboards and making sure they got all the essentials in stock which is completely understandable. Since then, as we've all been stuck at home eating all our meals at home, we've seen people expand their normal repertoire of recipes. They've expanded into making new things. We've seen specifically within our product ranges strong growth on areas like cooking sauces," Whitehouse told just-food. "Cooking sauces have done very well, as have things like Bisto and Oxo, which are constituent parts of making a meal.
"That's probably one of the main core observations. The other one is the country's gone crazy for home baking. We've seen incredible demand for flour and we've also seen incredible demand for our baking mixes."
The likely jump in first-quarter revenues means Premier expects to exceed its current guidance for revenue and trading profit across the new financial year as a whole, despite incurring some additional operating costs in its supply chain as the business adapted to Covid-19.
"Our options for cash deployment and capital allocation will improve as a result of expected further net debt reduction in fiscal year 20/21," Whitehouse said.
A watching brief as UK eases lockdown
As Premier moves into its second quarter – and as the UK's foodservice channel re-opens next month – to what extent does the company believe some of these trends will continue?
With more people going back to offices, with more children in schools (and more set to follow in September) and with pubs and restaurants being allowed to open their doors again, UK manufacturers that have seen sales boosted by more demand for food to be eaten at home will be watching the situation closely.
"I think if you're learning new cooking skills while you're at home then those are skills that are likely to stay with you for years," Whitehouse suggested. "Clearly we've had a very strong start to the year, and that is purely all those meal occasions that were going through out-of-home now going through grocery stores that we supply.
"With the opening now of cafes and pubs and restaurants over the next quarter, we're likely to see some sort of a transitionary period, as we go through our quarter two, where things start to get something closer to normal.
"To be honest, I don't think any of us really know how quickly that's going to happen, in terms of what the capacity of out-of-home eating's going to be like under the new rules or indeed how comfortable people are going to feel about going out to eat."
Premier's second quarter, Whitehouse added, "will clearly have some benefit from people still eating at home" but, as for the remainder of the company's financial year, he sought to underline the uncertainty about making predictions. "We've assumed we get back to something akin to the old normal in quarter three but to be honest, I don't think any of us know, do we? I think we've just got to see how it plays out."
Catering to a value-conscious UK consumer
A number of food CEOs have already spoken publicly about how consumers are likely to become more value-conscious as the Covid-19 health crisis becomes a financial crisis.
The UK's economic prospects are, according to many economists, forecast to be pretty dire and manufacturers operating in the country will be prepared for price to become a bigger consideration for a larger number of consumers.
How could Premier be looking to adapt its own ranges and pricing and promotional strategies? "If we think about a country likely to go into recession, one of the things we know from the past recession, is that we [Premier] tend to be relatively resilient," Whitehouse insisted. "Most of our products are actually at quite a low pick-up price from the shelf and we know that, when people come under personal economic pressure, one of the things that goes is going out for a meal at a weekend. What that tends to do therefore is actually push people back into our kinds of products in supermarkets. We tend to be relatively resilient to be honest with you."
He pointed to the performance of a brand like Bisto gravy in the financial recession of more than a decade ago. "If we look back to some of the data from 2007/08, you actually see some significant increases in household penetration on some of our core lines. Bisto had quite a significant increase in penetration. No-one can eat out at the moment but, imagine in a normal environment, for a lot of people not being able to go out for dinner at the weekend and cooking at home therefore actually acts as a counterbalance, which, obviously helps us."
The international challenge
Premier remains a UK-centric business, with only a single-digit percentage of its sales being made overseas. According to the group's 2018/19 annual report, sales outside the UK accounted for 6.5% of revenue.
At the start of Premier's 2019/20 financial year, the company had hoped its sales would rise at a double-digit rate after a 12% decline, hampered by pressure on cake sales in Australia and price hikes made by UK wholesalers that export the group's products.
In fact, revenue and profits of Premier's international business fell in 2019/20. Revenue was down 19%. While Mr Kipling sales grew in Australia and the US, "elsewhere, progress was limited", the company said in its results statement today.
However, Whitehouse believes there are opportunities for Premier to exploit outside the UK and, to that end, the company has restructured the way it runs its international business.
"I said at our quarter-three results that we were disappointed with the trajectory of our international business and we'd be taking a good look at it. I'm pleased to say we've completed that work, and we're now in the implementation phase of a revised approach," Whitehouse told just-food.
"What it's taught us is there is good evidence there's opportunity for our products and brands overseas but the way in which we approach it will need to be different."
Whitehouse indicated Premier would put more energy into fewer markets and, although he declined to say which, the larger markets such as Australia, the US and Ireland are likely to be high on the list.
"We're going to focus on a handful of markets and be absolutely obsessive about getting the in-market execution right," he said. "If you look at the UK, we've got very well-refined execution models but, as you move into other countries, how you translate those and make them work in different markets needs a bit of fine tuning and a bit of work.
"It's really all about getting the basics right. It's about the right products in the right stores, at the right price with the right promotional plan. We're making changes to structure in order to make that work. We're going to have small teams embedded in markets rather than having the team sitting in the UK. So [we] expect to stabilise international business this year and use that as more solid foundations to move forwards."