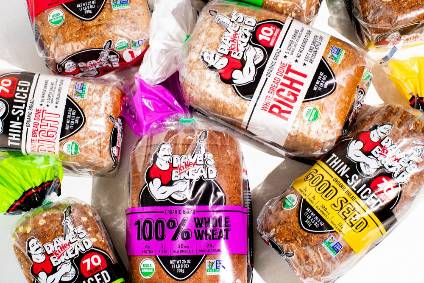 One of North America's largest bakery businesses, Weston Foods, is up for sale. Dean Best looks at why owner George Weston Ltd is quitting the bakery sector and what level of interest there could be in the assets.
After almost 140 years in bakery, Canada's George Weston Ltd has decided it can earn a better crust elsewhere.
In 1882, an apprentice baker in Toronto named George Weston bought a bread-delivery route from his manager and set out on his own, the spark for a division, Weston Foods, that has approximately 6,000 employees working across 33 facilities in Canada and the US.
But, now, George Weston Ltd wants to focus on its interests in retail (Canadian grocer Loblaw) and real estate (Choice Properties) and quit the bakery sector.
The company's board believes retail and real estate, and not baking bread, will be its "most significant drivers of long-term value creation". Weston Foods is, the group believes, "a small part of George Weston Ltd's overall value". A sale would, in the words of chairman and CEO Galen G. Weston, "unlock the strategic growth potential" that lies within the business.
And, so, on the block goes a branded and private-label manufacturer that, in 2020, generated CAD2.06bn (US$1.64bn) in sales and CAD200m in what George Weston Ltd said was "adjusted EBITDA" – figures that were both down year-on-year.
Advisers Houlihan Lokey and CIBC Capital Markets have been hired to work on the sale of Weston Foods, which, in the meantime, will "continue its focus on growing sales while improving margins".
So, what kind of business is up for grabs? And what kind of market is Weston Foods operating in?
Weston Foods has retail and foodservice customers throughout Canada and the US. It produces packaged fresh bread and rolls, as well as frozen and artisan bread, plus rolls, cakes, doughnuts, pies, cookies, crackers and wafers. The baker manufactures products under brands including Ace Bakery, private-label lines and is a producer of Dave's Killer Bread, a brand owned by US bakery group Flowers Foods, under licence.
The planned sale comes after a three-year initiative to try to make Weston Foods more efficient – and more profitable. In 2017, George Weston Ltd announced a "multi-year transformation programme" at Weston Foods, with a bid to become "a premier North American bakery, all while delivering solid financial results".
The company said at the time Weston Foods was aiming "to redefine bakery for its consumers and customers with superior taste and experiences, enhance its level of service to customers, build on its leading brands and engage in strategic innovation".
Weston Foods' revamp took in a cut to the SKUs it offered for sale in a bid to improve its efficiency and focus on products more "relevant" to consumers. By mid-2018, the company's management emphasising the "positive impact" the moves were having on the business' "cost and complexity", even as sales volumes were being hit.
The programme had the aim of boosting Weston Foods' adjusted EBITDA by CAD100m by 2020. In 2017, Weston Foods' sales and adjusted EBITDA were CAD2.24bn and CAD256m respectively. In 2020, a Covid-hit year, sales stood at CAD2.06bn and adjusted EBITDA CAD200m.
According to George Weston Ltd's 2020 annual report, the "underlying operating performance" of Weston Foods was hit by the pandemic. Sales came under pressure amid government-mandated lockdowns in Canada and the US, with expenses linked to Covid-19, as well as input costs, weighing further on the division's earnings.
"In the third, and especially the fourth, quarter, Western Foods delivered sequential improvement in top- and bottom-line performance, giving us confidence in the sales and earnings potential of the business as we ended 2020," Richard Dufresne, George Weston Ltd's CFO, said last month when the company announced its annual results. "That said, sales in the latter part of the fourth quarter were increasingly negatively impacted by the reintroduction of government mandated closures and stay at home orders. The impact was most significant in foodservice, dining and certain retail categories in both Canada and the US."
However, in 2019, ahead of the pandemic, Weston Foods' sales were CAD2.16bn and adjusted EBITDA CAD223m – still down on the 2017 figures. George Weston Ltd's 2020 annual report says Weston Foods' performance "increased driven by productivity improvements", as well as "the net benefits realised from the transformation programme". Looking at those EBITDA numbers over the past half-decade, it does appear Weston Foods has yet to see the growth the programme intended.
Nonetheless, in the annual report, the company stated: "During 2020, Weston Foods completed its transformation programme and invested in organisational improvements for longer-term growth, including deploying its enterprise resource planning system across significant aspects of its Canadian and corporate operations. Weston Foods remains confident in its strategy, focused on growing its core business, selectively investing in key categories and markets, increased customer engagement, and strengthening key operational processes."
Investment in Weston Foods' operations has continued in recent months. In January, George Weston Ltd announced it had made CAD25m of spending on areas such as tortillas, cupcakes and ice-cream cones across Canada and the US.
Analysts covering Weston Foods say the company's management has in fact been looking to add to the business through M&A.
"After a substantive effort to find suitable M&A targets that might provide the operations with enhanced scale, George Weston Ltd could not find the right opportunity. As such, George Weston Ltd believes the optimal route to unlock its growth potential lies with another owner," Patricia Baker, an analyst at Scotiabank, says. "A sale would permit George Weston Ltd to realise value for this set of assets which have long been undervalued in the context of the George Weston Ltd share price."
Another analyst, who requested anonymity, echoed Baker's thoughts, suggesting George Weston Ltd may have considered moving for the North American operations of Switzerland-based bakery ARYZTA that have recently been sold.
"It's been a tough business to be in for the past five years or so," the analyst says. "They've taken a lot of steps to improve it in the last few years and now they're at a stage where, to really improve a lot more, I think they needed more scale. It doesn't seem like they've been able to find what they were looking for, the right fit at the price, and so, rather than chasing acquisitions at high multiples, they realised that, at this point, it's better off in somebody's else hands to gain that scale themselves – like, a private-equity guy that already owns a bakery.
"I think they looked at Aryzta. My feeling is they would have looked at that closely and would've considered it but that business has struggled – and more so than Weston has. I think they weren't willing to pay a high multiple on a business that has been challenged is my feeling."
Speaking to analysts when George Weston Ltd announced its 2020 results last month, Dufresne, referencing the company's M&A strategy, said "because of the current market environment, it's very tough to see stuff that's compelling".
Scotiabank's Baker says George Weston Ltd's management had, at the time of its push to breathe fresh life into the baking business, signalled there was a likelihood the division could be sold one day. "As such, this move is not entirely unexpected and perhaps comes at a good time given that the baking business is showing positive momentum after years of turnaround efforts."
Whether Weston Foods was showing momentum could be seen by some as a subject of debate. Surveying George Weston Ltd in its entirety and assessing the nature of the bakery sectors in which Weston Foods does business, Nicholas Johnson, an equity analyst at Morningstar, believes the company's decision makes sense.
"At less than 5% of consolidated revenue and traversing a raft of secular headwinds – from wellness tastes to increasing primacy of private label – the bakery business was probably more trouble than it was worth," Johnson argues. "Moreover, it is not uncommon for small franchises within a sprawling portfolio like George Weston's to command a disproportionate share of administrative resources and management attention."
In Canada, which accounts for 45% of Weston Foods' sales, the company is one of two main players in the bakery sector, alongside Grupo Bimbo, which entered the market in 2014 through the acquisition of Canada Bread.
Growth in the Canadian bakery market has been hard to come by in recent years. "Margins are incredibly tight. Only two players dominate the market. Smaller players are starting to make noise as consumers are now more attracted to artisanal bread but that movement remains quite marginal," Sylvain Charlebois, a Professor in food distribution and policy in the Faculties of Management and Agriculture at Canada's Dalhousie University, says.
Market researchers say the sector as a whole saw something of a boost from the pandemic in 2020. "The overall [bakery and cereals] sector reported a notable year-on-year growth of 6.4% in 2020, the top performing categories – morning goods (8.5%), dough products (7.9%) and bread & rolls (7.7%) – reiterate the emergence of cocooning trends," Carmen Bryan, an analyst at UK-based data and analytics company GlobalData, notes, citing forecast numbers.
The other 55% of Weston Foods' revenues come from the US. That market also saw a boost from Covid-19 last year, although, as with Canada, there will be question marks about the shape of growth moving forward.
The analyst who requested anonymity suggests Bimbo is unlikely to be a possible buyer for Weston Foods' bakery assets due to the prospect of competition concerns in Canada. Speaking to analysts for this feature, it appears the consensus is the likely suitors for the business might come from private equity, including Lindsay Goldberg, the US buy-out house that struck the deal for Aryzta's regional assets last month.
Scotiabank's Baker suggests the Aryzta transaction could see good interest in the Weston Foods business. "Although terms were not disclosed, we suspect this may have been completed at a higher multiple. We also understand it was a healthy auction process, suggesting there are several parties interested in acquiring bakery assets. This leads us to believe there will be a good level of interest in this sale process," she says. "Weston Bakeries has emerged from a multi-year turnaround and is now facing good growth opportunities making it an attractive asset and one where all the heavy lifting has been done."
One of Weston Foods' customers, the US bakery major Flowers Foods, has also been put forward by analysts as a company that could be interested in the business. just-food approached Flowers to comment for this article but had not received a response at the time of writing.
"PE has been mentioned to me, as has Flowers," one analyst says. "I guess it provides a mix on business in Canada and the US, a new donut line which is garnering interest, a reasonable presence in artisan and some new forays into the QSR segment."