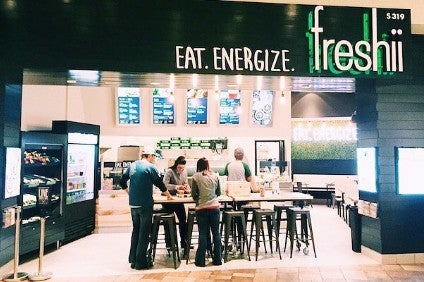 Brazil-based private-equity group 3G Capital grabbed the FMCG industry headlines in February with Kraft Heinz's ultimately unsuccessful play for Unilever. However, one 3G-backed company did clinch a deal – and it was in the foodservice sector. Elsewhere, Canadian fast-casual chain Freshii was looking to enter the UK and US fast-food operator Carl's Jr was reported to be embarking on its latest push in India.
Restaurant Brands International swoops for US chicken operator Popeyes Louisiana Kitchen
The most eye-catching development in the international foodservice sector in February was the move by Restaurant Brands International – the company behind Burger King and Tim Hortons – to buy US, chicken-focused, fast-food chain Popeyes Louisiana Kitchen.
On 21 February, RBI announced it would pay US$1.8bn for Popeyes, which has over 2,600 restaurants in the US and 25 other countries.
RBI, which counts Brazil-based private-equity firm 3G Capital as a major shareholder, wasted no time in setting out its ambitions for its new asset.
Daniel Schwartz, the CEO of RBI, said: "RBI is adding a brand that has a distinctive position within a compelling segment and strong US and international prospects for growth. We look forward to taking an already very strong brand and accelerating its pace of growth and opening new restaurants in the US and around the world."
The transaction, set to be finalised next month, was one that was secured by a 3G-backed business in a month in which the buy-out house saw its packaged food vehicle, Kraft Heinz, fail to convince takeover target Unilever to the table.
RBI's interest in Popeyes had been reported a week before the deal was announced and foodservice analysts set out what they saw as the benefits in moving for the chicken operator.
"Popeyes is, right now, the 3rd largest chicken chain behind Chick-fil-A and KFC, and generally speaking, you won't find many segments hotter than chicken," David Henkes, advisory group senior principal at US foodservice consultants Technomic, said. "Popeyes was up nearly 12% last year and has averaged double-digit growth over the past several years, so as a growth vehicle it's been a strong performer. Its same-store sales have slowed a bit this year, however. They're still very under-penetrated as well – they have fewer than half of the units in the US of KFC, and globally they're not nearly as strong as KFC. US chicken seems to have resonance in other markets so it can provide a platform for international expansion that RBI seems to value highly."
At Euromonitor International, foodservice analyst Stephen Dutton said the deal would help broaden RBI's business and make it more competitive. "RBI's acquisition of Popeyes would help diversify the company's brand portfolio and better challenge chief rivals such as Yum! Brands and McDonald's for share of the global foodservice market. Chicken fast food is also a strong growth category in the US and for the past five years has outperformed the foodservice market overall, so looking to incorporate a well-known chain in chicken fast food is a good bet for the company," he said.
Fresh after IPO, Canada's Freshii sets sights on UK
Just three weeks after Freshii floated on the Toronto Stock Exchange, the Canada-based fast-casual restaurant operator, announced plans to break into another new market – the UK.
Freshii, which has opened a handful of stores in each of Ireland, the Netherlands and Sweden in recent years as part of its international expansion, is teaming up with Anil Patil, a UK franchise operator for Starbucks and Domino's.
"We've seen success in Ireland and believe there is tremendous opportunity to grow the Freshii brand throughout the UK – a market that is under-served in the healthy fast-casual space," Freshii CEO and founder Matthew Corrin said. The operator plans to open its first store in London later this year.
Freshii, formed in 2005, is growing rapidly. At the end of 2016, the operator had 278 stores in its network, a jump of 56% on the year. It expects system-wide sales to have been US$96.1m in 2016. By the end of 2019, Freshii wants to have 810 to 840 outlets, generating $355-365m in sales. Much of Freshii's growth will likely come from North America but the company is investing in slowly building an international business.
At Euromonitor, Dutton believes Freshii could gain traction in the UK. "As a concept, Freshii taps into many of the right foodservice trends that matter most to consumers in developed markets like the UK," Dutton tells just-food. "Consumers are increasingly looking for healthy, affordable foodservice offerings from fast-casual formats that highlight convenience without sacrificing atmosphere. Simply because Freshii fits that bill, I believe the concept could resonate well with consumers in the UK. Profitability can be a challenge for concepts that leverage high quality ingredients but keep prices low, so finding the right locations to open outlets will be extremely important. Freshii would benefit most from dense urban areas with high levels of foot traffic, such as central business districts and shopping centres."
Carl's Jr 'set for India expansion'
It has been 18 months since the US-based CKE Restaurants Holdings and its local franchise partner Cybiz BrightStar Restaurants opened the first Carl's Jr burger outlet in India. There are, according to the Carl's Jr website, now six stores in India and, last month, there came reports in India Cybiz BrightStar was lining up a fresh wave of expansion.
"We are looking at opening 20 outlets in this calendar year. We plan to invest 150 crore (US$22.5m) and open 100 outlets in the next five years," Samira Chopra, the director at Cybiz BrightStar Restaurants, told Press Trust of India.
Chopra said the company is looking to raise funds for the expansion. "We are in talks with high net-worth individuals and corporates to raise funds for Carl's Jr's expansion. We are looking at closing this by end of this year."
Officials representing CKE Restaurants Holdings had not replied to requests for comment at the time of writing. India is a market in which McDonald's and Burger King have made inroads but industry watchers argue there is room for another US burger chain.
"India is still a big market for the penetration of QSR burger brands. Although McDonald's is targeting the 1,000-store milestone and Burger King is following the right direction by focusing on veggie burgers, the market has still much room for the growth of a third brand," foodservice industry consultant Fahhan Ozcelik says.
Euromonitor's Dutton, however, has a note of caution. "Carl's Jr has had a lot of success in recent years expanding to international markets where consumer demand for chained burger concepts is strong. India, however, will likely pose a greater challenge for the chain," Dutton says. "While India has experienced strong growth in chained fast food concepts over the last five years, burger fast food has actually under-performed against the market overall, which means a classic burger concept like Carl's Jr will have to work hard to adopt local preferences."