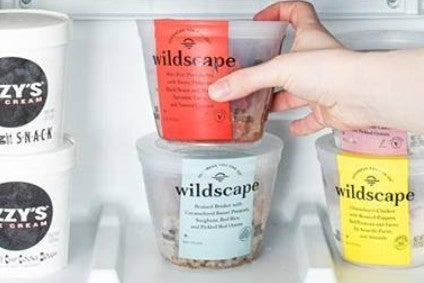 In the US, frozen food is back – and it's riding on a new wave of innovation. Victor Martino documents what he calls the "fourth wave" of frozen food Stateside.
Remember the news stories about how refrigerated ready meals, subscription meal-kits and on-demand food delivery were going to spell the end for frozen food in the US?
It hasn't happened.
In fact, the opposite is true: refrigerated ready-meals remain a minor category in the US, all but a handful of subscription meal-kit companies are on the ropes financially and, despite significant growth, on-demand prepared-food delivery hasn't hurt frozen-food sales at the grocery store.
What is true, though, is all three of these developments have served as a wake-up call to branded frozen-food companies large and small that "innovate or die" is more than a corny old business saying.
Innovation is alive and well in the frozen food business, which frankly up until a couple of years ago seemed to be on permanent defrost.
It's the fourth wave of frozen food.
Sales of frozen food, particularly entrées, side-dishes and frozen vegetables, are rising for the first time in many years in the US.
For example, according to Chicago-based research firm SPINS, sales of frozen entrées in the US rose 5.7% over the year ended 15 July 2018. This comes after meagre growth of 0.6% and 1.5% in the previous two years.
The current year-over-year growth is impressive, considering overall packaged food sales grew only 2% in 2017-2018, according to data from IRI and Nielsen.
RBC Capital Markets recently issued a report that suggests frozen-food sales are hot.
In the report, RBC says frozen meals and appetizers/side dishes combined, which make up about 35% of the overall frozen food category, are seeing sales growth of 3-4%, buoyed by new products appealing to consumers' desire for convenient and healthy options at affordable prices.
Sales of frozen vegetables are rising, too, thanks to a spate of innovative new-wave branded products like cauliflower rice and pizzas; veggie tots (the veggie version of the popular tater tot); vegetable and pasta combo meals; and side-dishes made from beets, butternut squash, carrots and zucchini; as well as numerous other value-added products based on vegetables.
Frozen vegetables have also gained an important friend. Nutritionists have in large numbers been asserting that frozen vegetables are as nutritious as fresh and more convenient because consumers can use what they need and put the rest back in the home freezer for another day. This message also plays on a growing recognition in the US that we waste too much food at home.
Frozen food was introduced at US supermarkets in the 1950s.
The star of the show was the Swanson TV Dinner, which was featured in countless print and television advertisements continuously for three decades.
This was the first wave of frozen food. All that really mattered was convenience. Taste was secondary.
The idea of simply heating a meal in the oven and serving it was revolutionary enough at the time to intrigue Americans. So revolutionary it was in fact that the TV tray, which one put in the living room to eat TV dinners on while watching the tube, was invented.
The second wave of frozen food came in the late 1970s through the 1980s. This is when taste started to matter. Convenience alone wasn't enough.
The Stouffer's brand epitomised the second wave with its premium-quality frozen dinners and side dishes like lasagne (entrée) and creamed spinach (side-dish). The Nestlé-owned Stouffer's still commands significant space in grocery store freezer cases today and has recently been upgraded. (Nestlé's NPD activity hasn't stopped there, with the world's largest food maker rolling out what I call a 'stealth small brand' in the category in the shape of Wildscape Food).
Frozen food's third wave started in the 1990s with the introduction of what were touted to be super-premium – and most importantly – natural, organic and better-for-you frozen-food products, particularly entrées and side-dishes but also hand-held frozen food like burritos.
Frozen vegetarian and vegan burgers also started appearing, opening up the category to an entirely new consumer base.
What started out with a bang though – frozen's third wave – tapered off in the early-to-mid 2000s, largely due to the severe economic recession that crippled the country and consumers' pocket books, starting in 2007-2008.
Severe economic times call for belly-filler frozen food and other cheap food alternatives for the majority of Americans.
We've now entered the fourth wave of frozen food. Today, companies have figured out, aided by food science advancements, the frozen-food category doesn't need to be isolated, exempt from continuous innovation.
Start-ups, which have driven innovation in the overall food industry for the last five years, can be given credit and it in-turn has sparked renewed creativity at bigger manufacturers with brands in the category.
Frozen-food sales also owe some gratitude to millennials, that same generation that was supposed to aid in the death of frozen food because they preferred refrigerated ready-meals, subscription meal-kits and on-demand food delivery. Frozen food was supposed to be for mom, dad and the grandparents, according to the narrative of the moment.
As it turns out, that's just not so. More millennia media mythology, according to the data.
It turns out millennials are actually using their microwave ovens to do more than boil water and dry cannabis.
New research from Nielsen, for example, shows millennials spent 9% more on frozen food than the average household spent per grocery store trip last year.
Further, sales and marketing agency Acosta recently conducted a major survey, 'The Future of Frozen,' which found 43% of millennials are shopping the frozen food category more frequently than a year ago.
Millennials said frozen food are valuable to them as quick dinner solutions (89%); convenient lunches (72%); convenient breakfasts (81%); and as side dishes (78%).
Nearly one in three millennials said they've purchased frozen food online via a grocery delivery service or pure-play online grocer.
Convenience, taste, healthy and affordable are key attributes driving millennials to frozen food – and are all key drivers of what the fourth wave in frozen food.
Below are three other attributes and consumer drivers companies in the frozen-food category should focus on as they move forward in the fourth wave.
Premiumisation
Consumers are trading up in quality in frozen foods. This behaviour is becoming evident in grocery store freezer cases – take a look at the frozen pizza segment for one – and offers opportunity for margin enhancement.
Innovation
Create new categories. What is being done with cauliflower across the board is a good example, as are the emergence of the popular meat and veggie entrée bowls. New category creation is the oxygen required to grow and sustain frozen food's fourth wave.
Go vegan
Among the various food tribes in the US – paleo, gluten-free and the like – none are growing at a faster pace than is vegan. The frozen category is behind fresh and shelf-stable when it comes to vegan options. The opportunity is as ripe for new vegan offerings as they come in the frozen food category today.
The US frozen-food category is coming back from a long deep-freeze in sales growth. There's no guarantee this warming in growth is a long-term trend, although continued growth is more likely than not – as long as innovation continues.
Upgrading existing brands and products, creating new brands products and even categories are essential ingredients to ensure this growth.
More innovative promotion, both directly to consumers and through retailers to consumers, is also needed.
Frozen-food companies have a new story to tell – healthier and cleaner ingredients than in the past, better tasting, helps eliminate food waste, on and on – but the story needs to be told better and more frequently.
What's old is new again is a frequent reality in the food business. Frozen food is back. But it will require continuous innovation coupled with good marketing and storytelling to keep it new again.
just-food columnist Victor Martino is a California-based strategic marketing and business development consultant, analyst, entrepreneur and writer, specialising in the food and grocery industry. He is available for consultation at: victormartino415@gmail.com and www.twitter.com/nsfoodsmemo.