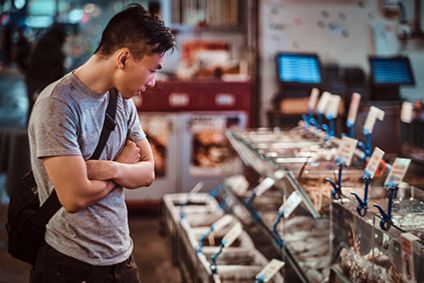 In his latest Eye on China column, Peter Peverelli surveys what the country's "post-90" consumer wants from packaged food.
Chinese marketeers like to divide the country's population in cohorts named after a decade – such as the post-80, the post-90 and the post-00.
Each group is characterised by a number of distinctive habits and world outlook. The post-80s were born after the end of the Cultural Revolution and have been shaped by the early years of the economic reforms that changed the lives of Chinese so profoundly. They are approaching 40 now and most of them are married and have children. They are much more affluent than their parents but are not big spenders on food, as there are so many other expenditures to worry about.
The post-00s form the new generation. They are becoming a market segment of their own but are financially still dependent on their parents.
The post-90s are the segment on which this column focuses. They are young, well-educated, concentrating on their careers in corporations or their own start-up enterprises.
With a few exceptions, they are all only children and have been spoiled by their parents and grandparents, as a result of which they have developed a taste for good food. Moreover, a considerable part of them are single and living by themselves. They may marry once, but their careers have the priority.
A recent article in the China Food Newspaper last month estimates the number of people in the post-90 cohort at 188 million, approximately 14.1% of the Chinese population.
The China Food Newspaper article further reveals that, in spite of their young age, many of the post-90s are complaining about ailments resulting from their demanding lifestyle. A 28-year old female Internet programmer is quoted as saying: "I used to buy supplements for my parents, now half of the supplements I buy are for my own consumption."
So, what and how do the post-90s eat, besides taking supplements? Based on my own observations, they easily spend CNY100 per person per day on food. They typically live in two-bedroom rental apartments. They have the equipment to cook but many lack the skills.
They are the generation of 'little emperors', spoiled by their parents, who provided three meals a day, so their child could concentrate on their education. As long as they came home with top grades, the sky was the limit in regards to what their parents would do for them.
The post-90s also lack time. They are enjoying the freedom of their own apartment but are still leaving home early and returning late. They do eat fast food occasionally but they have learned to appreciate good food and they are also still Chinese, so their palates are longing for the right textures and flavours. They are conscious about good nutrition.
The Chinese food industry has allocated considerable R&D funding to serve this cohort, which has resulted in an impressive range of ready-to-eat products. This is a brand-new food category in China, so there is no ready-to-use categorisation of products. Some potential product groupings follow.
Bread as breakfast
I have already dedicated an earlier Eye on China column to the Chinese breakfast revolution.
To cater to post-90s demand for convenience, several Chinese bread suppliers have designed products consisting of two slices of bread with a filling in between.
Tianguan Food Co., based in Zhangzhou in Fujian province, produces a range with various fillings like red beans and purple rice, marketed under the Haoshi brand.
A salient feature of these products is that they combine western bread with Chinese ingredients. Western bread symbolises convenience, but its taste and colour are seen as rather boring. Red beans and purple rice add familiar flavours and textures and also a contrasting colour.
These products are a feast for the palate and the eyes. They are marketed as fancy products. Haoshi literally means 'Gentleman'.
Liquid meals
When the pace of life is seen as becoming so hectic that you even lack time to chew (but you still want a nourishing meal), post-90s Chinese may look for something liquid. You can gulp it down, while still believing that you have ingested a little more than just calories.
A traditional product ticking these boxes is congee. Instant congee has been on the market in China for several years. However, more nutritious products have appeared recently.
Xinsanhe Food Co., a company in Yantai in Shandong province, has launched instant congees with various flavours: beef, mushrooms, chicken, red date and seafood. The powdered congee is packed in a plastic cup. Just pour some boiling water in the cup, stir and you can drink it. All varieties contain dried meat or fish and vegetables. Xinsanhe claims that it uses 'space technology' to produce these congees. That appeals well to the post-90 generation.
Meanwhile, Lüshou Health Information Co. has launched a range of meal-replacement smoothies in quinoa, mango and mocha flavours. The brand name literally means 'green and lean', and these products have been adopted by the national swimming team. Who can beat that?
(Almost) complete meals
The above two categories fall under the umbrella of meal replacements. The final category I want to introduce here are more complete meals. Some are ready to eat after heating, while others are sold as a do-it-yourself kit.
The Dalongyi Restaurant in Chengdu in China's Sichuan province is selling in the retail channel a complete Sichuan hotpot in a self-heating pack. You do not need to heat it in the kitchen. It advertises the hotpot as consisting of the best ingredients from various regions of China, such as wooden ear mushrooms from Sichuan and potatoes from Inner Mongolia.
Meanwhile, Shizuren Food Technology Co., a business in Zhengzhou the country's Henan province, has designed a range of instant noodles consisting of dried noodles in a cup, plus six packs of various condiments: dried vegetables, pickled vegetables, vinegar, roasted peanuts, powdered spices, and soy sauce. This upgrades instant noodles to a genuine DIY product. You can adapt the dosage of each pack to your personal liking.
The ready meals seen in Europe, based on domestic or ethnic dishes and sold to be heated at home, aren't available in Chinese supermarkets. Most of the products on the Chinese market are based on some kind of noodle recipe that needs to be infused with boiling water. A few rice-based meals work in the same way.
Microwaves and ovens are less common in Chinese kitchens than in homes in the West; only a few of my Chinese friends and acquaintances have them. However, boiling water is available everywhere in China. Self-service kettles are present in all railroad stations (and all trains) and airports. Even the cheapest Chinese hotels have water cookers in each room.
Opportunities
These young Chinese are not easy to please for foreign suppliers. Asian companies may have an advantage here but these post-90 consumers do travel all over the world, where they get familiar with local products.
My advice to western players would be to not invest in making another Chinese product. Instead, have a new look at your existing ready-to-eat meals and see how these could be adapted slightly to fit the Chinese palate.
Chinese dislike pure milk but recognise its nutritional value. Smoothies with multiple fruits and vegetables to cover the creamy taste and add cheerful colour, pimped with nuts or cereals, should sell well, especially if tout their vitamins and mineral content.
Pasta with chunks of meat and vegetables and a not too creamy sauce, marketed as having 'a genuine Italian flavour', could have a market, too.