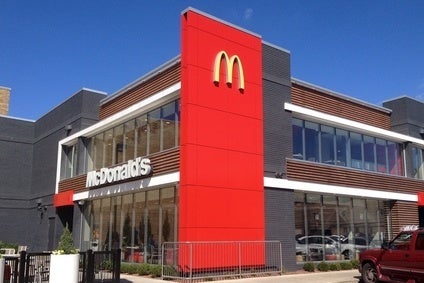 Campaigners have welcomed McDonald's announcement on antibiotic use in chickens but are concerned that the move is confined to the US. Ben Cooper discusses whether the fast-food operator's decision could spur more action on both sides of the Atlantic.
Just as the commercial strategies of iconic brands are widely imitated, their business practices also tend to be influential. As such, the move by McDonald's on antibiotic use announced earlier this month could be a seminal moment in the debate over antimicrobial resistance (AMR), impacting not only on the fast-food market but also on the broader food retail and manufacturing sectors in the US and beyond.
On 4 March, McDonald's announced it would within the next two years only be sourcing "chicken raised without antibiotics that are important to human medicine".
The view of campaigners underlines the significance of the move. Steven Roach, senior analyst for the Keep Antibiotics Working (KAW) coalition, says McDonald's was "showing real leadership" but he also reflects the move "is more an expression of changes that have been building for a long time".
This "very visible" move by McDonald's will "help move other retailers", Roach tells just-food. "There does seem to be a real shift and as more companies ask for this type of change it makes it easier for other companies to follow suit. More demand makes it easier for the livestock producers to invest in the changes needed to transition away from routine antibiotics."
Roach says KAW is "actively engaging with other retailers from restaurant to grocery chains and we are also reaching out to producers as well".
The potential influence on other companies was underlined almost immediately when Costco said in a Reuters interview it is working with suppliers and regulators to "see how we can get rid of shared-use antibiotics in animals".
Meanwhile, Tyson Foods CFO Dennis Leatherby alluded directly to the antibiotics issue in a presentation at the Consumer Analyst Group of Europe (CAGE) investment conference this week in London.
Leatherby said the US meat processor was becoming "more involved in the no-antibiotics offering" in retail with its Nature Raised Farms brand. He underlined Tyson "supports" the McDonald's move and had "worked very closely with them on this decision because we were already headed in this direction."
Leatherby added it is Tyson's policy to use antibiotics "judiciously" and only "as prescribed or approved by the US Food and Drug Administration, only when prescribed by veterinarians to treat and prevent disease in animals".
When contacted by just-food, a spokesperson for the Food Marketing Institute (FMI), which represents US food retailers, declined to refer directly to McDonald's, saying the US retail industry "supports FDA's actions to address unnecessary use of medically important antimicrobials in food animals" and "increased veterinary oversight for the therapeutic uses of antimicrobials to preserve animal health".
However, while welcoming the leadership McDonald's has shown in the US, Roach says the company's "global policy really missed the mark", failing to go any further than the policy it announced in 2003.
"Consumers in other parts of the globe should be asking why the [company's] US policy is so much better than what they have. We are trying to engage organisations in other parts of the world to let them know about this double standard."
While Dr Cóilín Nunan, principal scientific advisor for the Alliance to Save Our Antibiotics campaign in the UK, says the McDonald's move on chicken in the US is "an important and welcome initiative" and a "significant step forward", he also regrets the only commitment they have made for the UK is to stop using two types of critically important antibiotics in three years' time.
The antibiotics debate is highly complex, requiring consideration of challenges created by different intensive farming methods for different species, varying types of antibiotics and their relative importance in human medicine and different forms of administration, for example whether preventative use occurs only after infection is observed or routinely to all animals to prevent infection.
The issue is consequently not well understood by consumers, and its complexity arguably lends itself to obfuscation. It is, by the same token, a field which requires delicate judgement.
With food safety, food security and cost in mind, the use of antibiotics in animal farming would in many instances be supported by consumers. KAW notably describes itself as the campaign to stop the "overuse" of antibiotics. Campaigners on both sides of the Atlantic focus on the overuse, and particularly the routine prophylactic or preventative use, of those antibiotics used in humans. They also seek to work collaboratively with companies on driving down antibiotic use. KAW points out it has been working with McDonald's since before 2003.
Nevertheless, pressure on manufacturers and retailers is certain to mount in the wake of the McDonald's announcement. AMR is becoming much more broadly discussed in the media and consumer awareness and concern is growing.
The pressure on policymakers is growing as well. "In the end these corporate actions are great but difficult to monitor and not evenly applied," says Roach. "We think that it would be better if the regulatory agencies would take stronger action and make sure that the use of antibiotics in food production is not creating a public health risk. Hopefully this [the McDonald's] movement by industry will make this more likely." In the same vein, Nunan says voluntary actions "can certainly be helpful", but "need to be backed up by regulation."
It remains to be seen how quickly regulators will move in the US but moves are underway to accelerate regulatory intervention in the EU. Regulations on routine use of antibiotics vary across different countries in the bloc. Nunan notes the Netherlands and the Scandinavian countries have "led the way" on farm antibiotics, successfully introducing bans on routine prophylactic use.
Last September, the European Commission began the process of framing EU directives on veterinary medicines and medicated feed. Underlining a further fine detail in the antibiotics issue, the mooted EU directives only apply to feed and would not, as they are currently envisaged, be applicable to antibiotics given to animals in their drinking water.
Significantly, the Commission puts improving animal health and human health as the motivation behind the directives, as well as facilitating the internal market. Clearly, the Commission would seek to have uniform legislation operating across the EU but the alliance of human and animal health is also significant, speaking to the growing importance policymakers and medical and veterinary organisations are attaching to a "One Health" approach, which views animal and human health as intrinsically connected and requiring a "joined-up" approach.
The US Centers for Disease Control and Prevention (CDC) defines the One Health concept as one which "recognises that the health of humans is connected to the health of animals and the environment". The CDC says it uses a One Health approach by "working with physicians, ecologists, and veterinarians to monitor and control public health threats".
The growing prominence of the One Health approach could be a further catalyst for acceleration on the antibiotics issue across many countries. This and the prospect and discussion of EU regulation is likely to raise the profile of the subject further and may prompt more voluntary action by companies already spurred by what is unquestionably a significant and influential move by the world's largest fast-food retailer.