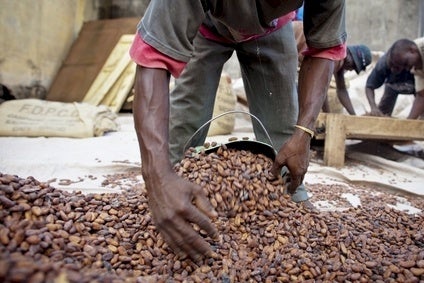 Among all the sustainability issues food companies are addressing, agricultural supply chains are month by month becoming an ever more predominant focus. In his fiftieth Sustainability Watch feature, Ben Cooper reflects on why.
During the last couple of months food companies' agricultural supply chains have been a major topic of discussion.
June saw the European conference of the Roundtable on Sustainable Palm Oil (RSPO), which followed the launch in May of CocoaAction, a major industry initiative in the cocoa supply chain. The heightened debate around commodities triggered by those events was conducted as major food companies recoiled from a stinging report from Oxfam urging them to do more to reduce greenhouse gas emissions in their agricultural supply chains.
A couple of weeks prior to the launch of Oxfam's Standing on the Sidelines report, PepsiCo CEO Indra Nooyi had nominated supply chain sustainability – and more particularly instability – as one of five mega trends constituting the "new normal" for food companies like PepsiCo. Adding further to the heady mix of commodities churning in the media, horrific revelations from the Thai prawn supply chain hit the headlines.
In truth, the increased noise around agricultural supply chains over recent weeks is not all that remarkable. It may have been a particularly busy two months but, in essence, discussion of agricultural supply chains, and the focus on this aspect of sustainability, has been increasing steadily for some time.
And the reason for this can be summed up in one, four-letter word – risk.
It links all of the above stories, and will be a common aspect in future debates.
Indeed, one of the reasons why Oxfam believes its campaign has the potential to influence the behaviour of multinational food companies is because its report speaks precisely to that risk. "The trajectory is that they are having to be more engaged in their supply chains, and for lots of reasons, not just for altruistic reasons but also just for security of supply," says Erinch Sahan, private sector advisor at Oxfam. "They're increasingly having to compete for natural resources as demand for agricultural products rises."
Nooyi's remarks at PepsiCo's annual shareholder meeting bring the risk aspect of supply chain sustainability firmly into focus. "We are facing increasingly extreme weather affecting everything from commodity prices to our ability to operate during extreme weather events," Nooyi told investors. "While our size and scale allows us to manage the risks, our R&D team is working on developing formulations for new products to be able to cope with changes in raw material availability and prices."
There are all kinds of environmental and social pressures weighing on agricultural supply chains, some with immediate consequences and some longer term.
Nooyi's remarks are significant not least because they speak to an immediate threat. There was no reference here to the world having to feed 9bn mouths by 2050. In the context of the food-energy-water nexus, PepsiCo and others of course have to look long term, but Nooyi is thinking about tomorrow too.
The words of climate change expert, Professor Andy Challinor, at a conference convened by the Westminster Food and Nutrition Forum in London in April spring immediately to mind. "When is climate change you might ask," Challinor said. "It's now and the future; it's no longer this distant thing."
Furthermore, the steps Nooyi identifies to counter this clear and present danger are significant and immediately catch the ear.
So far, the response of companies like PepsiCo, Unilever and Nestle to the threat to supply chains has focused on sustainable agriculture programmes, such as PepsiCo's own Sustainable Farming Initiative, programmes and partnerships on the ground within at-risk areas and collaborative initiatives such as the RSPO.
Nooyi's address to PepsiCo shareholders speak to another response. PepsiCo will meet this threat also through product innovation and reformulation to reduce exposure to threatened commodity supply chains.
One feature of the report on climate change published this year by the Intergovernmental Panel on Climate Change (IPCC), to which Challinor contributed, is the shift observed from a focus on climate change mitigation to climate change adaptation. In a sense, Nooyi's words are climate change adaptation in action.
Sadly, but perhaps not surprisingly, Robert ter Kuile, senior director, public policy at PepsiCo, would not be drawn on the specific implications of the direction of travel Nooyi was hinting at.
However, ter Kuile stresses the company has been "very clear" about including climate change its 10-K financial filings, where companies disclose business risks. "So we absolutely recognise that that is a distinct and direct business risk," ter Kuile tells just-food.
In this sense, PepsiCo may be ahead of some companies but engagement with the investment community on sustainability issues is becoming generally more common among food and beverage companies, and this cannot be unrelated to the significantly greater risks these companies are facing in their supply chains.
Recently published research conducted jointly by Boston-based sustainability think tank Ceres and responsible and sustainable investment analysts Sustainalytics bear this out.
According to the report, Gaining Ground: Corporate Progress on the Ceres Roadmap for Sustainability, which assesses the sustainability performance of 613 US corporations, food and beverage companies have been particularly progressive in terms of engagement with investors on sustainability. Indeed, the sector is the leader in this regard.
The Gaining Ground research found food and beverage sector companies are increasingly discussing "material sustainability risks and opportunities" in financial filings. The proportion of food and drink companies meeting its Tier 1 ('setting the pace') criteria for this expectation by disclosing two or more material sustainability issues in their filings has increased to 29% in 2014 from 4% in 2012.
Andrea Moffat, vice president of the corporate programme and author of the Gaining Ground report, remarks that "one of the most interesting trends" identified in the report is "the shift in terms of the number of companies that are actually wanting to engage the investor community in what they're doing on sustainability".
Moffat has no doubt that a primary reason is that companies are "experiencing climate change on the ground in their supply chains", for example in the form of commodity price increases, so "they have to start to look at it in a much more material financial perspective".
All of which brings us back to that four-letter word. It is interesting – and perhaps a little chilling – to observe another subtle shift in how sustainability is being discussed. While companies, campaigners and academics still enthusiastically champion the business benefits of sustainable innovation, notably the cost efficiencies inherent in improved water and energy management, it is the financial risk associated with sustainability issues which is beginning to dominate the debates.
In the early days of corporate sustainability, some investment analysts were unconvinced about the business benefits of sustainable business, though opinions have thankfully changed. It appears, however, they need less convincing about the risks now being faced.
However, there is one positive to draw from that. The considerable strides made by companies during the earlier stages of their sustainability missions were achieved with no significant "pull" from investors. Investors are now far more engaged and this should give companies reason and licence to go farther and faster.