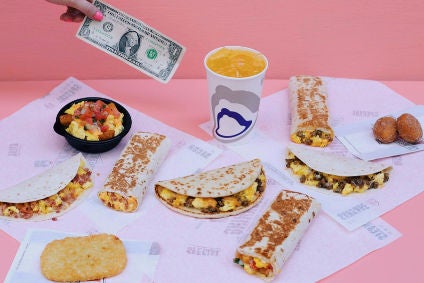 Taco Bell's bid to bring value to breakfast in the US, the potential roll-out of McDonald's all-day breakfast to other markets and the return of Carl's Jr to Japan grabbed the foodservice sector headlines in March.
Yum! Brands launches breakfast offensive in US, confirms Taco Bell launch in China
Yum! Brands, the owner of foodservice chains including KFC and Pizza Hut, is preparing to spin off its business in China in a bid to improve the performance of its outlets in the country.
The move is expected to see Yum!'s 6,900 outlets in China placed into a separate entity by the end of the year. There has, however, already been speculation about the ownership of Yum! China. Reuters reported in March Yum! was in talks with private-equity firms including US-based giant KKR and China's Hopu Investments over the possible sale of a minority stake in the new entity.
Yum! is declining to comment. However, if Yum is scouting for investment in the soon-to-be-formed Chinese business, it could be to help the company fund the range of initiatives it outlined in December, including refocusing on the "core" parts of the menus of KFC and Pizza Hut and developing new formats.
The strategy for Yum! China will also include launching Taco Bell in the country. Speaking at the Bank of America Merrill Lynch Consumer and Retail Conference, Yum! CEO Greg Creed confirmed the first Taco Bell will open in China by the end of the year.
"Americanised Mexican food is the next frontier [in China]," David Henkes, advisory group senior principal at US-based foodservice consultants Technomic, says. "If you look at the growth in Mexican across global cuisines, Mexican is becoming much more popular globally. The Chinese people have always had a hunger for American brands and American foods. If you couple the Americanised Taco Bell brand of Mexican food with the growing interest in Mexican cuisine, there's a pretty big opportunity for them."
Domestically, Yum! last month launched a fresh move to lure US consumers turning to foodservice outlets for breakfast with the launch of a menu of US$1 products at Taco Bell that includes a soft taco comprising eggs, cheese and a choice of bacon or sausage; and a sausage flatbread quesadilla, which has a blend of three cheeses, sausage and scrambled eggs.
"Breakfast is a refocused battleground for a lot of QSR restaurants," Technomic's Henkes says. "McDonald's has had phenomenal success. Ever since Taco Bell entered the breakfast space, they've been targeting McDonald's and this is the latest salvo in the battle over breakfast. They clearly see breakfast as a big driver for their growth and are trying to pull a fair number of those consumers away from McDonald's back over to Taco Bell."
McDonald's has fresh plans for breakfast – and for Asia
The QSR giant's move in October to launch all-day breakfast has been seen as a success for the business, helping to revitalise McDonald's in its domestic market. And the company has rolled out the initiative into another major market.
Speaking at the Consumer Analyst Group Europe investment conference in London last month, McDonald's said it is now rolling out all-day breakfast menus across Australia and put forward other countries where all-day breakfast could work.
"Just this month, we went from a test phase in Australia to rolling out all-day breakfast nationally in Australia," Doug Goare, president of what the company calls its international lead markets, said. "It has similar promise in my mind to what we saw in the US."
Goare leads the operations of McDonald's in Australia, Canada, France, Germany and the UK, markets that make up 40% of the company's operating income. He told the CAGE conference all-day breakfast could be taken into more of that group of countries. "We've got a couple other markets in the lead market group that I believe is very relevant for us. You take markets like UK and Canada, who already have a very sound breakfast daypart. It'll be something that, as customers show interest, can be a future driver for us," Goare said. "I think all day breakfast is certainly one of those initiatives that all of us outside the US are looking at and exploring what the potential is for our markets."
Meanwhile, on the last day of March, McDonald's set out plans for a fresh offensive in Asia. The company plans to add more than 1,500 restaurants in China, Hong Kong and South Korea over the next five years – three markets it which it already has over 2,800 outlets. McDonald's is also looking for "strategic partners" for its operations in Taiwan and Japan as part of a wider plan to put more of its restaurants in the hands of franchisees, rather than being company-owned.
"Asia represents a significant area of opportunity for McDonald's to blend our global quality standards with local insights and expertise from partners who share our vision and values," president and CEO Steve Easterbrook said. "These actions build on our turnaround efforts and will advance local ownership, enable faster decision-making and achieve restaurant growth."
US burger chain Carl's Jr re-enters Japan
McDonald's is not the only US burger seller with ambitions in Asia.
Privately-owned US foodservice group CKE Restaurants Holdings relaunched the Carl's Jr burger chain in Japan last month after an almost two-decade absence from the market.
Carl's Jr was introduced into Japan in 1989 but pulled eight years later. The chain's second attempt has seen CKE team up with Japanese conglomerate Mitsuuroko Group Holdings Co., which has become the local franchisee with Carl's Jr. The venture is Mitsuuroko's first in the quick-service restaurant sector.
"Carl's Jr. fills a major void in the Japanese burger market," Kohei Tajima, the CEO of MGHD, said. "There's no other global burger chain that offers such premium and innovative menu items served with industry leading customer service. What's more is the brand exudes a cool, youthful and edgy persona that will resonate with Japan's burger lovers of all ages."
The first Carl's Jr outlet has been opened in Akihabara, a district in central Tokyo know for its electronics shops. The companies plan to open outlets in four other parts of the Japanese capital – Azabujyuban, Odaiba, Shibuya and Roppongi – but has set a target of opening 150 over ten years.
"Japan is the largest burger market in Asia and Japanese consumers are well known for their passionate enthusiasm for quality, great tasting food. The Carl's Jr. brand and menu are perfectly positioned for Japan as we offer bigger, better tasting, chargrilled burgers served with high quality, fresh ingredients and best-in-class customer service," Ned Lyerly, president of CKE's international business, said.
US menu rules launch date pushed back
The US Food and Drug Administration is looking to bring in two rules requiring that calorie information be listed on menus and menu boards in chain restaurants and similar retail food establishments and vending machines.
One will see restaurants required to list calories if they are part of a chain of at least 20 outlets. This rule will also see supermarkets and convenience stores that sell prepared foods obliged to label calories.
The other sees vending operators that own at least 20 machines having to disclose calorie information for food sold from vending machines, subject to certain exemptions.
Passed as part of US healthcare legislation in 2010, the final rules were launched in 2014 and companies initially had until the end of 2015 to meet the new regulations.
Last summer, that date was pushed back to 1 December this year but the FDA said last month the deadline had been moved again, as part of a rider to a wider Congress spending bill. The new timetable is for the rules to come in a year from the date the FDA issues final "level one" guidance on the labelling. The draft guidance was launched in September; the FDA said it is "considering all comments received and will issue the final guidance as soon as possible".