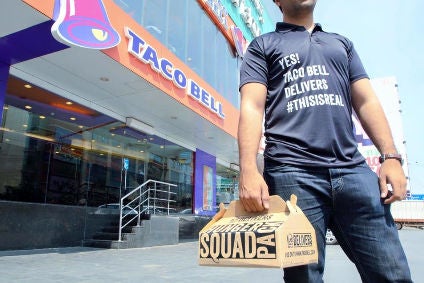 October saw some notable international moves from some major names in the foodservice market, including Taco Bell, Starbucks and Wendy's. Dean Best reports.
Taco Bell sets out international ambitions
The US Tex-Mex chain is one of Yum! Brands' four chains but has yet to build the same kind of presence internationally as its two larger sister operators – KFC and Pizza Hut.
However, in October, Yum! Brands' management outlined its international plans for Taco Bell. There around 300 Taco Bell outlets in 22 countries outside the US, compared to 6,975 domestically but Yum! Brands wants to there to be 1,000 overseas and has set a deadline for the end of 2022.
Last month, Yum! Brands met with investors and analysts to outline the plans for its business in the wake of the spin-off of its operations in China (a transaction that was finalised on 1 November).
"We're very optimistic about where we can go outside the United States," Taco Bell CEO Brian Niccol said. "We're just getting started but where we have brand strength, a great franchisee, healthy economics – and what do I mean by healthy economics? I mean a strong supply chain and an impressive per store average – we are seeing tremendous results." Niccol, for example, pointed to Canada, where Taco Bell has 24 outlets and said there is "no reason why we can't have two, three hundred stores" in the country.
Niccol highlighted markets further afield. He pointed to Spain, where Taco Bell has 14 outlets but aims to have at least 75 by 2020, and South Korea, where the chain plans to take its estate from nine to at least 50 by the start of the next decade. "Taco Bell is a world-class brand, business that has an unbelievable runway of growth in front of us," Niccol said.
Taco Bell also has growth ambitions for the US, aiming to take its estate to at least 8,000 by 2022. But it was Taco Bell's international ambitions that caught the eye, with Yum! Brands seeing overseas as key plank of the future growth of the chain.
"It's very interesting to hear that they're looking to expand the Taco Bell brand even further and, combined with the selling off of Yum! Brands' China business, it shows that Taco Bell is likely going to be a really integral part of the company's long term global strategy," Euromonitor consumer foodservice analyst Elizabeth Friend says. However, she adds: "It's such a strong brand in the US so it makes sense but it's also a much more difficult brand to translate to different markets than say, fried chicken or pizza."
Friend says Yum! Brands is "still very much in the building phase" of Taco Bell's international expansion but points to its early efforts in India as an example of where the chain has tweaked its initial business. "They're moving toward a more fast casual vibe and competing on experience rather than strictly value. They've changed their outlet design for newer locations, tweaked the menu to be a little more exciting and adventurous, added elements of table service and even serve beer and cocktails in some locations," she says.
And Friend believes Taco Bell's fledgling business in India could help direct the chain's menu strategies for different markets. "The key to success in international markets right now is the right balance of localisation and authenticity. Taco Bell will need to find a way to sell California-style Mexican food and an American experience without alienating potential consumers too much with unfamiliar ingredients. I think they've done a good job with this so far, relying more on California as their central branding element rather than true Mexican cuisine. One particular challenge Taco Bell faces is that the key to their appeal is the fact they sell Mexican food with a twist. It's not just tacos and burritos, but Waffle Tacos and Doritos Locos Tacos and Quesaritos. For that to work, you need to have that foundation of knowledge and experience with Mexican cuisine in order for their dishes to be exciting. In most international markets, they're building familiarity with Mexican cuisine from scratch, so they need to create an entirely new strategy for what sets them apart. You can see how this is playing out in India already – in the beginning they started with simple potato tacos, and now they've graduated to some menu items that are more in line with their US menu innovation strategy, such as taco sliders."
Starbucks' appetite for China shows no sign of waning
The US-based coffee-shop giant signalled the seriousness with which it is taking its plans for expansion in China by last month announcing plans to double its "scale" in the country and have 5,000 stores on the mainland by 2021.
Starbucks has around 2,300 outlets in China and its growth in the country has been rapid; it had 400 in 2011.
China is a market that chairman and CEO Howard Schultz has spoken about being "as large or larger" than the US for the business. In the fourth quarter of Starbucks' financial year, the company reported a 6% rise in comparable-store sales in China amid the "moderating" GDP growth in the country.
Speaking to analysts on Starbucks fourth-quarter earnings call, John Culver, president of Starbucks' China-Asia Pacific division, faced questions the growth in the fourth-quarter comparable-store sales from that part of the business was lighter than some analysts had modelled.
Culver said Starbucks was "very optimistic about where we sit in the marketplace", adding: "We delivered a 6% comp in [in China], far above any of our peer set in that environment over there. What we are seeing across China is just very strong acceptance for the Starbucks brand. You look at the number of customers that we're attracting into our stores. Our brand has never been stronger. And the customer engagement has never been stronger as well. So we're increasing frequency of existing customers, and we continue to attract new customers.
"We had record openings in terms of stores in the quarter in China, opening over 200 stores in the market. Our new store performance is the strongest it's ever been. Our average unit volumes, our return on investment, and our overall store level profitability remains best-in-class within the company. So very optimistic again about China and the opportunity that we have there to continue to grow."
October also saw Starbucks name Belinda Wong, the president of its operations in China, to the position of CEO of its business in the country. Stephen Dutton, a foodservice associate at Euromonitor, sees the move as another sign of multinationals looking to put more control in China in local hands. "The China-based operations from the largest global companies have become increasingly difficult to manage from abroad given China's new economic norma", however, so Yum's move to spin off its China operations, and Starbucks' move to create a CEO for its China division is representative of the shift towards decentralising management to improve operations locally and better capitalise on all of the favourable market conditions that still exist in China, such as increased urbanisation, a swelling middle class that can increasingly afford to spend on more premium-oriented foodservice concepts, and continued positive foodservice growth," Dutton says. "Starbucks in particular will be riding a wave of continued growth in coffee, as more Chinese consumers are increasingly accustomed to coffee and other high-quality espresso-based beverages. Chained specialist coffee shops, such as Starbucks, are expected to grow by a 12.7% value CAGR to 2020, and Starbucks hopes to be the chained specialist coffee shop capturing all of that growth in China by being the most widely available coffee chain in the market. Chinese markets appear to be stabilising, and Starbucks' emphasis on local management, as well as continued and rapid outlet expansion into second, third, and even smaller cities is likely to help them achieve this."
Wendy's announces another move in the Middle East
In February 2015, US burger chain Wendy's signed a deal with Middle East conglomerate Alghanim Industries to expand the business in the region. Last month saw the latest fruits of that agreement.
The two companies announced plans to open the first Wendy's restaurant in Kuwait. There are already 17 Wendy's outlets in the UAE and the chain is set to head into Alghanim Industries' home market.
"After more than a year's partnership with Wendy's, this much is clear: people in the MENA region love this restaurant," Omar Kutayba Alghanim, the CEO of Alghanim Industries, claimed. "Our first location in Kuwait – and our broader expansion plans – should be taken as a sign of our commitment to bringing Wendy's to as many people in Kuwait and across the region as possible. Our customers are clamouring for more restaurant locations, and we are excited to provide them."
The announcement from and Alghanim and Wendy's is the latest in a raft of moves from a number of US burger chains in recent months in the Middle East.
"The Middle East is a favoured destination of US burger chains largely because consumers in the region increasingly favour these chained concepts, more so than in other regions," Euromonitor's Dutton says. He points to Euromonitor data that he says shows the market for chained burger fast food in the Middle East and Africa is expected to grow by a 5.9% on a value CAGR basis to 2020, which he says is "faster than any other region", adding: "Asia Pacific as a region ranks second, at 3%."
Dutton believes Wendy's can capitalise from continued growing demand for US burgers and for a range of choice as falling oil prices put pressure on incomes.
"While the demand for chained burger concepts is consistently high, consumers are also increasingly looking toward a range of burger concepts at different price points. Given plummeting global oil prices which have deeply affected many Middle East economies that rely on oil exports, as well as a growing pool of immigrant workers and working expats, the demand for cheaper foodservice options has grown as well," Dutton explains. "This means that while chains like Shake Shack, and more recently, Five Guys, have grown fast on a demand for burgers in the highest echelons in terms of pricing, so too have chains like McDonald's, Burger King, and Philippines-based Jollibee, offering a wider spectrum of price points that more consumers can afford. Since the demand for burgers appears to be far from saturated in the Middle East, it is less about stealing share from competitors as it is capitalising on continued demand. Wendy's is perfectly positioned to capture some of this demand by offering burgers at competitive mid-range prices."