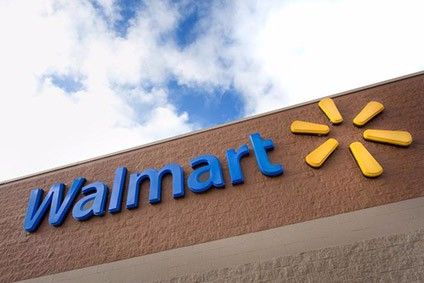 January brought further evidence of the seismic shifts taking place in the global retail sector. Established retailers have largely responded to these challenges through an emphasis on cost cutting and price slashing. Others, however, continued to benefit with the likes of Lidl, Casino and Intermarche all expanding in the month.
Here is just-food's digest of the top retailer stories from the past 31 days.
Wal-Mart to close stores
Wal-Mart revealed that it will close 269 globally. Of these closures, 154 locations will be shuttered in the US. The company said it will end its experiment with small-scale local shopping by closing all 102 Express format stores. The group is also shutting up shop on loss making stores in Brazil and other parts of Latin America.
"Actively managing our portfolio of assets is essential to maintaining a healthy business," said Doug McMillon, president and CEO. "Closing stores is never an easy decision, but it is necessary to keep the company strong and positioned for the future. It's important to remember that we'll open well more than 300 stores around the world next year. So we are committed to growing, but we are being disciplined about it."
In some respects, this "disciplined" approach has been thrust on Wal-Mart by the rapidly-changing retail environment. As Conlumino CEO Neil Saunders notes while stores remain a "vital part of the retail mix", they are simply not as "relevant as they used to be".
The growth of on-line means that Wal-Mart is now challenged as the "go-to" destination for many products. Meanwhile, Sanders suggests, the Express format faced particularly stiff competition from dollar stores. As a result, Wal-Mart is being forced to re-evaluate its model in the US, which accepts that the proximity of its stores will result in a degree of sales cannibalisation.
Much of the same at Asda
Much like its US parent, Wal-Mart-owned UK supermarket group Asda revealed that it will be cutting "hundreds" of jobs in reaction to the fierce supermarket price war in the country.
While Asda's performance over the key Christmas trading period will not be made public until later in February, when Wal-Mart reports, news of the cuts came as Sainsbury's, Morrisons and even Tesco reported surprisingly upbeat sales. The US-owned supermarket chain is expected to have faired particularly badly in comparison.
Nevertheless, the cuts are more a reflection of the painful adjustment being made by the superstore operators (with the likes of Tesco having already taken major hits at its big box outlets, while Sainsbury's and Morrisons typically operate smaller supermarkets). Asda's disconnect with UK shoppers – and the fact that it is at the cheaper end of the sepctrum – have made it easy pickings for the limited assortment discounters such as Aldi and Lidl, who continue to pick up market share in the country.
In this context, Shore Capital analyst Clive Black suggest that headcount reduction is a "painful but necessary" process if the group is to protect its margins…. Indeed, if such trading momentum persisted from Asda then negative operational gearing can be expected to take its toll on the subsidiary's margins. Accordingly, cutting its cloth to market realities is, again, sensible and commendable by Andy Clarke (CEO & President of Asda) and his team, if demonstrably painful at a human level," Black notes.
Supervalu prepares Save-A-Lot spin-off
US grocer Supervalu began to prepare the ground for a spin-off of its discount-focused Save-A-Lot chain at the start of the month.
In a filing with the US Securities and Exchange Commission, Supervalu said that it would retail at least 80% of Save-A-Lot's share capital post listing. The company believes that the move will help its investors better appreciate the value of the hard discount chain.
Save-A-Lot has generated positive sales momentum for the supermarket operator, which has seen its other banners struggle due to the "hour-glass effect". More well-to-do US shoppers have increasingly turned to up-market chains, while poorer shoppers are increasing their spend with the hard discounters such as Save-A-Lot. This has left many US supermarkets – including Supervalu – caught in an unattractive and contracting middle ground.
Last summer, when the idea of a spin was first mooted, Supervalu CEO Sam Duncan suggested that the move would enable the group to focus on revitalising its other banners, including Farm Fresh and Cub Foods.
The company has undergone a massive restructuring in recent years, including cost-cutting initiatives and the sale of its larger Albertsons and Jewel-Osco chians.
However, ratings agency Moody's said that seperating Save-A-Lot would turn Supervalu into a low-margin, low-growth business predominantly focused on wholesale activities. "We do not expect the reduction in SUPERVALU's debt as a result of the spinoff to completely offset the increase in its leverage from the loss of EBITDA generated by Save-A-Lot," said Mickey Chadha, Moody's VP and senior analyst.
Lidl reveals details on US push
German discounter Lidl, which operates 10,000 stores across Europe, provided further detail on its long-anticipated push into the US. The company said that it is seeking sites along the east coast, running from Pennsylvania and New York in the North to Georgia in the south.
On its US website, Lidl revealed that it is looking for locations that are within three miles of a "dense" population area and preferably that sit on a highly visible intersection. Lidl aims to open stores that are 36,000 square foot in size with a minimum of 150 dedicated parking spaces.
While Schwarz Gruppe-owned Lidl is yet to confirm its store opening targets, reports suggest the group wants to open 500 stores in 2018 and intends to operate 2,000 in the market by 2020.
The company is following in the footsteps of compatriot Aldi by targeting the US retail sector. It seems likely that as Aldi and Lidl work to expand their US operations – as elsewhere – price will be the cornerstone of their strategy. However, it is worth noting that both companies have been able to shed their "cheap" reputation in markets like the UK and broaden their appeal to middle class consumers.
It seems likely that the incursion of the German discounters will place further pressure on middle-ground supermarkets such as Kroger and Albertsons. The firm's non-food offering means that they are also poised to pick off consumers shopping at supercentres such as Wal-Mart and Target.
The advance of Aldi and Lidl has changed the nature of the grocery retail landscape in Europe. Will it be the same story in the US?
Casino under fire
France is one market where established retailers have been able to keep the growth of the discounters in check. This is largely because they have responded with an intense price focus and the formation of purchasing coalitions that means the supermarkets can offer prices that are comparable to the discount chains.
In its most recent set of results, Casino was able to report a 1.5% increase in fourth-quarter sales in France. Given the sombre state of French consumption, this is a noteworthy achievement.
However, for some it was overshadowed by the group's 11% drop in revenue – which can largely be attributed to currency exchange. On a comparable basis sales were down 0.3%.
Casino has come under fire from US short-seller Muddy Waters. The activist investor has accused Casino of using accounting gimmicks and financial engineering to cook the books – suggestions that Casino denies.