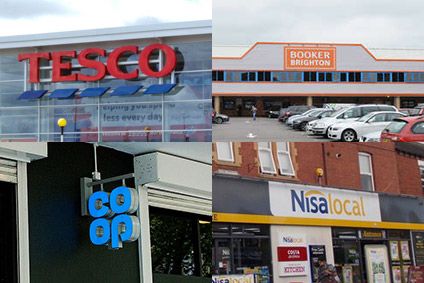 Two prospective takeovers in the UK grocery retail channel have shaken the sector, with food manufacturers weighing up the consequences. Simon Creasey analyses the possible impact on suppliers.
The provisional approval by the UK's Competition and Markets Authority (CMA) of Tesco's GBP3.7bn (US$4.9bn) takeover of wholesaler Booker – with no conditions imposed on the deal – sent shockwaves through the sector.
The news broke the day after the members of UK convenience-store and wholesale business Nisa unanimously voted to sell up to The Co-op, the country's sixth-largest food retailer, in a GBP137.5m deal also expected to be passed by the CMA, with few – if any – modification in light of the Tesco/Booker decision.
Within the space of 24 hours two convenience store juggernauts were born, which over the next few years look likely to cause a major shake-up of the UK grocery retail sector.
So what was the impetus for these deals and, when they do eventually go through, what will it mean for food manufacturers that supply these companies?
Although the two transactions are slightly different in nature, at the heart of both of them is economies of scale.
The Co-op will add Nisa's 3,200 stores to its existing portfolio of 3,800 outlets and in the process will significantly boost its purchasing power.
In a similar vein, Tesco will add its 3,000-plus UK stores to the 5,000 operated under Booker's Premier, Budgens, Family Shopper and Londis brands.
The takeover of Booker is set to boost Tesco's purchasing power and convenience presence but, just as significantly, argues Professor Alan Braithwaite, founder of supply-chain management consultants LCP Consulting, the deal also takes the UK's largest food retailer into the country's foodservice sector.
"It will give the business the platform to further challenge in that market," Prof. Braithwaite says. "It will allow the Booker side of the enterprise to leverage procurement and inventory so there is a margin opportunity too. This is especially important in the light of food inflation that is now accelerating with the weaker pound."
Looking longer term, Prof. Braithwaite argues there are multichannel opportunities. He says Tesco could "integrate fulfilment networks using its capabilities for e-commerce but adding services and accelerating response times, enabling click-and-collect and integrating foodservice deliveries", adding: "The competitive advantage could be compelling."
Unfortunately – though perhaps unsurprisingly – no suppliers who were approached for comment were willing to speculate on how they might be affected by the Tesco/Booker and Co-op/Nisa deals – either on- or off-the-record. Most said it was too early to determine whether the impact would be positive or negative.
This uncertainty is reflected in the views of the analysts who track the grocery retail sector. Bruno Monteyne, senior analyst for European food retail at US investment bank Sanford Bernstein, thinks the Tesco/Booker deal in particular is potentially good news for food manufacturers that already work with these companies.
"As a combined and stronger company, I would expect Booker to be driving growth," says Monteyne. "Higher growth will be beneficial to those suppliers that supply to them. It will be harder for those suppliers that supply some of the Booker competitors."
However, Philip Dorrell, former Safeway and Asda executive and now managing partner at UK retail consultants Retail Remedy, is not so convinced the fallout from the two deals will be positive.
"If smaller buying groups become bigger and less independent the effect on suppliers is a negative one," says Dorrell. "The ones [suppliers] who are kept will potentially see greater volume yet they may be more challenged on margin. The ones discarded as ranges are rationalised [may] find it more difficult to find new retailers, [as] there are fewer independent people to talk to."
Clive Black, head of research at UK stockbrokers Shore Capital and long-time grocery industry watcher, also fears some food groups could suffer.
"With the Tesco/Booker merger there is talk of GBP300m worth of synergy savings – and I sense it might be even larger than that – and a large number of those savings will come from the supply chain," says Black. "So there will be some winners who will get access from both sides to new streams of revenue and I also sense there will be some losers who will see pricing activity squeezed, not least because the CMA has said it wants to see some benefits from this merger in terms of lower prices passed on to customers."
Like Black, Molly Johnson-Jones, senior food and grocery analyst at research analysts GlobalData Retail, fears some suppliers could find the going tough once the businesses have been completely assimilated.
"It's going to be negative in terms of margin because ultimately the buying power [of these new groups] is going to be so strong and if suppliers and manufacturers don't sell to them then who are they going to sell to?" says Johnson-Jones.
On the flipside, Johnson-Jones thinks there could potentially be a beneficial upside to these mergers for food manufacturers that supply into the convenience channel. The channel is increasingly popular with millennials who like to shop little and often and are the largest demographic visiting convenience stores today but many are put off due to the high prices typically charged by convenience operators. However, Johnson-Jones thinks the increased purchasing power of the soon-to-be newly merged groups should help to bring prices in the convenience channel down "so net net, potentially it won't have a massive impact [on food manufacturers]", she says.
Dr Fragkiskos Filippaios, associate dean (graduate studies) at Kent Business School, at the University of Kent, also sees a number of potential upsides resulting from the consolidation.
"It gives [food manufacturers] the opportunity to focus their efforts on a smaller number of companies, because they know that if they want to get their products listed in Tesco they need to go through a particular wholesaler," Dr Filippaios says. "If you're a food manufacturer you're not just dealing with the chains that Booker controls but also the Tesco convenience stores and the Tesco Metro and supermarket formats as well, so by focusing on that particular customer you might get bigger volumes – and, if you have bigger volumes, you don't mind retailers paying smaller prices."
Dr Filippaios also thinks there could potentially be a better sharing of knowledge between food suppliers and their retail customers – particularly in the case of the Tesco/Booker deal.
"Historically, if you were a food manufacturer, you would have to go through the wholesaler and there wasn't that transfer of information, but now suppliers should be able to get information on what their customers want and they can develop their products accordingly," he explains.
Overall, like many of the grocery retail analysts Dr Filippaios believes the two deals are part of a trend of consolidation in the UK grocery retail channel that will only gather pace over the next couple of years, as long-standing, bricks-and-mortar players look to fight off the threat of the discount groups and online-only operators, by driving efficiencies and taking advantage of economies of scale.
"The big retailers will try to further integrate parts of the value chain – particularly wholesalers – to give the additional advantage of price flexibility," says Filippaios. "The more online retailers enter the grocery market the more there will be pressure on traditional [bricks and mortar] retailers to consolidate and make sure they're geared up to deal with the challenge posed by online retailers."
It is a view shared by Penny Coates, non-executive retail director at UK consultants Solutions for Retail Brands, who says structural changes to the UK food market are accelerating, with all retailers looking for the "right number of selling opportunities in the right place" to deliver their own strategy.
"Everybody wants to optimise their supply chain and best serve their customers and all food retailers will need to adapt as this accelerated pace of change takes place," Coates says. "For food manufacturers, working hard to understand customer demands and what the retailers need, if not supplying directly, is key. Retailers that work closely with their customers and suppliers will produce the best products, be most reactive to feedback and ultimately, attract and retain the most consumers. The strong will survive and thrive, the ability to adapt and evolve, like most things in life, will be the key to success."
And that is ultimately what the two takeovers are all about – the fight for survival in the cut-throat world of UK grocery retail. Tesco will believe its acquisition of Booker will enable it to stave off the threat posed by online retailers and the discounters and The Co-op's hopes its purchase of Nisa will allow it to compete with the Big Four.
However, Shore Capital's Black thinks the CMA's decision on the Tesco/Booker deal raises the prospect of the Big Four one day becoming the Big Three.
"I think that's a greater possibility after last week," Black says. "It raises the prospect of considerable consolidation in the retail, symbol and wholesale channel because if the biggest retailer and wholesaler can merge unconditionally what's to stop anything else?
The CMA is due to publish its final report on the Tesco/Booker deal by Boxing Day. The regulator still needs to investigate and make a decision on the Co-op/Nisa deal, a judgement that is likely to be made some time in 2018.
Only when these decisions are announced will food manufacturers know if they have been delivered a bloody nose by the CMA.