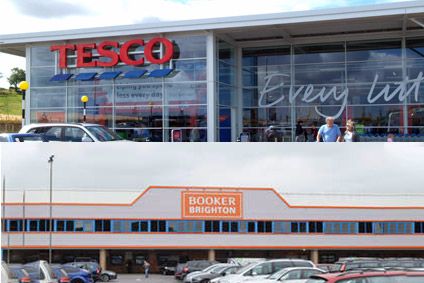 January saw the shock announcement UK retailer Tesco wants to acquire the country's largest wholesaler, Booker, in a deal that looks set to ruffle feathers in the sector. Carrefour investors speculated over who could be next to head-up the world's second largest retailer. Meanwhile, in the US, retail giants Wal-Mart and Amazon announced job creation plans. Here are some of the highlights from the retail sector over the past month.
Tesco's surprise move for Booker
UK retailer Tesco shocked the market this month in a surprise GBP3.7bn (US$4.62bn) takeover attempt for wholesaler Booker.
Any strategic move from Tesco is still viewed through the prism of its disastrous 2012 accounting scandal that saw the once unassailable behemoth of UK retail brought to its knees. But, by refocusing on its core UK grocery business Tesco has regained ground since that low point.
Under CEO Dave Lewis, Tesco has returned to the retail fundamentals that were its initial recipe for success. The company has rationalised SKUs to concentrate on fewer lines that have a higher turnover. As Tesco management explained at its capital markets day late last year, it wants to take on the discounters on price and quality in its "good" entry-level range, it aims to deliver Sainsbury's benchmark quality at Asda prices for its "better" lines and be a "market leader in quality" through its Finest range, which has "no limit" to its pricing benchmark. Price cuts were to be funded by high operational gearing, volume growth and improving economies of scale.
The strategy is gaining momentum, as Tesco's sales growth over Christmas demonstrated. But a step-change in Tesco's reach could be on the cards if the company is able to complete the proposed takeover of Booker.
The acquisition would extend Tesco's reach into the UK business-to-business sector, emphasising the importance the company continues to place on its domestic operations and providing it with a foothold as a supplier to the growing foodservice channel, as well as establishing it as a supplier to smaller retailers.
According to Harsha Wickremasinghe, an associate at M&A advisory Livingstone, notes the deal comes in the context of changing consumption patterns in the UK. "Securing such a deal at a time when consumer shopping habits continue to evolve away from larger, weekly shops towards more frequent top-up shops at local stores and online, is a strong move that should cement Tesco's dominance in small format grocery retailing," she suggests.
HSBC's Andrew Porteous stresses the synergy potential between the two retail leaders is significant. "We anticipate a large proportion of these synergies being passed back to customers of both parties in order to drive further sales at a high marginal profit. This is bad news for the competition of Booker and Tesco, but good news for their customers. As Booker's clients serve the consumer, it is ultimately good news for the end consumer as Booker's customers will be able to offer lower prices," he says.
Tesco and Booker will also benefit from each group's expertise. In particular, Booker can lean on Tesco's extensive expertise online while Tesco will move higher up the supply chain, increasing its buying power with suppliers.
Nevertheless, the acquisition is not a done deal, and some pundits suggest the UK's competition watchdog is likely evaluating the proposal with a degree of concern. According to Jon Copestake, retail analyst at the Economist Intelligence Unit, securing regulatory approval could be an uphill battle.
"Although Tesco CEO Dave Lewis has stated that this is not a case of Tesco buying more stores it does cause ripples through out the retail supply chain. Not only do Booker's own retail units like Londis and Budgens represent competitive hurdles, but the position of Booker as a supplier to so many of Tesco's rivals may raise some difficult questions about the retailer's power to potentially set wholesale prices and control the flow of goods to a number of smaller competitors," he notes.
Carrefour momentum continues
Like Tesco, French retailer Carrefour has also undergone a "back-to-basics" makeover since 2012, when current CEO Georges Plassat took the helm.
In order to right the ship, Carrefour has worked to lower its cost base, rethought its presence in some markets and decentralised power to local managers. The company is reportedly preparing an IPO for its Brailian business, to take place later this year. Carrefour has also reduced its debt levels and reorganised its asset base in order to strengthen its balance sheet.
The group again showed in January month its momentum is continuing when it booked its fifth year of sales growth since Plassat's turnaround plan was implemented. Full year like-for-like sales excluding petrol rose 3% to EUR85.7bn (US$92.46bn) in the 12-month period. Growth was supported by gains in Europe and Latin America which more than offset ongoing weakness in Asia.
Carrefour is changing its model by opening more convenience stores in markets such as France, Brazil and Spain. The firm is also working to build its presence online and this month it completed the acquisition of non-food online retailer Rue de Commerce.
The company said the strategy is paying dividends and stressed in its domestic market shoppers that utilise multiple Carrefour formats now account for two-thirds of sales and make up around half of the group's customer base.
Domestic sales in 2016 were, nevertheless, pressured. Like-for-like sales in France increased 0.3% in the year – with lower hypermarket sales weighing on the total.
For this reason, the market has reacted positively to speculation that Best Buy CEO Hubert Joly could be a front-runner to replace Plassat when his term as chief executive ends in 2018. The possible appointment, first reported by Brazilian newspaper Valor Economico, has been welcomed by investors who believe Joly's experience in big box non-food formats could prove a boon for the group.
"Carrefour is struggling with its non-food in hypermarkets so his expertise fits where Carrefour is currently weak," Bernstein analyst Bruno Monteyne explains. "Given his successful track record at Best Buy, investors will probably consider him much more shareholder friendly than Mr. Plassat. Press reports suggest that the new CEO will be announced in H1 this year for a handover period before Mr Plassat leaves in May 2018."
Another reported contender for the job, Alain Caparros, the French chief executive of German retailer Rewe, has ruled out a move to Carrefour. Caparros insisted he would see out his contract with Rewe, which runs to end-2018.
Wal-Mart, Amazon deliver US jobs news
US retailers Amazon and Wal-Mart both revealed plans to create more jobs in the US this month.
Amazon – which started life as a bookseller but has extended into general merchandise and food – said it will create 100,000 new full-time positions by mid-2018. The new roles will span customer service, engineering and logistics functions, Amazon said.
For its part, Wal-Mart – already the US's largest private sector employer – will add 10,000 new jobs linked to store expansions and an increased presence online. The company, which shed jobs last year as it closed its Wal-Mart Express format and reduced its back office headcount, stressed overall it was expanding the number of people it employs. Wal-Mart has also pledged it will increase the amount of US produced food and other goods that it sources.
The announcements have resulted in speculation the companies are working to get ahead of potential clashes with President Donald Trump.
Amazon CEO Jeff Bezos has already felt Trump's ire. The US president took aim at his coverage in The Wall Street Journal which, Trump claimed during his election campaign, Bezos acquired to secure political influence. Through his "America first" pledge and other rhetoric, Trump has been a vocal critic of US companies that employ people overseas at the perceived expense of American jobs.