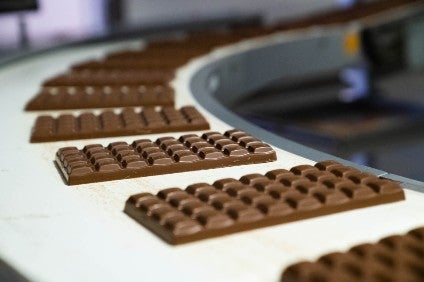 Mondelez International's latest results – and refreshed guidance – cheered the market, sending the snacks giant's shares rising. We set out what you need to know from the latest print.
Wall Street sweet on Mondelez's numbers – and new guidance
The Cadbury and Oreo owner's second-quarter results received praise from analysts covering the US-based snacks giant – as did the company's changes to two closely-watched metrics.
In the second quarter, which ran to 30 June, Mondelez saw its net revenue dip 0.8% to US$6.06bn, held back by the impact of changes in exchange rates.
But, on an organic basis, Mondelez's net revenue rose 4.6%, with the company pointing to "a combination of volume/mix and pricing across both emerging and developed markets".
Operating income jumped, although that figure dipped on an "adjusted basis". Even so, flat EBIT margins were in-line with Wall Street forecasts, as did Mondelez's "adjusted" earnings per share.
John Baumgartner, senior analyst at Wells Fargo, described the organic revenue result as "solid", while Sanford Bernstein's Alexia Howard said Mondelez had seen "strong momentum" on its top line.
Beyond the growth in organic sales Mondelez did achieve, Howard said the company's second quarter was "largely in line with expectations".
However, the Toblerone maker's moves to up its forecasts for annual organic sales growth and adjusted EPS cheered the market – and the company's sales jumped in after-market trading yesterday.
Sales growth accelerating
The 4.6% rise in Mondelez's sales on an organic basis in the second quarter contributed to a 4.1% increase over the first half as a whole – a clear uptick in the rate of growth from the back end of 2018.
In the third quarter of 2018, Mondelez's revenue grew 1.2% on an organic basis; in the final three months of the year, organic revenue picked up, growing by 2.5%.
Since Mondelez chairman and CEO Dirk van de Put took the helm in the autumn of 2017, he has sought to realign the focus of the company towards top-line growth after years of the business working hard to improve margins (and seeing success).
"Since taking the helm two years ago, CEO Dirk Van de Put's strategic agenda has been anchored in elevating Mondelez's top line, and judging by recent performance, we think the fruits of its efforts are proving tangible," Erin Lash, director for consumer equity research at Morningstar, says.
What will be of satisfaction for Mondelez is its revenue growth is not just coming from price. Of that 4.6% rise in second-quarter organic revenue, some 1.6 percentage points came from volume and mix, with three points from pricing.
CFO Luca Zaramella also noted how the improvement in volume had benefits for Mondelez on costs. "You see broad-based growth and you see a nice balance of volume and pricing. The volume effect and the leverage that it provides to our supply chain is coming into effect and we see continued cost savings into costs and overheads," he told analysts yesterday.
He added: "I think when you look at the quality of the overall results it is I think fair to say that, probably all around this is one of the best, if not the best quarter since the formation of Mondelez."
More investment behind brands to come
Mondelez again emphasised its efforts to invest behind its brands – and behind its local brands, as well as global, flagship products like Cadbury and Oreo.
Van de Put said that investment had helped Mondelez "maintain strong growth momentum" for Oreo and Cadbury Dairy Milk but he also pointed out how spending behind US brand Nutter Butter had led to it seeing sales rise at a "double-digit" rate so far in 2019.
Backing Mondelez's local brands is a central part of the company's investment strategy. Van de Put spoke last year about the "local heritage brands" in the Mondelez portfolio that have "a very strong, emotional connection to consumers". It looks a wise strategy, given the macro trend of growing consumer interest in 'local' food. Van de Put yesterday indicated the majority of Mondelez's investment was going behind its local brands.
On the analyst call, Mondelez's management was asked if, overall, its investment behind brands would be higher in the second half of 2019 than the first. "We see this year as an investment. We are still growing our OI [operating income], but we want to catch as much as momentum as we can on our brands. And so with what we're seeing coming out in the next second half, we expect that we can do a little bit more," Van de Put said.
The Mondelez chief sought to underline how the company would, though, spend with care. "It's not just a question of investments. What we are also doing is trying to optimize our spending. What that means is that we are paying a lot of attention to our ROI on our investment activities," he insisted.
Emerging-market momentum – bar Brazil
Emerging markets have always been central to the investment case at Mondelez – even if, at times since its inception, the company has struggled to capture the growth it wanted (for reasons within and outwith the business).
Since joining Mondelez, Van de Put has sought to emphasise how the company would look to accelerate its growth in emerging markets and the organic growth it generated in the second quarter had that group of countries at its heart.
Organic sales in emerging markets grew by 7.6% – and slightly lower at 5.4% when the hyper-inflationary Argentinian economy was stripped from the numbers.
"Our leading footprint in emerging markets remains a competitive advantage for us and helped drive our strong top-line growth in Q2," Zaramella said.
He and Van de Put both noted how the growth seen in Mondelez's emerging markets had been the fourth quarter in row when organic sales had risen faster than 5%. "We have very good results in places like India, China, Southeast Asia, Eastern Europe," Van de Put said.
And investment in those regions will pick up, he added. "For us the emerging markets are very important. The reason being that we see that a lot of the snacking growth around the world will be coming from those markets."
One fly in the ointment in the second quarter came in the shape of Brazil. "Production delays and some service delivery issues impacted our gross profit. Our team in Brazil is working to address these issues and we expect improvements over the course of the second half, although there will be some headwinds also for Q3," Zaramella said, pointing to recent moves in the country to consolidate production.
"The facts are we consolidated four plants down to these two plants and we had some executional issues. That translated first into inefficiencies in product that we had to scrap in the plant, but also in logistics related issues in terms of distribution inability to have the right product in the right place and also extra cost."
Proof, if it's ever needed, that moves to rationalise footprint can sometimes cause a headache or two.
Sales guidance a little conservative?
Mondelez's moves to lift its forecasts for growth in annual organic sales and adjusted earnings per share may have contributed to a sweetening in its share price yesterday – but the new guidance still prompted questions from analysts.
Given Mondelez grew its sales by 4.1% on an organic basis in the first half of 2019, its new guidance of "3%-plus" implies it expects sales growth by that metric to slow in the second six months of the year.
On the conference call between Mondelez's management and analysts to discuss the results and guidance, Barclays analyst Andrew Lazar asked if there was some "conservatism" in the new forecasts or whether the market should be considering some "discrete items" that could lie ahead – given, he noted, the overall snacks category is growing at over 3%.
"We remain quite optimistic on the outlook and we clearly anticipate continued momentum in the second half. We have to acknowledge though that the first half was positively impacted by what we call the halo effect on a great Easter execution," Zaramella reflected. "That is one of the reasons why maybe the second part of the year might be lower than the 4% growth rate that you have seen in the first half.
At Wells Fargo, Baumgartner believes Mondelez could in fact grow faster in the second half than its new guidance implies. "While guidance implies an H2 organic revenue deceleration (2%+ vs. +4.1% in H1), we think upside exists there too absent a sizable macro dislocation," he wrote in his note to clients.