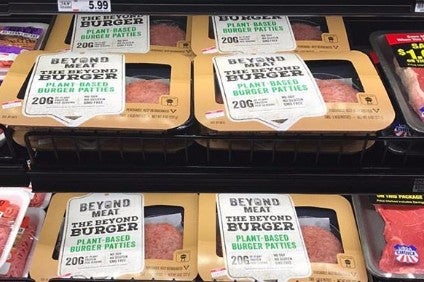 As we approach 2018, just-food deputy editor Andy Coyne outlines what companies operating in the UK should factor into their strategies in the new year.
Some of the trends to watch in the UK food industry next year are already with us – but they look set to get bigger.
Others are perhaps less predictable.
The trends may not be unique to the UK but the country has an innovative food sector and, perhaps behind only the US, is often seen as a market product development executives monitor closely.
However, what is without question is Brexit, the UK's departure from the EU, will move even more centre stage next year as the scheduled March 2019 departure date approaches. It will be interesting to see the moves food businesses make with the UK's decision to go it alone in mind.
The Brexit effect
With the UK set to leave the EU in March 2019 – albeit with a possible transition period to follow – the impact of the move on the British economy is likely to be keenly felt next year.
From a food industry perspective, this may be seen as falling into two areas. Firstly, what the food manufacturers themselves plan to do and, secondly, what impact there will be on consumer sentiment.
Food companies may already have been put off capital expenditure projects of late with so much uncertainty around.
However, John Stapleton, a food industry entrepreneur who established UK food brands such as Little Dish and New Covent Garden Soup Co. and who now acts as a mentor to up-and-coming food businesses, says: "Food businesses could sit on their money but they may invest it in capital projects in an attempt to get ahead of the posse.
"In terms of indigenous UK businesses, plans will have to be drawn up and budgets made. Realistically, in the early part of next year, they will have to pre-empt this [Brexit] and make some decisions. The industry will have to be more proactive and make decisions for March 2019. People in the industry generally are probably preparing for the worst and hoping for the best."
Hamish Renton, managing director of UK-based food and drinks industry consultancy HRA, takes a slightly different view. "It's a complete mess but I would say it does suit certain narratives to talk the economy down," he reflects. "We are performing better as an industry than suggested. Britain has a very robust food sector. The doom and gloom has been overdone."
But Toby Clark, director of research for the EMEA markets at Mintel, believes Brexit, and related economic issues, are affecting consumer confidence, which is likely to have an impact on the food industry next year.
"From March this year inflation has been ticking ahead of wages. There has been a slow change but it has started to feed through," he points out. "It is feeding through into consumer confidence as well. It looks like people have been papering over the gaps with consumer credit. People are compensating for the wage squeeze. The problem for the consumer economy point of view is that this is not sustainable in the long term."
Clark suggests some categories will struggle in such an environment while some will do well. "People will cut back to save money, dropping down from branded to private label but also so they can then spend money on luxuries," he ventures.
"In a slowdown you need to give people a reason to buy. That is more difficult in the middle range. The last time, it was noticeable how well sparkling wine did, although people were buying prosecco and cava rather than Champagne. And gourmet burgers came to the fore. It was turning a commodity product into an indulgence.
"People's biggest concern is the cost of living. In June 2017, 51% said Brexit would have a negative effect on the cost of living."
Stapleton adds: "We are seeing the beginning of food inflation and that will get worse with Brexit as the UK exports so much. Tariffs will go up. There will be pressure on the supply chain and farmers will come under tremendous pressure."
Shrinkflation
Also linked to economic pressure is shrinkflation, moves to make products smaller or changing ingredient ratios – and, since the Brexit referendum, a number of manufacturers have used the strategy as the depreciation of sterling pushed up import costs.
A new report from insurance broker Lockton says 76% of UK food and beverage manufacturers admitted to coming under pressure from retailers to cut costs.
Some 43% of those surveyed responded by shrinking their products whilst maintaining the price while 56% say they would consider doing this in future.
This year, data from the UK's Office of National Statistics (ONS) showed more than 2,500 consumer products have shrunk in size over the past five years despite being sold for the same price.
Ian Harrison, head of product recall at Lockton, says: "The real impact of shrinkflation goes way beyond consumers getting less for their money – manufacturers are seemingly willing to significantly alter products to cut costs."
However, Lockton also claims product quality is at risk amid growing retailer pressure. Some 72% of those surveyed admit they will use cheaper raw materials if pressure continues.
Harrison adds: "If price pressures continue, consumers could be left with a bad taste in their mouths as manufacturers are forced to use inferior ingredients as well as reducing the size of their offerings. We're fast approaching a tipping point where the quality of what's on our shelves is at stake."
The retail landscape
In a trend seen in North America and some other markets in western Europe, larger food manufacturers face getting squeezed by supermarkets as more space is made available to on-trend offerings from smaller companies – especially linked to health and well-being – while ambient products are struggling against the tide of interest in fresh and chilled goods.
And, all the while, the big four retailers themselves are also under intense pressure from the discounters, which have attracted consumers with their keen focus on price and leaner ranging.
Stapleton says: "The discounters are growing and that will continue. It's not an accident that both Aldi and LIDL come from Germany where the focus is much more on price."
He also highlights the rise of direct-to-consumer concepts. "There is also the growth of brand-circumventing retail. The subscription market with Abel & Cole and their weekly boxes etc. I definitely see that growing."
Stapleton also sees one online retail giant in particular continuing to grow in prominence in the UK food sector.
"Amazon would say it is out to democratise the food industry. With its buying power, it can supply the mass market end as well," he says. "They have the resources and the will and remarkable insight of their customers."
—
In researching this article, a number of product trends were raised as crucial for food manufacturers operating in the UK to watch.
The year of the plant
Many observers believe 2018 will be the year when plant-based meat alternatives hit the mainstream in the UK.
As an example, the UK meat substitutes industry will be worth GBP309.5m (US$416.5m) in 2018, according to a forecast from research organisation Euromonitor. That's an increase of 6% on 2017.
It suggests the retail channel will see volume growth of 5.7%, with growth in foodservice of 4%.
UK-based (and now Phillippines-owned) Quorn Foods has enjoyed solid growth in its domestic market in recent years and the meat-free fixtures continue to expand in the country's grocery stores. The rise in demand seen in the UK is attracting others, with US brand Beyond Meat eyeing the market and lining up an entry next year.
UK consumers are reducing the amount of meat they are eating not just for health or ethical reasons but also because, by general consensus, the products themselves are getting better all the time.
Stapleton says: "Most people buying it are buying it from a perceived health perspective. It's a health-driven agenda. The demand is from people who still like meat but want to reduce their consumption of it."
Renton at HRA also suggests plant-based alternatives will grow in prominence in the UK next year. "Vegan was huge at the European shows this year."
Be prepared on protein
More generally, the growth of protein in products is likely to continue in the UK next year.
Stapleton says: "Protein is massive. It used to be confined to gym bunnies and now the consumption of it has increased and it's much more mainstream. I'm talking to someone about protein-infused popcorn and there are protein products now aimed specifically at women. Protein is here to stay. There is no downside to it. The debate will be about the best type of protein. "
As demand for protein-packed products grows, product developers will need to ensure they innovate with care and not rush concepts to market.
Jenny Arthur, head of nutrition and product development at Leatherhead Food Research, says: "Protein is made up of amino acids and different foods contain different amounts and combinations of amino acids, for example protein from animal sources like meat, fish, eggs and dairy products contain all of the essential amino acids required by the body and have a higher biological value.
"However, vegetarian and vegan sources need to be combined with grains in order to provide the essential amino acids, for example putting peas and rice or a pulse and cereals together to provide the same quality of protein."
The word 'protein' will be a trigger for growth in itself in 2018 and many suggest food manufacturers are jockeying for position with this in mind.
Dairy fights back
At The International Dairy Federation (IDF) World Dairy Summit in Belfast in October, Tomas Pietrangeli, the managing director of dairy giant Arla Foods' UK operations, warned the sector was at the wrong end of consumer trends.
"In the UK, 24% of people say they are cutting down on dairy and 46% of 16- to 24-year-olds claim to have had an adverse reaction to milk. I believe we are facing an existential threat to our industry and we need to act fast."
Part of Pietrangeli's solution is for the dairy sector to market the positives of milk more proactively and in ways that resonate with younger consumers.
We are likely to see that start to happen in 2018.
Dr Judith Bryans, the president of the IDF, said: "The dairy sector plays a key role in feeding the world and must respond dynamically and forcefully on a global level to those who challenge its nutritional and environmental integrity."
Health at front and centre
Growing consumer interest in the link between diet and health win the UK will only continue to grow, industry watchers say.
Tosin Jack, a senior industry analyst at growth strategies consultancy Frost & Sullivan, says: "Healthy eating is not waning in Europe and is fast becoming the norm, resulting in an increase in raw foods where ingredients' nutritional properties are locked in by natural processes."
Stapleton adds: "There is a backlash against processed foods. Innovative brands are developing products without sugar or artificial sweeteners. Health and well-being won't fall away next year. I don't see it running out of steam anytime soon."
The consumer pull is being buttressed by push from the UK government. After the Government last year published its bid to tackle childhood obesity, which included voluntary targets on sugar, the ingredient is being taken out of more and more products. At the end of November, for example, Kellogg announced it is to cut the amount of sugar in its three top selling children's cereals in the UK by between 20% and 40% by the middle of next year.
Leatherhead's Arthur says: "Sugar reduction is a key priority for the food industry following the sugar reduction targets set by Public Health England, requiring a 5% reduction in the first year and a 20% reduction by 2020 in nine key categories that contribute the most amount of sugar to children's diets."
The free-from category has ridden the wave of mainstream interest in health and wellness – but, here, manufacturers will have to act on areas such as sugar and fat. "The work is on in trying to deliver no compromise on taste. That's the real achievement," Renton says.
Arthur adds: "In terms of gluten-free products, they have a 'health halo' and are often perceived as healthier by consumers, however this is not always the case in terms of sugar, fat and salt. If a product is gluten free and is in one of the nine categories outlined by Public Health England – which includes breakfast cereals, cakes, biscuits, sweet spreads, yogurts, confectionery and chocolate, morning goods, puddings and ice cream – the sugar content will still need to be reduced in line with the targets."
Snacks and baking
Renton at HRA believes crisps are facing a losing battle against healthier snacks and snacking solutions that provide more variety.
He says: "In the snacks category the tide is going out on the crisp guys. The days of taking a potato and frying it and pimping it out with packaging and flavours are gone.
"The real action is in popped snacks – popcorn, chick pea puffs etc. It gives you the ability to play around with textures in a way you can't with a deep fryer."
Renton also sees home baking products gaining ground in 2018, and not just because of the continued appeal of UK TV show The Great British Bake Off.
"With Brexit in the wings, people want to indulge but which way is the economy going? We will see an increase in home baking products like ready to roll icing, squirty icing – things that add convenience to the process," he says.
"There will also be some 'old names' launching new brands in this sector."
Ingredients to look out for
Research company Mintel has revealed four ingredients it expects to come to the fore in 2018 – chaga mushroom, green banana flour, hemp and blue algae.
All four ingredients are already available in the UK from online retailers and might be expected to feed through to product launches in 2018.
Running through them, Emma Schofield, global food science analyst at Mintel, says: "Traditionally known as a medicinal mushroom, chaga mushrooms are touted as being rich sources of beta-glucans, antioxidants and certain B vitamins.
"Green bananas are simply un-ripened yellow bananas, however, from a nutritional perspective, they are very different. Green banana flour is gluten-free and rich in resistant starch, as a result it is emerging as a fibre-rich, clean label, grain-free flour.
"Hemp seeds have been ignored for a long time, but the ingredient is said to contain a complete set of amino acids and a similar total protein content to soybean, it also contains micronutrients such as vitamin E and omega acids.
"With the exception of a few examples such as blue cheese and blueberries, blue colours aren't associated that positively with food and drink, however, more blue coloured foods are beginning to emerge. The superfood spirulina provides colour with health and can be used to provide a blue colour in food and drink."