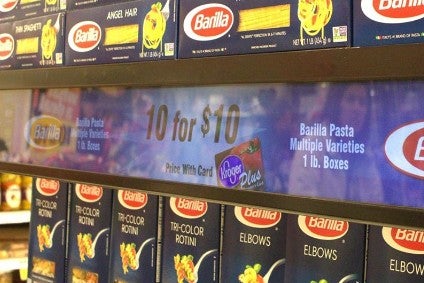 Being omnichannel is becoming ever-more important to retailer strategies worldwide.
Look at the efforts made by grocers in more developed e-commerce markets like the UK and France, or initiatives by the likes of Kroger investing in the more early-stage US market (let alone Amazon's eye-catching acquisition of Whole Foods Market), or Alibaba's 'new retail' concept in China – a crossover between on- and off-line shopping.
And, at its Future Festival in Toronto this week, consumer insights company Trend Hunter warned the ability to switch between on- and offline as easily as possible will not only be a part of the retail landscape, it will be essential to the future of retail. The group's research manager, Ady Floyd, urged attendees to "forget what you think you know about siloed, multi-channel approaches" to retail. Instead, she said, the future lies in omnichannel.
"We've seen a lot of tension between the online and off-line worlds of shopping," she said, highlighting research from MoneyWise that suggests around 5,000 retail stores will close this year. "We are seeing more omnichannel strategies and insights like e-commerce amalgamation, where brands are combining the on- and off-line worlds. This means that bricks and mortar remains fundamental and e-commerce is now crucial."
Floyd believes the consumer path to purchase has evolved. "We need to think of retail as omnichannel – seamlessly interchangeable platforms across all entities."
According to Invesp, a consultancy focussed on online activity, brands that use omnichannel strategies retain 89% of their customers, while 73% of shoppers are already using multiple channels on their path to purchase.
Floyd outlined a collaboration between China's online giant Alibaba and Ford to open a test drive centre in Guangzhou, China. Consumers select a car to test drive via an app and use facial recognition to pick the car up from a giant vending machine.
"As well as everyday shopping, omnichannel can also be used for big-ticket items," Floyd added.
She outlined the following four megatrends that are helping to drive the omnichannel concept:
Hybridisation
"When it comes to hybridisation," Floyd said, "this is all about how brands can ease a consumer's transition between on- and off-line platforms." By 2020, Floyd predicts consumers will not use just one platform – such as a tablet or phone – to make a purchase, but will instead use several.
She gave the example of Bingo Box in China – a staffless shop that uses tech for security and payment.
Personalisation
"Personalisation is about a lot more than just offering consumers a product you think they want to see," Floyd explained, giving the example of Amazon's virtual style assistant. "Using AI and machine learning, it will actually judge your outfits. The assistant gets to know your personal style and, based on data from fashion experts, will tell you if your colours are working, if your accessories are working."
Floyd also gave the example of a Burger King campaign on Instagram, which saw users in Spain customise and order their Whopper burgers via the social media channel. The company subsequently used all of the data to create the most popular Whopper – called the InstaWhopper – and sold it in stores across the country.
Experience
Omnichannel experiences should be "all about consistency and memorability" on the path to purchase, Trend Hunter's Floyd said. According to Invesp, 72% of digital shoppers consider in-store experience as the most important channel when making a purchase.
Floyd gave the example of 'gamification', where even non-tech retailers incorporate in-store games to boost engagement. She highlighted a NIKE campaign that saw consumers create their own avatar and try on the latest footwear, running on a treadmill and participating in a VR video game to see how the shoes perform.
Away from gaming, Kroger earlier this year announced the Kroger Edge, a digital shopping system to eliminate the use of paper tags on shelves. Instead, deals and details appear on a consumer's phone.
Artificial Intelligence
In terms of AI, Floyd said voice-activated shopping and blockchain have a big part to play in omnichannel retail. "By 2021, consumers won't even want to use their hands to shop online – they will simply say something out loud and have it appear at their door.
"The coolest part," she said, "is that the technology already exists."
Blockchain will be used in a number of ways, including for cryptocurrency, as brands look to go cash-free. The concept can also be used for traceability: Floyd outlined a partnership between IBM and Walmart to create a transparent look at the food system.
Those not willing to make the necessary changes could be left behind.