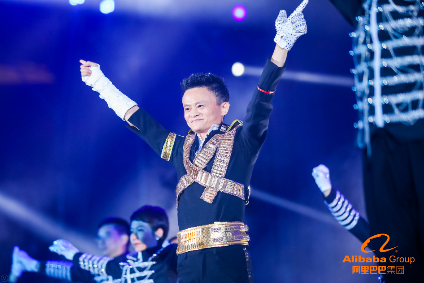 The way consumers shop in China is changing. The country's Internet giants are using e-commerce data to blend on- and off-line experiences in an effort to create a 'new retail' landscape. In this report, Lucy Britner offers an overview of the major changes and a closer look at how food and beverage companies are getting involved.
China boasts the most Internet users in the world. With around 750m people online, Internet usage is roughly the same as India (number two) and the US (number three) combined. Of these online users, the China Internet Network Information Centre says, 95% of them access the web via a mobile phone.
The country's dominance of the e-commerce arena is well-documented – and it is the same Internet giants that are starting the latest trend in shopping.
Welcome to the world of 'new retail'.
According to Chinese e-commerce giant JD.com, one of the biggest factors that has driven the remarkable boom in China's e-commerce sector is the "traditional weakness of the country's physical store infrastructure". But now, the Internet giants are using everything they know about how consumers shop to create bricks-and-mortar stores.
The 'new retail' idea, which started with Alibaba's Hema Supermarket concept, is an amalgamation of the best of on- and off-line shopping. So far, companies including Alibaba, JD and, latterly, Tencent have brought the slick online experience they have created to these new stores, all the time using both the data and convenience associated with online shopping.
Customers can try things in a physical store, use an app to learn about cooking or to discover similar products, then order via their mobile to have items delivered to their homes
At a Hema supermarket, customers can try things in a physical store, use an app to learn about cooking or to discover similar products, then order via their mobile to have items delivered to their homes, having paid for them via Alibaba's mobile wallet app, Alipay. The app also remembers what consumers have ordered and uses the data to personalise and improve their future shopping experiences.
How did we get here?
Rewind to 2016 and in a letter to shareholders, Alibaba Group's executive chairman, Jack Ma, said e-commerce is "rapidly becoming a traditional business", with pure e-commerce players set to face major challenges.
"In the coming years," Ma wrote, "we anticipate the birth of a re-imagined retail industry driven by the integration of online, offline, logistics and data across a single value chain."
Alibaba officially opened the first Hema concept in July last year, following a two-year incubation period. Reports from earlier this year suggest there are now 25 Hema supermarkets, with plans for "dozens more" by the end of 2018. The video below explains Hema and the wider concept of 'new retail' at Alibaba.
Aside from its own supermarkets, Alibaba has also recently formed a strategic partnership with retail conglomerate Bailian Group to "explore new forms of retail opportunities across each other's ecosystems". The companies will leverage the power of Big Data to achieve integration between offline stores, merchandise, logistics and payment tools with the aim of "elevating efficiency" and overall consumer experience.
Alibaba Group CEO Daniel Zhang says 'new retail' "reimagines the relationship" between consumers, merchandise and retail space. "It will upend the traditional manufacturing and supply chain, the connection between merchant and consumer, as well as the overall consumer experience," Zhang says. "Businesses will increasingly embrace Big Data and new innovations to better identify, reach, analyse and serve their customers, and their digital transformation will be empowered by Alibaba's ecosystem.
"Our partnership with Bailian is an important milestone in the evolution of Chinese retail, where the distinction between physical and virtual commerce is becoming obsolete."
Alibaba's foray into new retail was followed by rival JD.com. Late last year, the e-commerce giant opened its first offline fresh food market in the country, under the 7FRESH brand.
"Offering food preparation, catering service and free 30-minute delivery to customers within 3km," the company said in its full-year 2017 results, "7FRESH integrates advanced supply chain management know-how and cutting-edge store technologies to deliver a unique shopping experience."
7FRESH stocks thousands of fresh products, including fruit, flowers, imported meat and freshly-caught seafood, which is prepared and cooked on-site.
JD.com's 7FRESH shops feature 'magic mirrors' that sense when customers pick up an item of produce, and automatically provide information on a screen about its source, as well as nutritional information
The concept makes use of new technology to "deliver a uniquely personal and educational hands-on shopping experience". For example, the shops feature 'magic mirrors' that sense when customers pick up an item of produce, and automatically provide information on a screen about its source, as well as nutritional information.
The stores will also feature smart shopping carts that can follow customers as they browse the aisles.
"The launch of 7FRESH underscores an ongoing revolution of traditional retail powered by e-commerce technology," the company says.
WeChat owner Tencent – which also owns a stake in JD – tentatively joined the race this year, with an unmanned pop-up 'grab and go' store in Shanghai. The initiative, which ran for 16 days, sold chocolates, bottled water, juice and cookies.
And, just in case you arere wondering how consumers might behave in staffless supermarkets – Alibaba is now trialling technology at checkouts that will offer discounts for smiling.
The potential for food and drinks firms
Global food and drinks companies are also starting to become more involved as 'new retail' concepts develop.
"We have recently started to collaborate with Hema," says Diageo's China e-commerce director Polly Wu. "It is still early stages, but we see a big opportunity from food pairing or catering occasions that could be built on this platform."
Meanwhile, Wine Australia GM of marketing Stuart Barclay describes the opportunity for wine within 'new retail' as "great". Speaking to just-drinks last month, he forecast the concept will help get "wine in front of consumers" as well as offer tasting opportunities.
"You can do things you can't do online," he said. "Chinese consumers are nascent consumers. They need to be shown.
"The emergence of the Alibaba stores is an interesting way of reaching the consumer."
Earlier this year, New Zealand dairy firm Fonterra teamed up with Hema to sell a new Dairy Fresh milk range in 14 stores in Shanghai and Suzhou. The retail concept already stocks Fonterra's Anchor UHT milk, butter, cream and cheese, but the move towards fresh milk capitalises on a wider trend for premiumisation among Chinese consumers, the company said.
Add that to JD's assertion that the offline space is ready for the slick, premium treatment consumers enjoy online, and the potential for 'new retail' is huge. Especially when we consider that by 2022, according to McKinsey, around 75% of China's urban consumers will be middle class.