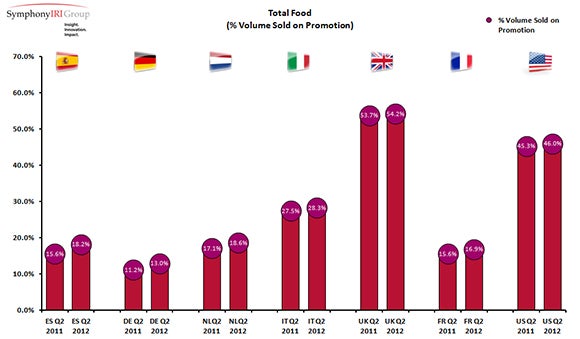 The latest data from the just-food international basket, published today, covers the first quarter of 2012. The basket is a group of 17 items from tuna to milk that will highlight the difference in price between national brands and own label in seven international markets. Amid the worst economic conditions for a generation, shoppers are becoming more promiscuous in their behaviour and the data will prove valuable to brand manufacturers, own-label suppliers and retailers alike.
Click here for analysis for the data from SymphonyIRI vice president of consulting Rod Street.
| CATEGORY | TYPICAL PACK SIZE | PACK TYPE |
| --- | --- | --- |
| Cereals | 500g | Single Medium Box |
| Rice | 500g | Single Packet |
| Canned tuna fish | 185g | Single Can |
| Ambient wet soup | 400g | Single Can |
| Ambient Mayonnaise | 400g | Single Jar |
| Frozen Pizza | 400g | Single Average Size Pizza |
| Frozen Burger | 224g | 4 Pack |
| Yoghurts | 500g | 4 Pack |
| Margarine | 250g | Single Tub |
| Butter | 250g | Single Packet |
| Wet cat food | 400g | Single Can |
| Milk – Ambient | 568ml | One Pint |
| Beer | 440ml | Single Can |
| Fruit juices – Ambient | 1000ml | Single Carton |
| Energy drinks | 250ml | Single Can |
| Tea bags | 500ml | 160ct Packet |
| Colas | 1320ml | 4 cans |
The cost of a basket increased across all markets monitored by the just-food international basket, except Greece, where prices fell. However, countries are responding to the pressure on incomes with only marginal price increases.
In some markets, consumers are more willing to strip a product back to its bare essentials during these turbulent times. In Germany, Spain and the Netherlands, we see this drive to the essentials most strongly. Here we see the lowest levels of private-label pricing and a larger share of volume sales for retailers.
The price of own-label and branded products narrowed in many markets in the second quarter of 2012, notably the Netherlands, the UK, Italy, France and Greece. It illustrates the pressure that retailers' private label strategies exercise on prices for all FMCG brands. In many respects the growth of private-label products is anchoring price growth increases for national brands.
The volume of food sold on promotion increased in all countries in the data in the second quarter year-on-year. Spain and Germany saw the biggest percentage-point increases, although promotions also increased in the UK, the market with the highest level of promotional activity.