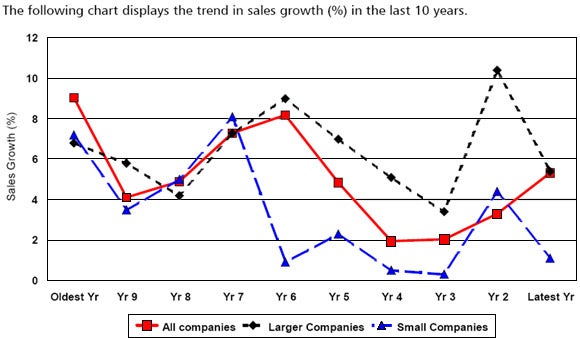 Convenience stores are a dynamic part of the food retail sector worldwide. As consumers gain wealth, they lose time – making convenience retail increasingly attractive. The US has blazed the trail for c-stores and any examination of convenience store retail needs to begin there.
There are over 144,500 convenience stores spread across the US, according to the National Association of Convenience Stores (NACS). These stores brought in a grand combined total of US$511bn last year, which is US$1 of every US$28 spent in the entire country on all products. US consumers love convenience and this need for ease has seen the sector expand and the line between larger food retailers and convenience store chains to become less apparent over time.
"The lines aren't blurred; they've been erased," says Jeff Lenard vice president of communications at NACS. "Everyone sells convenience and convenience products. At the counter, most retailers look like convenience stores, whether they are crafts stores, pet stores, electronics stores, grocery stores, etc. They all sell convenience items and on-the-go snacks and refreshments at the register. Many now also have convenient locations and extended hours of operation."
However, Lenard adds: "The key difference between our channel and the others is still speed of service. Customers come in and leave with purchases in under four minutes. No other channel comes close."
While more shops seem to be following the convenience trend, many convenience stores are also following larger grocery retailers and other food suppliers in some aspects.
"In our markets, the food quality is increasing. Convenience stores are becoming a viable alternative to fast food," says Kyle McKeen, CEO of Alon Brands' Southwest Convenience Stores (SCS) business.
SCS currently operates over 300 7-Eleven stores in Texas and New Mexico. McKeen believes SCS has an advantage in the lucrative fast food industry in the US due to the company's fresh food and the diversity of food and drinks it can provide. "At McDonald's, you're limited in the types of beverages you can choose but at convenience stores there are a large variety of drinks. There is also a range of different food options: cooked foods, salad, fruit, and microwavable foods," McKenn says.
Lenard, meanwhile, has seen a change in the quality of convenience store offerings. "There is much more of an emphasis on foodservice, whether unique coffee programs or freshly prepared foods." McKeen agrees. "Foodservice is the fastest growing sector of convenience stores," he insists.
More multi-channel US retailers are building a presence in both the convenience and grocery sector. Giant Eagle, a large supermarket chain with over 220 grocery stores, now has 155 convenience shops. Their on-the-go stores sell made-to-order wraps, sandwiches and other fresh food options, along with typical convenience store items.
Kroger, of the biggest supermarket chains in the US, also operates nearly 800 convenience stores under names such as Kwik shop and Smith's Express. These convenience stores provide another outlet for Kroger's private-label goods, along with national brands. 7-Eleven has also tapped into the lucrative private-label business with the 7-Select private-label snack cakes, pies, mini-donuts and breakfast pastries, which were added to their selection late last year.
Although the line between grocery store and convenience may well be blurring, the two formats still have different considerations when determining their food selection. "More than half of what is sold in a convenience store is immediately consumed," says McKeen. When convenience stores decide how best to stock their shelves, whether products are fresh or frozen, it really all comes down to one question, McKeen says: "is it quick?"
This kind of clear-sighted analysis helps explain why the US lead the way globally in convenience food retail. Such good practice has however been developed elsewhere.
Looking across the Atlantic, although no European country approaches the US in the number and size of its convenience stores, the format is particularly popular in the UK.
A broad indication of this is that the UK has more than 2,500 Spar food convenience stores, far more than any other European country. Founded in the Netherlands in 1932, Spar is now the world's most international food retail chain, with 13,600 stores in 33 countries. The retailer is also the UK's leading convenience store group, with a national turnover in excess of GBP2.7billion (US$4.1bn).
Another indication of the importance of convenience retailing in the UK is the country's Association of Convenience Stores (ACS), which describes itself as the "campaigning voice of over 33,500 local shops". The ACS is unique in Europe in how it focuses on small c-stores.
However, in the UK, big mainstream retailers such as Waitrose, Marks and Spencer, Sainsbury's and Tesco are pushing hard into the convenience sector and the format's development in trunk road service areas and fuel retail outlets over the past 10 years.
"We're seeing more of the convenience store version of the main supermarket names but the number of independent versions is rising more rapidly," says Richard Dodds from the British Retail Consortium (BRC). Dodds quotes a survey showing that the number of UK independent convenience stores rose by 5.7% in the second half of 2009, while those owned by multi-retailers rose by 3.5%.
"People often say the big names are forcing out small independent retailers – that's not it, what they're doing is offering an extra choice to customers," Dodds says.
By contrast, Germany has relatively few convenience stores on a per capita basis, largely because of local consumers' enthusiasm for buying food at a discount.
"The discounters have a higher market share here than in other countries. Their share of the total retail food market is around 49%," says Kai Falk at the Handelsverband Deutschland (HDE), the German retail federation.
The grip on the market held by hard-discount retailers such as Lidl and Aldi and the concentration on budget items in other large supermarket cha

ins all serve to erode the attractions of the convenience sector. None of the big German retailers has gone into convenience stores in the way that Tesco and Sainsbury's, for instance, have in the UK.
Under the definitions used by the HDE, the German convenience sector includes kiosks, of which there were 8,500 in 2008, petrol stations (9,200 in 2008) and "bakeries and small-size food stores" (5,100). According to Falk, the convenience channel had 5.4% of the overall market in 2009.
However, there seems little doubt that the German retail sector offers few concessions to customers in a hurry. The country's food consumers, it seems, will willingly forgo the merits of convenience shopping for the sake of chasing down a bargain.
The US convenience store industry is comfortably resting in the 'mature market' category of this growth comparison – whereas grocery and frozen food wholesaling is in decline.
Source: IBIS WORLD, Industry Report: Convenience Stores in the US, May 2010
In the US convenience store industry, 35% of the products and services are food and grocery related.
Source: IBIS WORLD, Industry Report: Convenience Stores in the US, May 2010
Sales growth for UK convenience stores in 2009. According to Plimsoll Publishing's Feb 2010 report, only 8% of companies maintained the same level of sales as the previous year. Some companies reported more than 60% growth, while others a loss of 40%
Source: Plimsoll Publishing Ltd, Portfolio Analysis: the UK Convenience Stores Industry
Sales growth of small and large convenience store companies in the UK over a 10 year period, as published in Plimsoll Publishing's Portfolio Analysis: the UK Convenience Stores Industry, Feb 2010
Source: Plimsoll Publishing Ltd, Portfolio Analysis: the UK Convenience Stores Industry