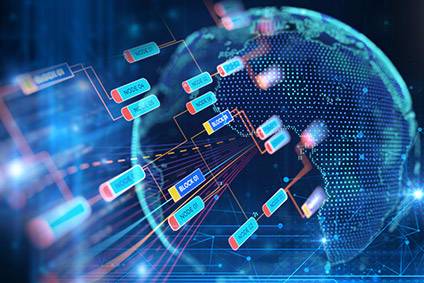 Blockchain and how to harness the technology is one of the hot topics in boardrooms. A number of the world's largest food manufacturers and grocers are looking closely at the concept and its applications. Simon Creasey analyses the potential uses, benefits and challenges of using blockchain in the sector.
Blockchain – it's the big buzzword in business circles at the moment. You can't flick through the business pages of a broadsheet newspaper or open a business magazine without reading a piece on how blockchain technology is going to revolutionise the way that many industries and companies operate.
Although the technology is still in its infancy and some of the more bullish transformative projections have a whiff of hyperbole, the food industry cannot afford to ignore blockchain. Its early adoption in the industry is being driven by some of the world's largest food manufacturers and retailers. But what is blockchain, how do these chains work and can they really revolutionise the food industry?
Put in the most simplistic terms, a blockchain is essentially a digital ledger. Anyone with permission to access the ledger can make changes and add information. These changes are called 'blocks' and they are added to the 'chain'.
An easy way to visualise a blockchain is to think of the way Google's Google Docs web app works. More than one person can access a document, are able to make amendments and the changes are recorded so everyone can see who has done what.
The benefits of implementing blockchain are numerous, according to Jacob Boersma, a Netherlands-based risk services manager at Deloitte. "Blockchain technology enables us to decentralise and automate processes that are traditionally centralised or that have a significant overhead cost. In cases where it is not possible or unwanted to have a single large company or government entity own all the data and call the shots, a blockchain could distribute ownership of information to all the participants in the supply chain or network."
For major food companies with complex supply chains, the arrival of blockchain technology could be described as being akin to discovering the Holy Grail. It offers users full supply chain traceability and transparency and benefits any industry where trust is a significant factor.
In the food industry, blockchain could, for example, be used to prevent counterfeiting and fraud, facilitate secure crowdfunding and microfinancing, substantiate provenance claims and play an invaluable role in helping to swiftly address food scares and emergency product recalls.
"It can take weeks to identify the precise point of contamination [that caused a food scare], causing further illness, lost revenue and wasted product," says Brigid McDermott, a US-based vice president for blockchain business development at IBM. "For example, data from the CDC [the US Centers for Disease Control and Prevention] shows that it took more than two months to identify the farm source of contamination in a recent incidence of salmonella in papayas."
With blockchain, individual products can be traced in real-time – from farm to fork. For example, in theory, using blockchain technology a retailer could trace an own-label, ready-meal lasagne from the farm that bred the cow, through the abattoir the animal was slaughtered in, to the processing plant where the ready meal was created and then all the way through to the regional distribution centre and finally to store.
Blockchain and food supply chain traceability
The prospect of validation and traceability is why an increasing number of retailers and food manufacturers are looking to embrace the technology. The most high-profile initiative to date is arguably IBM's food group blockchain collaborative initiative, which was launched in August.
Manufacturers including McCormick & Co., Nestle, Tyson Foods and Unilever, as well as retailers such as Wal-Mart and Kroger, have teamed up with IBM to champion blockchain as an enabling technology for the food sector.
IBM's McDermott says the initiative came about following work it undertook with companies including Wal-Mart on food safety. It soon became clear a lack of trust across the food supply chain was hampering visibility and traceability.
"Because this lack of transparency creates both social and financial cost, it was seen as a great opportunity to utilise blockchain," says McDermott. "Together, IBM and Wal-Mart decided to explore this further by working with other industry leaders to help identify and prioritise new areas where blockchain can benefit food ecosystems and inform new IBM blockchain solutions, while scaling the broader ecosystem. This work will draw on experience from multiple IBM pilots and production networks in related areas that have successfully demonstrated ways in which blockchain can positively impact the global food system, such as improving traceability."
Greater traceability is one of the key gains McCormick wants to achieve from signing up to this initiative. Ken Thomas, chief information officer at McCormick, says the multinational spices and herbs supplier also hopes to learn how to make food supply chain tracking safer and use blockchain technology as a "way to amplify product transparency as a differentiator" for the company.
"Blockchain is a potential enabler to our company's strategy to further enhance product transparency to our customers and consumers," says Thomas. "As consumers become more digital, they desire more information about the products they purchase and consume. While our company can provide that information to consumers, the addition of blockchain certifies the integrity of the information. We see this as an opportunity to identify new areas where the global supply chain can benefit from blockchain."
As does Nestle, which, a company spokesperson says has already been involved in industry collaboration projects to "improve traceability and hence consumer trust through the value chain". The spokesperson adds: "We are keen to explore new technologies that improve the access to information within the value chain. At present, this work is at an early stage and we look forward to working with the partners in the foundation to overcome challenges in all parts of the value chain."
Traceability was also the key driver behind UK organic certifier The Soil Association teaming up with local tech start-up Provenance earlier this year to pilot smartphone technology that they said tracks the journey of organic food from the farm to the retailer's shelf.
Clare McDermott, business development director at The Soil Association, says the initiative came after the organisation commissioned research last summer into the relationship that consumers have with food. The research found 'mistrust' was one of six major issues identified by consumers, a problem caused by the number of recent large-scale food scandals to have broken over the last few years and that had attracted widespread media attention.
"From this and other research, we knew that consumers are looking for more information on where their food comes from and by using the technology that Provenance offered we were able to do this and allow shoppers to access this in store, from their smartphone," McDermott says.
Under the pilot, which launched in September, The Soil Association and Provenance developed an app that uses NFC technology. Shoppers simply tap their smartphone onto packets of Eversfield Organics bacon on sale in As Nature Intended stores – or onto the product's shelf edge label – and they can instantly retrieve the product's complete supply chain.
"This takes our Soil Association Organic symbol to the next level, arming shoppers with detailed information via their smartphones at the point of sale," says McDermott. "Customers who interact with the digital symbol can find out more about what it means to be organic. The data is collected in real time and used to track the journey of the product from the field every stage of the way."
The other benefit of using this technology is the brand owner can relay more information to consumers about their product without cluttering up the packaging. "Space on packaging has been a common theme when exploring any new food label and is a continuing challenge for brands," explains McDermott. "Provenance provides a way to get much more data in a live, flexible and interactive fashion so space on-pack isn't an issue."
Blockchain and direct-to-consumer
In addition to aiding food supply chain transparency, another potential use of blockchain technology by food groups is to facilitate direct-to-consumer sales. Peter Fedchenkov, the chief executive and co-founder of Russia-based INS Ecosystem, is working on the creation of a "new decentralised grocery shopping ecosystem" that enables consumers to save up to 30% on everyday shopping by buying directly from grocery manufacturers. Fedchenkov says bypassing retailers and wholesalers means a more personalised and transparent grocery shopping experience at significantly lower prices.
"Our mission is to let consumers decide which brands they want and goods they need and make it more affordable for them to shop for groceries," explains Fedchenkov. "We call it 'consumption 2.0' since 21st-century customers are tired of a one-way street type of communication, whereby retailers push goods onto them that maximise their profit, which is not what consumers really want. We also want consumers to have unimpeded access to independent and local manufacturers, including artisanal farmers that do not fit retailer supply chain or procurement terms and can't get their goods listed."
INS intends to "empower" the grocery industry with blockchain technology and 'smart contracts' that will enable goods and payments to flow through its decentralised marketplace.
"Blockchain and smart contracts is an ideal fit to create a marketplace that would be transparent, fair, inexpensive to run and highly scalable. In fact, it is way more secure than a conventional system that is centralised by design and hence more vulnerable to attacks or data loss," Fedchenkov says.
He claims Unilever, Reckitt Benckiser, FrieslandCampina and Valio have signed non-binding memoranda of understanding with INS to list their items in Russia and globally on the platform once it launches, with the business speaking to other manufacturers about coming on-board. The platform is set to be operational in the second half of 2018. "This is when we should be able to make the first grocery purchase in the world entirely on blockchain," says Fedchenkov.
Although INS may claim that honour, the company has been beaten to the punch when it comes to being the first to allow consumers to buy food products using cryptocurrencies – one of the other big business buzzwords at the moment. Cryptocurrencies are digital currencies that can sit on blockchain software. The most well-known cryptocurrency is Bitcoin, but there are others like Ripple and Ether on the market. Many see blockchain technology as having first come to the fore as the basis of Bitcoin.
One of the first food companies to accept these currencies as payment for products is UK chocolate business Love Cocoa, which started taking Bitcoin payments earlier this year.
James Cadbury, the founder of Love Cocoa and a former forex trader in the City, sees Bitcoin as being a major currency in the future. "We want to be one of the first movers in accepting the currency," says Cadbury. "There are a lot of people with Bitcoin, but still only a limited amount of things they can use the coin for."
The problems with blockchain technology
Many of these cryptocurrencies encountered early teething problems, which stunted take-up, but most of these issues have been ironed out and the value of these digital currencies is soaring.
Blockchain technology has also had to overcome a number of early stumbles and, although the benefits of embracing the technology appear manifold, it is not a foolproof solution for everyone, according to IBM's McDermott.
"While supply chain traceability is a use case that is well-suited for blockchain, not all use cases are," she says. "Furthermore, multiple players in a food ecosystem are coming in with disparate systems and ways of conducting business. Working to enable these systems to communicate via the blockchain is an additional technical challenge that needs to be addressed."
Deloitte's Boersma agrees. If implemented correctly, blockchain has the power to aid transparency but there are still some issues that need to be ironed out, he believes. "Especially in the food supply chain, there is the major challenge of how to connect the physical world to the digital representation of that world," says Boersma. "It is, for example, much easier to track food products in a tamper-proof package with a unique identifier than it is to trace bulk foods or ingredients that cannot be individually distinguished or labelled."
A further challenge surrounds the maturity of the technology. "Scaling to the transaction numbers required for the food industry at present would create very large data stores or significantly slow down the current open blockchain networks," explains Boersma. "That said, the best way forward is to experiment on a small scale to see how challenges can be met and identify the supply chains where this technology will bring the most value first."
There are also potential security problems that need to be overcome to protect proprietary information held on the blockchain. It is an issue that particularly concerns Love Cocoa's Cadbury.
"I think some food producers will want to keep some of their ingredients secret, otherwise competitors can quickly copy an idea," he says. "This would be especially bad if a bigger company with larger resources jumps on a start-up with a good idea and just blows them out of the water due to the size of their business. I also think the cost of administering the system could be expensive even with the use of blockchain efficiencies. I'm not sure how the technology will work with a remote cacao farmer, for instance."
At the end of the day, blockchains are about collaborative networks. Companies create a platform where they can work together to derive mutual benefit from the increased transparency and trust that the technology offers. Because blockchain is about trust, a blockchain solution cannot just be all about the technology, it also needs to include the ecosystem or network the drives the content and the usage, says IBM's McDermott.
"A food safety solution does not work unless all of the players see a compelling value proposition to participate," she explains. "If only one segment of the ecosystem participates, this would not be possible."
It is still early days for blockchain in the food industry but the potential rewards on offer are worth investigating and there are already signs some in the food industry are willing to study the technology in a spirit of collaboration.