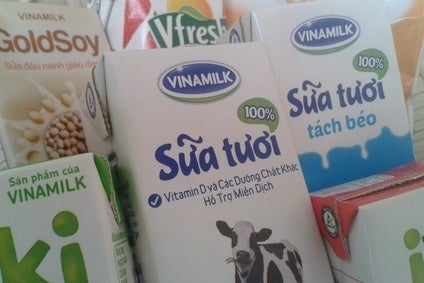 Multinationals have flocked to the booming dairy markets of the East, attracted by the potential rewards on offer. But in many countries homegrown giants have developed, presenting stiff competition. However, few domestic companies dominate their markets to the extent dairy processor Vinamilk does in Vietnam. Vinamilk has ambitious goals to grow further – and not just domestically. Dean Best met Nguyen Quoc Khánh, Vinamilk's executive director for R&D and production, at the company's newly-built plant north of Ho Chi Minh City to find out more.
Rising incomes in Asia have led to a growing adoption of a Western-style diet, with sectors like dairy and meat booming. Multinationals have moved east, attracted by the potential of offsetting sluggish markets in Europe and North America. But, in many emergimh markets, homegrown giants have developed, presenting stiff competition for the Western invaders.
However, few domestic companies have the presence dairy processor Vinamilk does in Vietnam.
Formed in 1976, Vinamilk has grown to become the market leader in Vietnam's buoyant dairy sector – and one of the five largest privately-owned businesses in the country.
Vinamilk accounts for around half of the sales of liquid milk in Vietnam; Euromonitor says the processor's share of the category stood at 48% last year. The company enjoys the lion's share of yoghurt sales in the country; it says it is responsible for around 85% of yoghurt sales. Vinamilk, meanwhile, says it generates three-quarters of condensed milk sales, is number two in sales of powdered milk and has a presence in categories like cheese and ice cream.
The group, in which the Vietnamese government still owns a 49% stake, is, in short, the leading player in what remains a dynamic market.
Urbanisation and rising wealth have driven sales, while the Vietnamese government has also been investing in the sector to increase production and exports. In a further boost, the Vietnamese government has also introduced a series of initiatives to raise the height of its citizens, which analysts at Euromonitor say has helped demand for drinking milk.
According to research from Business Monitor International, dairy consumption at the mass-market level in Vietnam is rising at a "high single-digit" rate each year.
But Vinamilk is not resting on its laurels. It has continued to invest to meet demand and to be in a position to serve the growth the sector is forecast to enjoy. Industry watchers expect the dairy market to remain robust in Vietnam, where per capita consumption is lower than in other nations in Asia. Vinamilk also wants to expand its business outside the country.
Central to Vinamilk's recent investment has been the construction of two factories, a powdered milk facility and another the company dubs its "mega plant" located in the Binh Duong province north of Ho Chi Minh City – and where just-food sits down with Nguyen Quoc Khánh, Vinamilk's executive director for R&D and production.
Despite Vinamilk's position in the market, Khánh indicates the company wanted to try and stay ahead of the pack. "Recently, Vietnamese milk demand and consumption has been increasing. The consumers become more selective when choosing dairy products for their families and themselves," he says. "These two factories are applying the latest technology into production in order to be able to provide consumers with high quality and diversified dairy products. They will also help Vinamilk increase its competitiveness at a world-class level."
It may account for almost half the sales of liquid milk in Vietnam but Vinamilk does face some strong competition. The majority of food and drink sales in Vietnam are still made in traditional retail outlets – modern grocery stores account for only 10% of the market – but a visit to a Circle K convenience store in Ho Chi Minh City gives a flavour of the companies with which Vinamilk is competing, with FrieslandCampina's Dutch Lady brand sitting next to the Vietnamese company's lines in the chiller cabinet.
Asked about the prospect of competition intensifying, Khánh is relaxed. "The biggest dairy companies are in Vietnam," he says. "Nestle, Danone. The competition between these companies is very hard but not only now. That has always occurred. If the market opens, more competitors entering the market is good for the consumer."
Next year, the ten nations that make up the Association of Southeast Asian Nations are set to form the ASEAN Economic Community, or the AEC, which will lead to the free movement of goods and services among the region.
As well as the likes of Nestle, Danone, FrieslandCampina and Groupe Bel, companies from across the ASEAN region already do business in Vietnam's dairy sector but the establishment of the AEC could open up the market to more competitors from the region.
Vinamilk should remain on its guard but its position in the sector, its recent investment and the growth forecasts for dairy in Vietnam suggest it should continue to prosper.
The company's ambitions, however, do not stop at Vietnam's borders. It has set out the ambitious goal of taking its revenue from last year's US$1.5bn to $3bn by 2017. Hitting that target will see Vinamilk become one of the world's top 50 dairy companies.
Khánh says Vinamilk ranks in the top 65 at the moment but, while acknowledging reaching the $3bn mark will not be straight-forward, insists the company thinks it will get there. "It's not easy to get US$3bn in the year 2017," he says before adding: "We believe we can do that."
Vinamilk sees international markets playing a vital part in hitting that goal. It already exports to over 30 countries from Vietnam, with overseas sales accounting for around 15% of its revenue.
However, the company has, in recent months, made a series of investments outside Vietnam that have underlined its seriousness about becoming an international player.
Vinamilk has moved to set up a venture in Cambodia, in which it will own a 51% stake. The company has drawn up some plans to set up an office in Poland and, in perhaps the most eye-catching move, it has acquired 70% of California-based Driftwood Dairy. And these moves follow an investment in New Zealand dairy Miraka in 2011. Vinamilk now owns just short of 20% of Miraka and sells milk made at the firm's plant in Mokai on New Zealand's North Island in Vietnam under the Twin Cows brand, which is sold at a premium to its core ranges.
Khánh is coy about further investments in ASEAN countries, saying only the company would continue to export its products throughout the region.
The Vinamilk executive does give some indications of how he sees the investments in Poland and the US unfolding. He said Vinamilk could look to ship some products into Europe, although a "very small introduction quantity only".
Khánh, meanwhile, says Vinamilk wants to use its investment in California's Driftwood Dairy to bring American products back to Vietnam and to sell its own products in the US.
"We want to expand our business in America. We already export our products to America. We want to present our product to America and we want to bring American products to Vietnam," Khánh explains. "It's a good opportunity for us. Driftwood is a company established in 1920. They have raw materials, distribution channels, things like that."
Vinamilk has exported to the US before, shipping a small order of condensed milk across the Pacific. However, through its investment in Driftwood and with its ambitions to rapidly grow its business, the company is looking again at the US.
Since the start of the year, Vinamilk has contacted potential US customers with proposals to export "healthy drink products", the company says, but no deals have been finalised.
Vinamilk is a business that has enjoyed bumper sales and earnings growth in recent years but the investment in production and in expansion overseas will have an impact on its profits in 2014. Vinamilk has forecast its net profit will fall 8.3% in 2014 to VND6.53bn (US$309.6m), with pre-tax profits estimated to drop 6% to VND7.53bn.
Vinamilk is expecting its sales to grow this year, issuing a forecast for a 14.9% rise in total revenues to VND36.3bn.
That sales figure would equate to 2014 revenue of $1.7bn, underlining the jump Vinamilk needs to make in three years to get to $3bn.
However, Khánh insists the mark – and moving into the world's top 50 dairy companies – is Vinamilk's "vision".
He adds: "The vision of the company to become a world-grade brand in the food and beverage industry."