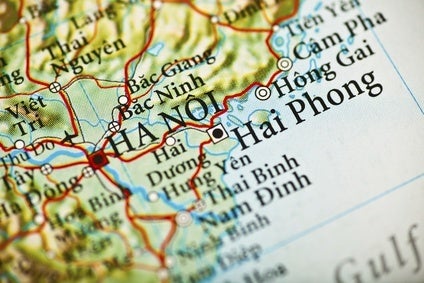 The confectionery sector in Vietnam – chocolate, sugar and gum combined – is predicted to hit US$388m in market value by 2017, presenting an array of opportunities for confectionery firms – both local and international. But with an increasing focus on health issues and continued challenges in distribution, just how can a player in this sector seal success? Hannah Abdulla explores.
As Vietnam undergoes a period of higher living standards and growing western influence, one sector is reaping the benefits: confectionery.
Last year, according to Euromonitor, chocolate confectionery recorded value growth of 13% and sugar confectionery saw value growth of 9%.
For global confectionery players, these results are encouraging, particularly in the chocolate sector which last year continued to account for the majority of sector's sales. Euromonitor revealed international brands were often preferred because they were "typically perceived as having higher quality".
Jelly Belly, which has been shipping to Vietnam since September 2013 has witnessed the demand for established western products. Sharon Duncan, vice president of international business said since the Vietnamese consumer is "looking for western brands and a quality product", Vietnam is "exactly the type of market best suited to Jelly Belly".
The top three players in the confectionery market's chocolate category by volume as of 2012 were Hershey, Mars Inc and Nestle with a 24.2%, 20.7% and 19.7% share respectively. By value, Lotte slid into second place.
Where sugar-based and gum products were concerned, the picture was quite different, with local firms Hai Ha Confectionery and Bibica occupying the highest share of the market by volume at 18.9% and 15.4%, followed by Perfetti Van Melle whose higher price points meant that by value, it led the way.
Euromonitor's Adhitya Nugroho explains this picture is quickly changing, particularly as domestic players start investing more heavily in targeting the middle-to-high income segments, positioning their products as premium.
"In the past, the majority of local firms targeted low-income ones [consumers]," says Nugroho. Recently, "local firms, especially big leading ones like Bien Hoa Confectionery Corp (Bibica), have regularly upgraded their products, especially the packaging.
"The higher living standards, the fast increasing number of middle-income and high-income class in Vietnam as well as the increasing trend of premiumisation especially in big cities are one of the main factors supporting leading local players to invest more on upgrading their facilities, which eventually improved the quality and packaging of their products," he adds.
There is undoubtedly a lot of love for local firms, agrees Torsten Stocker, Asia-based partner at consulting firm AT Kearney, adding that the four largest local players combined, Kinh Do, Bibica, Hai Ha and Kotobuki hold more than a 40% share of the market.
But that's not to suggest there is no room for international confectionery firms to trying and crack the Vietnam market.
With the smart approach, such as Lotte's joint-venture with Bibica, there is always an opportunity in this market. After all, Stocker suggests, the demand is there – with 50% of the population being under 30 and "generally more receptive to imported products and concepts".
And, with a predicted market value of US$388m by 2017, why would you not take a crack at it? Of course, as with any market, the story isn't quite that simple.
For global firms looking to break into the market and succeed, there is obviously the challenge of competition from local firms, and there's both pros and cons to this.
To begin with, the larger international firms have the advantage of scale. Globally known, their products are easily recognisable. They also have the advantage of positioning their products as premium – and the high-end consumer will be "willing to pay more for branded products with better quality and packaging," says Nugroho.
But what the local players have to their advantage is knowledge in distribution.
"Partnering with a strong distributor is essential to establish a local support and work within the cultural norms. A good distributor will also help avoid any challenges that may be present," says Duncan. And for exporters this is essential. "We go in being aware of the country's regulations for product and packaging so we are compliant with the needs of the market."
Then there's another challenging factor: the increasing focus on health and wellness in Vietnam which Nugroho says "affects negatively the demand for confectionery". But there are ways to turn this into a positive.
From 2013, Bien Hoa Confectionery Corp (Bibica) developed its fortified functional brands and products for diabetics, the obese and those with blood pressure problems with the launch of its Quasure Light biscuits and Quasure light cereals and Mumsure for pregnant women.
"Medicated confectionery will continue to be the category enjoying the fastest current value growth…mainly thanks to the rising number of health problems especially related to nose and throat diseases that are caused by the high pollution level in the country. In fact, many Vietnamese consumers treat medicated confectionery as medical products; they typically purchase them at chemists/pharmacies rather than other distribution channels. As a consequence, a very limited number of medicated confectionery products are available in other distribution channels, such as supermarkets, hypermarkets and independent small grocers," Euromonitor observes.
However the focus on health and wellness does not mean the Vietnamese will boycott sugary confectionery instantly. Market value has gradually increased in the sector; Mintel's report on the combined sector, showed total sales in 2012 of US$239.1m. By 2017 it is predicted to reach US$388m.
And international players likely to continue to gain market share.
The Hershey Co registered the highest growth rate in current value terms with its Van Houten product in 2012. In 2013, with an increased focus on improving its nationwide distribution network and marketing activities, Nestle saw the highest value growth rate according to Euromonitor. And in sweets, Perfetti Van Melle Vietnam benefited from its "efficient nationwide distribution network."
It appears for those dedicated to tackling the Vietnam confectionery market, refining distribution networks and targeting the premium consumer with an innovative range of products is the key to success. And for Duncan, it's the international players that can do this best.
"We believe global players are more successful due to the growing disposable income of the consumer market and their demand for high quality Western brands. There are excellent opportunities for this growth market for experienced exporters."