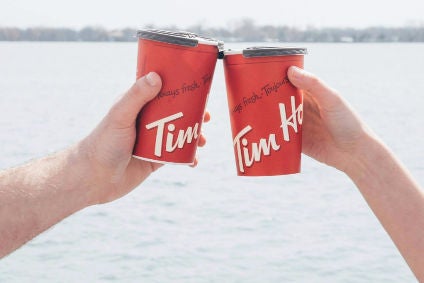 August, contrary to its reputation as a slow month for business news, saw some notable moves in the global foodservice sector, including Canada's Tim Hortons announcing its plan to enter the UK and Pizza Hut continuing its push in eastern Europe, while some operators on both sides of the Atlantic unveiled plans to revitalise their operations.
Tim Hortons to open in UK
Just over two years ago, Canadian doughnuts-and-coffee chain Tim Hortons accepted a takeover bid from US fast-food giant Burger King – and immediately outlined why it had agreed to the sale.
"This transaction will enable us to move more quickly and efficiently to bring Tim Hortons iconic Canadian brand to a new global customer base," then Tim Hortons president and CEO Marc Caira said.
Caira has since left Tim Hortons but the quick-service chain, now part of the Canada-based foodservice giant Restaurant Brands International alongside sister operator Burger King, has looked to expand internationally, with its first outlets in Saudi Arabia opening last year.
The kingdom became Tim Hortons' fourth market in the Middle East, a region where Tim Hortons has been focusing its international expansion outside North America, until July when the company announced a franchise deal in the Philippines. On 31 August, Restaurant Brands International unveiled what was perhaps an even more notable deal.
"This is an incredibly proud moment for the Tim Hortons brand as we enter this dynamic market," Elías Díaz Sesé, president of Tim Hortons, said as he announced the operator's plans to enter the UK. "We look forward to bringing some of our signature products to Great Britain and helping our partners build brand awareness and open restaurants to welcome new guests."
Fahhan Ozcelik, a foodservice industry consultant, says the moves to take Tim Hortons into the Philippines and the UK show how Restaurants Brand International is looking to capitalise on Burger King's international presence. The strategy of rolling out Tim Hortons under master franchises with "low investment but maintaining the brand's operational standards and process control will be the growth driver for RBI as Burger King growth is slowing down", Ozcelik says.
Restaurant Brands International did not reveal when the first Tim Hortons would open but Bloomberg reported the first outlet will be unveiled next year. However, with a number of businesses having built strong positions in the UK, it will be a challenge for Tim Hortons to gain a foothold.
"It's really looking to take advantage of the growth of coffee shops – especially chains – in the UK. Specialty coffee is doing particularly well, and Tim Hortons hopes to build on the success that Starbucks had in entering the UK, as well as build upon the growth of local chains like Costa Coffee and Caffe Nero. Smart move but they're entering a very competitive marketplace right now," David Henkes, advisory group senior principal at US foodservice consultants Technomic, says.
UK's Restaurant Group changes CEO, shuts outlets
Staying in the UK, August saw one of the country's largest foodservice operators make two striking announcements.
On 12 August, Restaurant Group, which runs chains including Chiquito and Frankie & Benny's, announced the departure of CEO Danny Breithaupt as the company embarks on implementing the first results of a review of its operations. "[Danny] has fully participated in the review of our operating strategy in a professional, conscientious and thorough way. We have agreed that this is an appropriate point for him to handover to a new leader who will implement the initial actions and set the priorities for this next phase of development for the business," chairman Debbie Hewitt said.
On 26 August, Restaurant Group reported its half-year results, which included a 3% rise in revenues but falling profits and, Hewitt said, a "disappointing" performance from the operator's leisure division, which includes Chiquito, Frankie & Benny's, Coast to Coast, Joe's Kitchen and Garfunkel's.
The first stage of Restaurant Group's review had taken in the under-pressure Frankie & Benny's chain and, alongside the results, the company said it planned to close 14 of those outlets, as well as 11 Chiquito sites and eight others. The company also decided to impair the asset value of 29 other outlets.
At Frankie & Benny's, Restaurant Group will look at menu prices after a series of hikes alienated "value-conscious" consumers. The company also plans to "use our supply chain relationships to price engineer more effectively". Restaurant Group's review will now take in its other chains.
Hewitt said: "Whilst the performance in the first half of 2016 was disappointing, the Company is profitable, highly cash generative and retains a strong balance sheet. The Board has confidence that it has identified the issues impacting performance and is taking the correct actions to improve performance and create value for shareholders."
On 19 September, Breithaupt's successor Andy McCue, the former chief executive of bookmakers Paddy Power, becomes Restaurant Group's new chief executive. "Andy brings strong consumer, people and brand-led CEO credentials, with very relevant experience from a multi-site business," Hewitt said when she announced his appointment on 12 August. He will need those credentials and more as Restaurant Group tries to
US casual dining chain Ruby Tuesday announces closures
Across the Atlantic, another major restaurant group announced closures in August. Casual-dining operator Ruby Tuesday's said on 11 August it would shut 95 outlets by September.
Ruby Tuesday owns and franchises Ruby Tuesday brand restaurants and, as of the end of May, there were 724 Ruby Tuesday restaurants in 44 US states and 14 foreign countries (and Guam). Of those, the company owned 646 outlets, which are mainly in the Southeast, Northeast, Mid-Atlantic, and Midwest of the US. The 95 to be closed are outlets Ruby Tuesday owns.
The company earmarked which outlets to close as part of its "fresh start" programme, a bid to "streamline our organisation and ultimately create long-term value for our shareholders", chairman, president and CEO JJ Buettgen said. The closures are part of Ruby Tuesday's bid to get its same-restaurant sales growing again and to improve its profits.
News of the closures came alongside financial results for the year to the end of May. Revenue fell 3.1%, translating into a 1.4% decline in same-restaurant sales. Restaurant-level margins were down, while the business posted a net loss of US$50.7m.
Ruby Tuesday is the latest example of a US casual-dining operator suffering amid challenging trading conditions in the sector. US peer Bloomin' Brands is another, as we reported in our foodservice focus round-up for July. Others have fared worse.
Technomic's Henkes says: "Ruby Tuesday is a victim of the continued softness in the casual dining chain restaurant market. Over the past six months, there have been a number of casual chain bankruptcies, including Logan's Roadhouse and the owner of Fox & Hounds, and a number of others are also closing outlets. At the same time, the independent market seems relatively healthy, and it's proof that consumers continue to vote with their pocketbooks and are increasingly being drawn to differentiated, unique concepts. Chains, for all of their growth, remain largely undifferentiated in the US market, and there's probably too much supply in the chain market chasing too little demand."
Pizza Hut ploughs on in Europe
Of Yum! Brands' three chain, Pizza Hut has, in recent quarters, seen the slowest growth.
In 2015, Pizza Hut sales rose 2%, with same-store sales up 1%. Stablemate KFC posted a 7% increase in sales and 3% growth in same-store sales. The third leg of the Yum! Brands' stool, Taco Bell, saw its sales climb 8% in 2015 on the back of a 5% rise in like-for-like sales.
Domestically, Pizza Hut has, in relative terms, found the going tough compared to some of its main rivals. International markets have proven something of a mixed bag for Pizza Hut.
In 2015, Pizza Hut reported healthy growth in its emerging markets, although in China, which Yum! Brands reported separately, same-store sales from the chain's casual dining arm 5%. Alongside growth in what Yum! Brands classes as Pizza Hut's emerging markets – Latin America, south-east Asia, the Middle East and north Africa, plus parts of eastern Europe – the chain saw growth in western Europe, Canada and the UK – but saw sales fell in its more developed Asian markets like Japan and South Korea, as well as in Australia.
To some extent, a business as international as Pizza Hut is rarely going to be growing everywhere but similar trends were seen in Yum! Brands' most recent set of numbers, published in July and covering the first half of the year, which ran until 11 June, although the company reported a rebound in sales form its business in China in the second quarter.
In August, Pizza Hut announced plans to expand in a region where the company has been seeing growth. It announced a deal with its local partner AmRest Holdings to develop 300 more restaurants in this region in southern and eastern Europe over the next five years. AmRest already operates 80 Pizza Hut restaurants in Poland, Russia and the Czech Republic.
Amrest will be a master franchisee and have the right to own and sub-franchise Pizza Hut restaurants in Poland and Czech Republic, as well as expand into newer markets including Hungary, Bulgaria and Slovakia.
At Technomic, Henkes reflects: "In the US they've been underperforming some of the other pizza chains such as Domino's and Papa John's. Their international performance has been stronger, and it does appear that they're putting a stronger emphasis on international growth. Over the past three years, their international revenue is up almost 13% but their US sales are actually down 2.8%. With almost 8000 units here in the US and a fiercely competitive market, international has helped with overall growth."
And the latest moves on "food with integrity"
It has become one of the buzz phrases in the foodservice sector, encapsulating moves by operators to respond to consumer demand for simpler, more ethical fare. We've seen operators in North America and Europe in particular look to tailor their menus accordingly in recent quarters and the issue continued to be prominent in August.
In fact, the issue is becoming central to company marketing as they seek to jostle for position and for custom.
In August, US bakery-cafe chain Panera Bread announced its "Kids Meal Promise" in which it pledged to ensure dishes for children had no artificial flavors, preservatives, sweeteners or colours, they were "nutritiously paired" (yogurt instead of fries, for example, it said) and they had an optional drink.
The commitment, Panera Bread insisted, was "a challenge to the restaurant industry and to all food manufacturers who offer kids food".
Ron Shiach, Panera Bread's founder, chairman and CEO, added: "Frankly, the typical restaurant industry kids meal doesn't serve our kids well."
Behind the marketing, there was news on Panera Bread's menu. From 7 September, the operator's children's menu will be free of from the artificial flavors, preservatives, sweeteners and colours on the company's so-called "No No List" of additives.
In an interview with Bloomberg to announce the news, Shiach appeared to take aim at recent announcements from McDonald's, which included a move unveiled in August to remove artificial preservatives from its Chicken McNuggets on sale in the US.
"If you're taking one single ingredient and trying to use that to create a halo across your menu, that seems inauthentic to us and confusing to people," Shaich said. "We're paying the price to do it right. If you want the halo without doing it right, that's wrong."
McDonald's announced the move on its nuggets on 1 August alongside news it was rolling out new buns that no longer contain high fructose corn syrup. "More than ever, people care about their food – where it comes from, what goes into it and how it's prepared," said Mike Andres, president, McDonald's USA. "We're making changes to ensure the food we're proud of is food our customers love and feel good eating," Mike Andres, the president of McDonald's US arm, said.
Some consumer advocates were unimpressed. "McDonald's is making changes, but swapping high-fructose corn syrup for sugar in buns isn't a big deal," the Center for Science in the Public Interest tweeted.
What is clear is all along the food supply chain companies are responding to consumer interest in what they eat and how that is sourced.