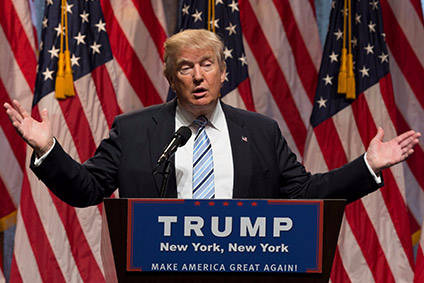 The global food industry believes international trade could become more restricted under Donald Trump as the property magnate-turned-politician prepares to be sworn in as US President later today (20 January).
Speaking at a rally in front of the Lincoln Memorial yesterday, ahead of the inauguration ceremony, Trump said he intends to not only "make America great again" but "greater than ever before".
Protectionist rhetoric featured heavily in Trump's election campaign as he sought to appeal to the US's blue collar workers who, according to his assessment, have been "left behind" by globalisation.
"You're not forgotten anymore," he told his crowd of supporters yesterday evening.
According to the results of the just-food 2017 Confidence Survey, which polled our international readership on a range of issues in November and December, 42% of respondents think global trade will become more restricted as a result of Trump's protectionist agenda.
Throughout the election campaign and since his victory, Trump has been critical of trade deals such as the North American Free Trade Agreement (NAFTA) – which he has described as "the worst trade deal maybe ever signed anywhere".
Meanwhile, Trump insisted the US will quit the Trans-Pacific Partnership (TPP) free trade deal on his first day in the White House. "I am going to issue our notification of intent to withdraw from the Trans-Pacific Partnership, a potential disaster for our country," he said in November during a video posted on YouTube.
Trump has also developed an antagonistic relationship with China, the world's second-largest economy. He has repeatedly accused Beijing of dumping and currency manipulation.
A showdown between the two biggest economies in the world is not a welcome prospect for anyone, Jamie Norman, an equities analyst at French bank Societe Generale suggests. "Worsening trade relations between the world's two largest economies is negative overall. In the longer term impact of US protectionism to this degree would likely lead to unhealthy levels of domestic inflation and lower growth."
While Trump has singled out specific trade agreements – and Chinese policy in general – as damaging to US interests, he has also signalled a willingness to negotiate bilateral arrangements. "We will negotiate fair, bilateral trade deals that bring jobs and industry back onto American shores," he told viewers on YouTube.
In an interview with The Times, Trump also suggested a free-trade deal would be struck "very quickly" with the UK as the country prepares to trigger Article 50 and officially begin the process of leaving the European Union.
For this reason, perhaps, a significant proportion of just-food readers believe Trump's influence on global trade will be neutral during his four years in office, with 30.38% holding the view that he will have little or no impact. Only 16.46% of respondents, however, believe that the author of The Art of the Deal will be a positive for the growth of global trade.
Elsewhere, for the most part, food industry executives seem to believe Trump will have little significance for the performance of their businesses. When asked "will Trump be good for your business" almost 52% of respondents suggested that the President-elect will have no bearing on the performance of their companies. One-quarter of respondents fear Trump will be a negative for their businesses, while just under 14% of people surveyed think that he will prove a boon for their food businesses.
The markets have largely responded positively to Trump's election win, with the expectation corporate taxes and red tape will both be cut.
While it could be argued food policy has not been a priority for Trump – with his nominee for Secretary of the US Department of Agriculture, Sonny Perdue, only being announced yesterday – he has made a number of statements prioritising the deregulation of the sector. Trump has also signalled his opposition to the labelling of genetically modified organisms in food products.
"I oppose unwarranted government mandates that hurt farmers and confuse consumers, such as mandatory biotech labelling," Trump said in a statement to the Farm Bureau. "Government should not block positive technological advancements in agriculture. Agency reviews need to be streamlined with all unnecessary red-tape cut out."
Despite this rhetoric, the largest group of respondents in the just-food Confidence Survey believe that Trump will usher in "no overall change" in the level of regulation for the food sector, at 39.74%.
The split between those expecting tighter regulations and a relaxation of regulations was fairly even, with around a quarter of respondents backing each option as the most likely outcome.
The even distribution of this split suggests that opinion is divided on what action a Trump administration is likely to back. As with so many of Trump's campaign statements, on food sector regulation the incoming President's actions during the coming four years will speak louder than words.
There is an echo of this uncertainty about the future under the Trump in the answer to our question about whether our readership believed his presidency would be good for their businesses.
A majority – 52% – forecast there would be "no overall change". A fifth believed Trump's administration would be bad for their business, with 14% arguing they would see a benefit.
With at the time of writing, under four hours until the inauguration ceremony starts in Washington, D.C., the food sector, along with much of the business world and society as a whole, awaits the beginning of Trump's administration not quite knowing what will come next.