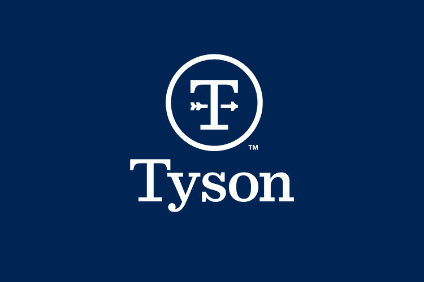 Tyson Foods this week issued a set of annual results that included rising sales, a record level of operating income and record earnings per share. Andy Coyne looks at where it all went right for the US food industry giant and at its prospects for the next year.
The metaphor of the difficulty in turning a supertanker around may be applied to large traditional, food businesses struggling to face the right direction for millennial food trends, but Tyson Foods seems to be steering a course that is 'on trend' and profitable.
CEO Tom Hayes, announcing Tyson's fourth-quarter and full year results this week (13 November) said the company's "strong" fourth quarter had rounded off "another record year" for the US-based giant. "We delivered well over our goals of at least 4% operating income growth, EPS growth in the high single digits and 3% volume growth in value-added products, and expect to meet or exceed these goals again in fiscal 2018," Hayes, who became CEO at the turn of this calendar year, said.
"Our plan is to grow our business year after year through differentiated capabilities, deliver ongoing financial fitness through continuous improvement and sustain our company as we sustainably feed the world with the fastest growing portfolio of protein packed brands."
So what has Tyson got right and what, if any, are the potential pitfalls ahead?
Tyson's protein mix
At one level Tyson is a traditional meat business. It raises, processes, and distributes raw and value-added beef (39% of fiscal 2017 sales), chicken (30%) and pork (14%).
Tyson's livestock-raising is concentrated on chicken, with third-party farms providing the cattle and hogs that the firm processes.
All three of these units saw their sales grow, although the operating income from chicken dropped year-on-year, albeit amid a series of impairment and restructuring charges.
The company's beef division its sales and operating income in the 12 months to 30 September despite tight labour markets.
The beef segment – Tyson's largest of its five reporting segments (which also include prepared foods and 'other') by sales – benefited from cattle availability, strong domestic demand and increased exports.
Nevertheless, there is a trend – at least in the Western world – away from red meat and towards leaner white meat, leading some industry watchers to show concern about Tyson's exposure to beef.
Writing last month, analyst and investor David Kim said: "As a retail investor, I have no way of predicting beef prices, and that leaves me with mixed feelings. While I realise that the management is making additional investments in the chicken segment, it feels like Tyson's near-term future is very much tied to beef prices."
Zain Akbari, a consumer equity analyst at Morningstar, is less concerned.
"We've seen significantly higher segment margins in beef in the past year than we have for over a decade, and that's a reflection of far better availability, which helps mitigate the impact of volatility to some extent, though prices are indeed still difficult to predict. Beef prices also have a way of influencing the price of other proteins, making beef prices important to Tyson indirectly as well as directly, Akbari tells just-food.
"Beef prices will always have a meaningful impact on Tyson, but ultimately more than half of the business is in other proteins."
Tyson's confidence in chicken
Chicken was Tyson's second-largest reporting segment by sales (behind beef) and by operating margin (behind pork) in the 12 months under review. While Tyson's sales from chicken grew year-on-year amid rising demand, the segment's operating income fell.
Tyson pointed to higher operating costs – in part due to two factory fires – as well as restructuring and related charges booked in the fourth quarter of fiscal 2017. However, the division saw its operating income rise in the fourth quarter, with Tyson citing "improved operational execution" and lower feed ingredient costs.
Overall, the group sees chicken (alongside its prepared foods business) as an area where it wants to invest. In the earnings statement, Hayes remarked: "Our beef and pork segments delivered outstanding returns for the quarter and for the year, again generating significant cash to fuel investments in our chicken and prepared foods segments."
On a conference call to discuss Tyson's results, Heather Jones, senior equity analyst at US investment bank Vertical Group, asked about the prospects for the company's chicken business as the wider industry looks to increase supply.
Hayes said: "What we're playing for is long-term shareholder value creation. As it relates to the chicken supply growth, we're squarely focused on what do we need. The USDA [US Department of Agriculture] estimates about a 2% growth, and that's in line with consumer demand, I'd say, roughly. Our demand has been outstanding and outpacing."
Tyson is planning a new chicken processing facility and, while its plans to open a new complex in Kansas were scuppered by local opposition, it is likely to find a suitable site before too long.
Being 'on trend'
Tyson is moving to meet the changing consumer trends shaping meat consumption in the US, not least in reducing its use of antibiotics in its supply chain – and marketing that to shoppers.
Hayes said: "Customer demand is growing double digit for our No Antibiotics Ever (NAE) and no-added hormones natural fresh meats. We've had record sales for our Open Prairie Natural brand of fresh meals."
Asked by analyst Farha Aslam at Stephens about the thinking behind the launch of NAE products, Hayes said: "Certainly, the benefits are economic, but also consumer preference. To the extent that we didn't move to NAE, we'd be having a very different conversation. The consumer does expect it, and the customer expects it. Gatekeepers within the customer are asking continuously to be NAE. We're fully NAE now, and we're actually buying meat on the outside that's NAE. The cost [is] a little bit more on the upfront and we've been able to swallow that cost and then remove that cost."
Tyson also pointed to the performance of its stable of "rapid growth brands", such as Hillshire Snacking and Golden Islands premium jerky, in its prepared-foods division.
However, over the last 12 months, it has perhaps been Tyson's investment in US vegan business Beyond Meat that has raised the most eyebrows.
Amid growing consumer interest in reducing meat consumption, in October 2016, Tyson bought a 5% stake in the fledgling meat-alternatives business to give it "exposure to a fast-growing segment of the protein market".
Beyond Meat is the maker of the vegan Beyond Burger and its products are now listed in 11,000 outlets in the US, including at major chains such as Walmart, Kroger and Target.
Morningstar's Akbari says: "Businesses like Beyond Meat (and, in a related move, going into meal kits with Amazon and now in retail) allow the firm to gain exposure and experience with fast-growing channels and product alternatives without spending a lot."
The growth of prepared foods and foodservice
In addition to products under its namesake brand, Tyson sells items under the Wright, Jimmy Dean, Hillshire Farm and Ball Park labels.
Annual sales of prepared foods outstrip those from pork and rose 6.9% in the year under review to $7.85bn, boosted by price and volume.
The division's operating income did fall by more than a third to $462m but Tyson pointed to a range of factors – an impairment on a site in San Diego, costs linked to the sale of non-protein assets the company soon expects to close, expenses from its recent acquisition of US convenience foods group AdvancedPierre Foods Holdings and some $82m in restructuring charges.
Tyson expects its prepared foods business to grow volumes by around 10% in its new financial year, boosted by the AdvancedPierre Foods deal, struck earlier this year by $4.2bn.
Each of Tyson's four main segments – beef, chicken, pork and prepared foods – sell into the foodservice arena and, over the year, the company said its sales in broadline distribution rose in dollar and volume terms.
One of Hayes former roles at Tyson was as head of the company's foodservice business and, on the same day the company announced its results, it revealed the acquisition of Original Philly Holdings, a US supplier of raw and cooked 'Philly-style' sandwich steak and cheesesteak products.
Original Philly's customers include foodservice, retail and convenience store providers.
Hayes told analysts: "Original Philly Cheesesteak is a great tuck-in acquisition of a company highly regarded in the foodservice industry. Original Philly is a strong, double-digit margin business with approximately $130 million of annual sales, and the transaction will be immediately accretive."
Reflecting on the deal, Morningstar's Akbari says: "Original Philly seems to dovetail nicely with AdvancePierre and the rest of the foodservice operation, though again it is relatively small."
The "right part of the store"
"We're in the right categories. We're in the right part of the store," Hayes told analysts on Monday.
Interestingly, though, when all the talk is of getting out of the stodgy centre aisles of US supermarkets, where sales are struggling, towards the faster growing perimeter section where chilled and, seemingly, healthier products live, Tyson sees it slightly differently.
Hayes said: "In the prepared business one of the things we are certainly benefiting from is the perimeter. Certainly there's a lot of growth there. But also from centre store, if you include frozen. Frozen is growing for us in the centre store."
More generally, Tyson claimed it is gaining retail space in major supermarkets. An IRI 'shelf audit' revealed the firm had gained an average 4.3 linear feet per store in the US over the previous year.
Akbari at Morningstar has a note of caution. "The company is in on-trend categories. The challenge, however, is that their product set is commoditised/not all that easy to differentiate, which limits the extent to which they can capitalise."
Making savings
Tyson is proceeding with its "financial fitness" programme in which it expects to achieve $200m in savings in the new financial year through a combination of "synergies from the integration of AdvancePierre and other core savings".
The company has said the programme is expected to result in net savings of $400m in fiscal 2009 and $600m in fiscal 2020. The majority of all these savings are set to be realised in Tyson's prepared foods and chicken divisions.
Synergies relating to Tyson's acquisition of Hillshire Brands in 2014 ($670m over three years) were reinvested. Not so with AdvancePierre savings. These will go on the bottom line. There will also be some plant "rationalisation".
Akbari at Morningstar thinks Tyson's cost saving targets can be reached.
"It seems realistic to me, given the possibilities in cutting costs and improving efficiency by acting as a more focused organisation and integrating recent acquisitions," he said.
Tyson, meanwhile, expects to be able to continue to pay down debts through the sale of the three non-protein businesses included in its prepared foods segment by the end of calendar 2017 or early calendar 2018. These are valued at $803m.
Into fiscal year 2018
Hayes said Tyson had exceeded its goals on growth in operating income, earnings per share and value-added volumes – and said the company "expects to meet or exceed these goals again in fiscal 2018".
He told analysts the business was "off to a great start" in its new financial year, with the company expecting to see its adjusted earnings per share rise by 7-10%.
Analysts covering Tyson at Morgan Stanley believe the company looks well set for a solid 12 months, writing in a note to clients on Monday: "Tyson appears well positioned to achieve another record year."
The company's fourth-quarter results and outlook pushed up a share price that had already risen by more than 22% in calendar 2017.
On Monday, Hayes, surveying Tyson's performance over the last 12 months and looking into the new year, said: "I'm extremely pleased we delivered another record year, but even more excited about the future of Tyson Foods. We are in the early stages of a transformation to become a more modern food company."